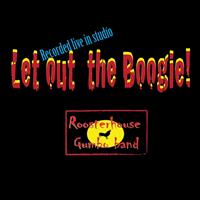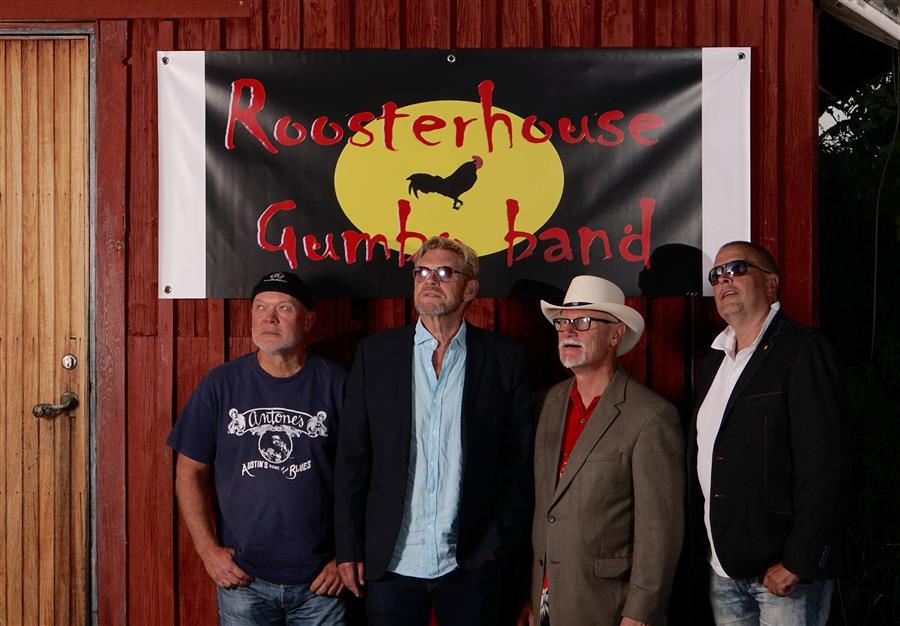 " Badass blues-rock-boogie band from "deep" Vestfold Norway… "
Dat de RoosterHouse Gumbo Band (RHGB) uit Vestfold (de op één na kleinste provincie) in Zuidoost-Noorwegen komt, kan je er zeker niet aan horen, maar wordt je pas duidelijk als je naar de namen in de band line-up kijkt. Multi-instrumentalist Bjørn "Rowanberry Red" Rønneberg, "'Fessor" Jon Kristiansen (bas), Jørn "the Rhythm & Gambling Man" Olafsen (drums) & Sverre "Dr." With (gitaar) verzamelden in 2012 hun jaren muziekervaring en startten met deze bluesband, die daarna jaar na jaar in Noorwegen tijdens het Notodden Blues Festival op de affiche stond. Multi-instrumentalist, frontman Bjørn Rønneberg zingt, speelt piano, harmonica, (cigarbox) gitaar en percussie.
Muzikaal zijn Muddy Waters, Lightnin´Hopkins, JL Hooker, Jimmy Reed, Delbert McClinton, Sonny Terry, Brownie McGhee en Hank W. hun invloeden en is hun stijl een amalgaam van blues stijlen. Hun 'Let Out the Boogie!' "recorded live in studio" opgenomen studio debuut album, staat boordevol (lees: vijftien nummers!) swingende blues en bluesrock. Of ze mij, zoals hun grote aanhang in Scandinavië, na een uur en vijf minuten met enkel originele nummers, ook overtuigden lees je hieronder.
De opener "Don't Leave Me" iseen swingende en, door de contrabas van Kristiansen, hompende blues shuffle met een huilende blues harmonica. In de funky blues "Into the Night" bouwt Rønneberg op een clavinet mee aan de (wat voor een) Robillard-achtige groove. "Slow Down!" is een pompende blues shuffle met een duidelijke boodschap en de harmonica die leidt en, "Buy Me a Ticket" een boogie, waarin Rønneberg's piano de blues trein langzaam op gang trekt. Het subtiele van de slow blues "Rhythm of the River in the Rain" zit in de zang en het gitaarwerk dat elkaar complementeert. De gitaar solo die Sverre "Dr. With er hier aan toevoegt, tilt het nummer naar een hoger niveau. "Reds, Brunettes & Blondes" is daarna een energieke New Orléans rocker met heerlijke boogiewoogie piano, "Too Much" een boogie die zo strak zit als een maatpak en, "You Don't Treat Me Like You Used to Do" een lange soulvolle groove. In de track list staat op #9 "Reaching For the Top", eenR&B met veel harmonica à la Fats D. en op #11 "Steps to the Moon", eenslome blues rocker. "Fishballs" is RHGB's betoog voor Noorse visballen met een Tex-mex sausje, opgediend door Los Lobos, "Whiskydrinkin' Woman" rockabilly, die je garandeert dat je niet uit de bocht gaat en, die garant staat voor een rockend Kersfeestje met Rønneberg achter de piano. "All the Beautiful in the World" is een slowblues en "Let Out the Boogie" de afsluiter, waarin je de laatste stoom kan aflaten in een boogie à la Canned Heat.
De RoosterHouse Gumbo Band overtuigde me met 'Let Out the Boogie!' al na de eerste tracks. Met echte, old-school, boogie-rockende blues en goede composities, veel knap gitaarwerk en harmonica spelen ze hun dikke troeven uit. Het Notodden Blues Festival wil sinds zijn begin in 1988 niet "the biggest", maar wel (kwalitatief) Europa's "largest blues experience" zijn en, daar hebben bands als RHGB zeker hun steentje aan bijgedragen. Dit is groovy blues uit de diepe bossen van Vestfold, waar de blues bewaard bleef en leeft in eenvoud, maar met veel soul.
" The RoosterHouse Gumbo Band convinced me with 'Let Out the Boogie!' already after the first tracks. With real, old-school, boogie-rocking blues and good compositions, a lot of great guitar work and harmonica grooves, they play their trump cards. Since its inception in 1988, the Notodden Blues Festival does not want to be "the greatest", but (qualitatively) Europe's "biggest blues experience" and, bands like RHGB have certainly contributed to this. This is groovy blues from the deep forests of Vestfold, where the blues were preserved and lives in simplicity, but with a lot of soul. Well done!... VELDIG BRA GJORT!... "  - esc for www.rootstime.be
Eric Schuurmans
Album track list:
01."Don't Leave Me"* – 02."Into the Night" – 03."Slow Down!"* – 04."Buy Me a Ticket" – 05."Rhythm of the River in the Rain" – 06."Reds, Brunettes & Blondes" – 07."Too Much" – 08."You Don't Treat Me Like You Used to Do"* – 09."Reaching For the Top" – 10."Baby Listen" – 11."Steps to the Moon" – 12."Fishballs" – 13."Whiskydrinkin' Woman"* – 14."All the Beautiful in the World" – 15."Let Out the Boogie" – Written by Bjørn Rønneberg or Jon Kristiansen* & Sverre With (2) ℗ 2018 – Producer: Daniel Engen Productions
Album line-up:
Bjørn Rønneberg aka "Rowanberry Red": vocs, piano, cigarbox guitar, guitar, harp, washboard
Jon Kristiansen aka "'fessor Kristiansen": bass
Jørn Olafsen aka "The Rhythm & Gambling Man": drums, percussion
Sverre With aka "Dr. With": guitar
Discography ROOSTERHOUSE GUMBO BAND:
Let Out the Boogie! [2018] |