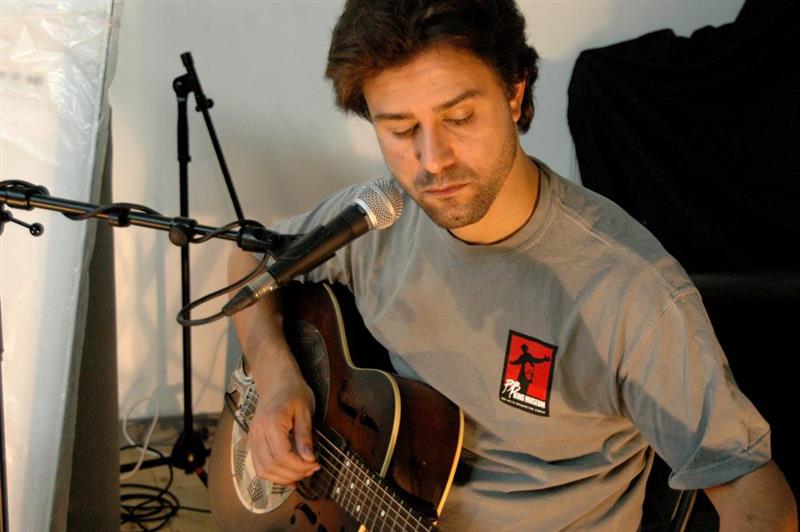 " Low-key country blues made in Toscane, Italy… "
Michele Biondi is een Italiaanse songwriter, gitarist en zanger uit Lucca, de hoofdstad van de provincie Lucca in de regio Toscane, op zo'n 25 km ten noordoosten van Pisa. Biondi werkt samen met bluesman Ray Cashman, een Texaanse blues man en Roots rock'n'roller en de Clarksdale, MS, harpist Stan Street. De muziekgenen erfde hij van zijn grootouders, die beide multi-instrumentalisten waren. Michele's eerste album 'A Better Life' verscheen in 2014. De opvolger 'Cotton & Moonshine' verscheen in 2017 bij Il Popolo Del Blues. Il Popolo del Blues is een radioprogramma geboren in 1995, bedacht door de journalist en muziekcriticus Ernesto De Pascale en wordt elke zondag uitgezonden door de Toscaanse omroep Controradio (Florence). Het online label en tijdschrift met dezelfde naam zijn uit het programma geboren.
Met bassist Federico Paoli, toetsenist Alessandro Solenni en drummer Edoardo Vannozzi nam Biondi 8 eigen nummers en 2 covers op. Met de opener en titelsong "Cotton & Moonshine" maakt Biondi met zijn slide gitaarspel en zang al onmiddellijk indruk. Ook de moonshine is het ontwerp in de rustige country rocker "Don't Let Your Dreams Die": "moonshine, light the way…". "Another Shot" knipoogt naar Elmore James ("Dust My Broom"), "Tearing Me Apart" is een ode aan Afrika "my lost home" en "Apple Pie",is een opgewekt bluegrass nummer over de lekkere appeltaart die zijn oma bakte: "Grandma I love your apple pie, that's the way you loved me until the day you died…". Het funky "No Friends" is een shuffle met een onopvallende rol voor Alessandro Solenni op Hammond en met een uithaal naar de sociale media ("If I have to hang out in a virtual world…"), die de vriendschap in de weg staat. In "Hell on Earth" (zijn link met Robert Johnson én Muddy Waters) neemt Biondi het op voor Kalkadian, een vluchteling, die op zijn tiende zijn moeder verloor. Van Muddy Waters zelf speelt Biondi heel knap op slide gitaar de Delta blues uit 1941, "Country Blues". "Feeling No Pain" is een nummer van zijn Texaanse mentor Ray Cashman en "Give Me Back My Pride", de afsluiter, zijn laatste original.
Michele Biondi is de sociaal bewogen singer-songwriter uit Toscane, met een als gitarist een stevige traditionele roots achtergrond. Zijn muziek is vooral delta blues, aangenaam en het beluisteren meer dan waard.
" Michele Biondi is the socially committed singer-songwriter from Tuscany, with a solid traditional roots background as a guitarist. His music is mostly delta blues, listener friendly and more than worth listening to… " (ESC for Rootstime.be)
Eric Schuurmans
10 cd's te winnen!
Wil je daar kans op maken, dan mail je ons gewoon even:
je naam, je adres en de vermelding: MICHELE BIONDI
Binnen een aantal weken wordt uit alle inzendingen de gelukkigen getrokken.
Wij hopen dat u massaal Rootstime - hier - zult mailen
De winnaars worden per mail verwittigd.
Album track list:
01. Cotton & Moonshine - 02. Don't Let Your Dreams Die - 03. Another Shot - 04. Tearing Me Apart - 05. Apple Pie - 06. No Friends - 07. Hell on Earth - 08. Country Blues [Muddy Waters] - 09. Feeling No Pain [Ray Cashman] - 10. Give Me Back My Pride
Lyrics/music © 2017 by: Michele Biondi, unless where else [noted: 8,9] - Produced by: S. Valentino & Michele Biondi for Il Popolo del Blues
Album line-up:
Michele Biondi: vocs, guitar / Federico Paoli: upright & e- bass / Alessandro Solenni: Hammond, piano / Edoardo Vannozzi: drums, percussion / Elena Cosci: b-vocs
Discography Michele Biondi:
Cotton & Moonshine [2017] | A Better Life [2014] |