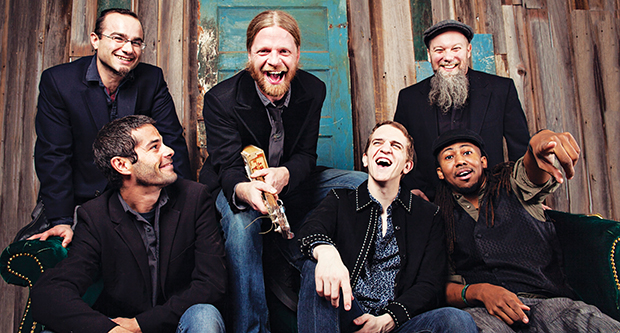 De Ghost Town Blues Band (GTBB) is de zeskoppige blues/roots band die in 2009 in Memphis, TN, rond zanger/gitarist/multi-instrumentalist Matt Isbell opgericht werd. Matt Isbell is geen debutant want hij is al meer dan 30 jaar muzikaal actief. In 2007 tourde Isbell met The Daddy Mack Blues Band en opende hij telkens de show solo met een eigen blues set. Later vervoegde hij de band als slide gitarist/harmonicaspeler. Isbell was co-producer van 'Bluesfinger' [2010], het vierde studio album van The Daddy Mack Blues Band.
In 2009 debuteerde GTBB met het blues/roots album 'Dust To Dust' en in 2012 werd 'Dark House' (feat. Daddy Mack Orr & country blues artiest Davis Coen) uitgebracht. Op de IBC 2014 werd GTBB tweede en in 2015 werden ze tijdens de Blues Blast Music Awards genomineerd als "Best Band".
Als opvolger van hun derde studio album 'Hard Road To Hoe' [2015] brachten ze vorig jaar het live album 'Backstage Pass' met co-producer/drummer Preston McEwen uit. Verder moet ik ook nog Tylor Orr (gitaar), Suavo Jones (trombone), Kevin Houston (sax), Tim Stanek (B3, piano, keys) & Matt Karner (bas) aan de album line-up toevoegen, want zij zijn het die samen met Isbell (zang, cigar box, harmonica…) mee voor de juiste funky grooves zorgen. Op het album staan enkele reeds eerder uitgebrachte nummers van de albums 'Dust to Dust' [2009] en 'Hard Road to Hoe' [2015].
Deze maand wordt 'Shine' als nieuwe studio album uitgebracht. Ook nu weer maken naast  Isbell en Orr ook Jones, Houston en Karner ook deel uit van de line-up die verder aangevuld werd met Andrew Mcneill (drums) en Cedric Taylor (keys). 
Heel soulvol start de GTBB het album positief met "Running Out of Time". Matt Isbell laat de teugels daarna wat meer vieren en rockt op "Soda Pop", waarbij zijn cigar box de groove bepaalt. De blazers (Suavo Jones: trombone, trompet & Kevin Houston: sax) openen op de titelsong die ook soulvol en heel Southern klinkt. Cedric Taylor doet op piano afgemeten de intro van "Givin' It all Away", het kan ook funky zoals op "My Father's Son" en met "Carry Me Home" komt de rust er. Er is nog wat kampvuurgevoel met de mooie Southern ballade "Heading Nowhere Fast" om dan af te sluiten met "Hey There Lucinda". Het is weemoedig een nummer met veel slide gitaar en Isbell die ons ook nu weer met vragen achterlaat.
De Ghost Town Blues Band blijft ook op 'Shine' de band die ze willen zijn. Ze brengen een hedendaagse blues variant die opgebouwd is met elementen uit rock, stevige funk en wat charismatische North Mississippi hill country grooves. Deze mix van stijlen, waarbij de blazers afgewisseld worden met drie-snarige cigarbox gitaren, levert telkens schitterende contrasten op.
" GTBB: a contemporary blues variant that is built with elements from Southern rock, solid funk and some charismatic country grooves… " (ESC for Rootstime.be)
Eric Schuurmans
Album track list:
01. Running Out of Time - 02. Soda Pop - 03. Shine - 04. Lyin' to Yourself - 05. Givin' It all Away - 06. Dirty* - 07. High Again - 08. My Father's Son - 09. Evangelie - 10. Carry Me Home - 11. Heading Nowhere fast - 12. Hey There Lucinda
Lyrics/music © 2019 by: Isbell/Orr/Jones* - Produced by: Kevin Houston & Matt Isbell
Album line-up:
Matt Isbell: lead vocs, guitar, cigar box, silverware chest guitar, harmonica / Tylor Orr: guitar, vocs / Suavo Jones: trombone, trumpet, vocs / Kevin Houston: sax, vocs / Matt Karner: bass, vocs / Andrew McNeill: drums, percussion, vocs / Cedric Taylor: Hammond B3, piano, keys & Geusts: Paul DesLauriers & Annika Chambers: add. vocs (3), Ilana Katz Katz: violin (12)
Discography Ghost Town Blues Band:
Shine [2019] | Ghost Town Blues Band Live @ the Grolsh Blues Festivan, Schoppingen, Germany [06/2019] | Ghost Town Blues Band Live at The Strand Theater - Fremont, OH [03/2019] | Ghost Town Blues Band Live in Gatineau, Quebec, Canada 3​-​15​-​19 [03/2019] | Backstage Pass (Live at Lafayette's Music Room, Memphis, TN on July 29, 2017) [2018] | Hard Road To Hoe [2015] | Live In Memphis 12-20-14" (Dec. 2014) [2014] | Live At Blue Ribbon Blues Festival [2014] | Ghost Town Blues Band Live At Tall City Blues Fest (Board Mix) [2014] | Dark Horse [2012] | Dust The Dust [2009] |