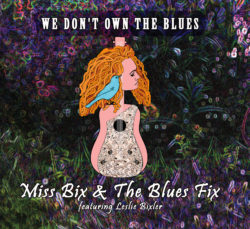 " To women everywhere who have been silenced, trivialized, shamed, or excluded…
Keep holding on. A change is gonna come! "

Leslie Bixler (aka Miss Bix aka Leslie Letven) is al songwriter en muzikante vanaf haar twintigste. Haar eerste album 'Make It Right' bracht ze in 1991 uit onder haar meisjesnaam Leslie Letven. In die periode werkte ze ook al samen met haar man Bill Bixler (Wild Blue Band). Na haar verhuis naar LA, brachten ze samen in 2008 (als Leslie Bixler) 'Porcupine' uit. Na de geboorte van haar zoon schreef ze muziek voor kinderen, die de aandacht trok van Dick Van Dyke en Chad Smith (drummer van Red Hot Chilli Peppers), wiens kind in haar klas zat. Leslie nam met Van Dyke 'Moon Food' [2005] en met beiden 'Rhythm Train' [2010] op.
Als haar zoon oud genoeg is ontdekt ze in Clarksdale, MS, de blues. Met co-producer/multi-instrumentalist Ralph Carter (Eddie Money, Sugaray Rayford) begon ze te werken aan een album, dat de naam kreeg 'We Don't Own the Blues'. Ze nam het album op met The Blues Fix. Leslie Bixler (zang) en Ralph Carter (bas, percussie, gitaar, keys) stonden hiervoor in de studio met toetsenist John "JT" Thomas (met o.a. Hornsby), drummer Gary Mallaber (met o.a. Van Morrison en Steve Miller), bluesgitarist Frank Goldwasser (met o.a. Paris Slim), saxofonist Bill Bixler en mondharmonicaspeler RJ Micho.
" This is a rare find, 12 songs that pack a punch, in a conceptual flow,
reminiscent of days past, when albums told stories… "
Enkele van de songs ("Voodoo Man", "Black Widow", "Slave to the Grave" en "Crazy 'Bout You") ademen de geest van bluesy Zuiden. Haar eigen sound hoor je in nummers die een eigen verhaal vertellen. De door Jimi Hendrix-geïnspireerde rocker "You're a Child" (met de geweldige RHCPeppers drummer Chad Smith), de psychedelische opener "Follow Me Down" en met wat Motown, "Baby Come Back". Er is verder nog de titelsong waarin liefde en het bijhorende verdriet, het wat speelse onderwerp zijn (alsof het hier om een blues klassieker gaat, "Gotta Get Off This Ride", de ballade "It Wasn't Me" (waarop ze knap begeleid wordt op piano door John "JT" Thomas) en, de afsluiter "All the Time", waarin Leslie hulde brengt aan de muze die haar altijd inspireert.
Leslie Bixler liet zich in Clarksdale, MS, voor haar album 'We Don't Own the Blues' duidelijk inspireren door de blues. De kans om eens lekker van mee te genieten en, ja!, ik moet beamen wat ik op de bijgevoegde nota las (en al vermeldde): "Dit is een zeldzame vondst, nummers die indruk maken, in een conceptueel album, dat doet denken aan vroeger, toen albums verhalen vertelden…".
" Yes!, being Clarksdale, MS, Leslie Bixler was clearly inspired by the blues for her album 'We Don't Own the Blues'.
The chance to enjoy this bluesy journey… " (ESC for Rootstime.be)
Eric Schuurmans
Album track list: 01. Follow Me Down - 02. Slave to the Grave - 03. If You're Doing What I'm Thinking* - 04. Gotta Get Off This Ride - 05. Black Widow - 06. Voodoo Man - 07. Crazy 'Bout You - 08. You'rea Child - 09. We Don't Own the Blues - 10. It Wasn't Me - 11. Baby Come Back* - 12. All the Time

Words/music © 2019 by: L. Bixler/R. Carter* - Produced by: Ralph Carter & Leslie Bixer
Album line-up:
Leslie Bixler: lead vocs, guitar (2) / B-vocs: Leslie Bixler & Ralph Carter / Ralph Carter: guitar, slide guitar, resonator, bass , drums, percussion, piano, keys, organ, B3, Wurlitzer, ukulele / Bill Bixler: sax (11) / Brian Calway: harmonica (1,2,5-7,9), Chad Smith: drums (8) / Frank Goldwasser: guitar (9), lead guitar (11) / Gary Mallaber: drums (1,2,6,9-11) / John "JT" Thomas: B3 (2,3,6,10,11), Wurlitzer (6,11), piano (10) / RJ Micho: harmonica (3) /
Discography Miss Bix & the Blues Fix (aka Leslie Bixler aka Leslie Letven**):
We Don't Own the Blues [2019] | Rhythm Train [2010] | Porcupine* [2008] | Moon Foot* [2005] | Make It Right** [1991] |