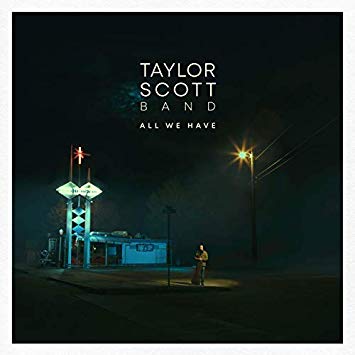 " Ready for a sonic journey?... "
De Taylor Scott Band (TSB) is een vierkoppige band uit Denver, CO, rond frontman/zanger, songwriter en gitarist Taylor Scott. Scott toerde door de States, Canada en Europa met de band en met de trance-blueslegende Otis Taylor. In 2015 speelde hij samen met Warren Haynes (Gov't Mule, Allman Brothers Band) op Otis Taylor's release 'Hey Joe Opus: Red Meat'.
TSB overstijgt muzikale genres door er een aantal, als Funk, Soul, Rock en R&B, te omarmen. Meer dan ooit tervoren doet hij dit op hun nieuwe release, 'All We Have'. Scott werkte daarvoor samen met producer Steve Berlin (Los Lobos), die meerdere Grammy Awards kreeg en een Rock and Roll Hall of Fame-nominatie. Ook Jon Wirtz (keys), Chris Harris & Ven Rubin (bas), Lem Williams (drums) en Henry Garza (gitaar) werkten aan het album mee. "Special Guests" waren Mark "Speedy" Gonzales (trombone), Josh Levy (bariton sax), Gilbert Elorreaga (trompet), Jesse Brooke (percussie), Nic Clark (harmonica) en Steve Watkins (harmony vocs).
Van de twaalf nummers schreef Taylor er elf en de afsluiter is van het duo Sleater-Kinney. Je kan de nummers, naargelang de zang, indelen. In een groep behoren songs die soulvol zijn en die beelden oproepen. De openers "Somebody Told Me" en "Curiosity" zijn complexe en geavanceerde browsels. In "Somebody Told Me", een funky R&B-groove ingekleurd met heavy gitaarriffs, overdenkt Scott het leven en de betekenis ervan, met in de achtergrond een groot rockkoor. "Curiosity" is dan weer een een Alt-Country feestje, overgoten met drumgekletter, knappe gitaarsolo's en een opwindende hoornsectie. Er zijn daarnaast ook de nummers met strakke, bijna gesproken woordobservaties over moderne, vaak kleine steden en het leven. "Clearence Bin", "Salted Watermelon" en "Carry Me Away" onderscheiden zich door de frasering, indeling en beelden. Het akoestische "Clearance Bin" ventileert iets magisch en staat in aangenaam contrast met het daarop volgende, Americana geïnspireerde "Salted Watermelon". Op "Hair of Indigo" is er het gastoptreden van gitarist Henry Garza, van de band Los Lonely Boys. "Wishing Well" is erg groovy en mixt beide aangehaalde steilen. De akoestische folky country song "Surrounded" en de rocker "Where This Is Going" zijn genietbare tussendoortjes en "The Walk" een soulvolle ballade, die zich laat kenmerken door een haast orkestrale, strakke blazerssectie. De afsluiter "Good Things" is een rustig voortkabbelende ballade die afgerond wordt met een hypnotiserende outro.
Met 'All We Have' krijgen we een album die Taylor Scott laat horen als een artiest met een gedurfde, genre-overschrijdende schrijfstijl, die nieuwe resultaten haalt uit vertrouwde ingrediënten.
" With 'All We Have' we get an album that shows Taylor Scott as an artist with a bold, cross-genre writing style, that gets new results from familiar ingredients... " (ESC for Rootstime.be)
Eric Schuurmans
Album track list:
01. Opening (All We Have) - 02. Somebody Told Me - 03. Curiosity - 04. Clearance Bin - 05. Salted Watermelon - 06. Hair of Indigo - 07. Carry Me Away - 08. Wishing Well - 09. Surrounded - 10. Where This Is Going - 11. The Walk - 12. Good Things [Sleater-Kinney]
Words/music © 2019 by: Taylor Scott, unless where else [noted: 12] - Produced by: Steve Berlin
Album line-up:
Taylor Scott: vocs, guitar, bass (9) / Jon Wirtz: piano, Br organ, clavinet, Wurlitzer, Dender Rhodes, Moog synth, Casio keys, harmont vocs / Chris Harris: bass / Ven Rubin: bass (11) / Lem Williams: drums / Henry Garza: e- guitar (6) & Mark "Speedy" Gonzales: trombone / Josh Levy: baritone sax/ Gilbert Elorreaga: trumpet / Jesse Brooke: percussion / Nic Clark: harmonica (8) / Steve Watkins: harmony vocs
Discography Taylor Scott Band:
All We Have [2019] | A Closer Look, the Second Glance [2015] |