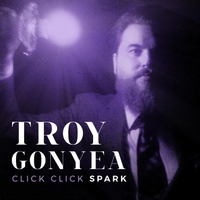 " It's not blues, it's not rock'n'roll, it's not "roots music". It's all of those things, because it's Troy Gonyea music… "
Troy Gonyea is een opkomende singer-songwriter, gitarist en harmonicaspeler uit Massachusetts. Hij is al zo'n 25 jaar actief als muzikant, vaak als side man, maar ook solo en als bandleider van zijn eigen trio. Gonye werkte in Buddy Guy's Legends club in Chicago samen met leden van de legendarische band van Muddy Waters, speelde op 2 Grammy-genomineerde albums van blues superster Kim Wilson en was 4 jaar gitarist bij The Fabulous Thunderbirds. Hij toerde ook over de hele wereld met Rock and Roll Hall of Fame lid Booker T als duo met Marc Ford.
Al deze invloeden zijn terug te vinden op zijn nieuwe studio album 'Click Click Spark'. Dit amalgaam van stijlen is geen blues, is geen R'n'R en geen rootsmuziek, maar Troy Gonyea-muziek en is terug te vinden op 'Click Click Spark'. Troy nam de nummers op met Brooks Milgate op piano en orgel, met ex Roomful of Blues bassist Marty Ballou en drummer Marty Richards, die heeft gewerkt met bands als de J Geils Band, Joe Perry en Dizzy Gillespie.
De nummers werden vorig jaar "live" opgenomen in Nick's, een kleine club in Worcester, MA. Na de korte intro opent Gonyea met "(Do the) Curl Up and Die", een onstuimige eigen nummer dat rockt en dat ook in het songbook van Chuck Berry niet zou misstaan hebben. De tracklist is een mix van originals en covers. De eerste cover is een Samuel Gene Maghett aka Magic Sam nummer, "That's Why I'm Crying". Gonyea brengt vocaal een erg geslaagde versie van dit wat slepend Chicago-achtig blues nummer. "As I Am" is de 2de original, een soulvolle ballade, met Brooks Milgate die op Hammondorgel even nadrukkelijk zijn ding mag doen. Willie Dixon schreef "Bring It On Home". Het nummer werd in 1963 voor het eerst opgenomen door de Amerikaanse blues muzikant/harpist Sonny Boy Williamson II. Het nummer werd twee jaar later, in 1965, op single uitgebracht bij Chess Records. In dat jaar verscheen het ook op het album 'The Real Folk Blues'. De hoofdrol op blues harp wordt hier uitstekend overgenomen door Gonyea zelf. "Tell Heaven" is een traditional, een low-down slow blues, met veel slide gitaar. Met "Georgia Slop", een nummer van J. McCracklin, stijgt het tempo opnieuw. De wat minder gekende Jimmy McCracklin (1921-2012) was een Amerikaanse pianist, vocalist en songwriter. Zijn stijl bevatte West Coast-blues, Jump-blues en R&B. Tijdens een carrière die 7 decennia omvatte, zei hij dat hij bijna 1000 nummers had geschreven en honderden had opgenomen. Gonyea koos van hem een uptempo nummer met veel honky tonk piano van Milgate, stijl R&B en R'n'R uit de jaren '50. Van de Britse blueszanger/ muzikant Anthony "Duster" Bennett is "Jumping at Shadows", een slow blues, die hij opnam op zijn gelijknamig album uit 1994. Er blijft nog de afsluiter, de 3de original "I Am Feeling So Good (Owed T'Don)" over. Gonyea eindigt even onstuimig als hij begin met een boogie, die nooit lijkt te stoppen.
Op 'Click Click Spark' van Troy Gonyea vind je al de invloeden terug die hij in de jaren heeft opgedaan. Soms is de live klank hier wat minder, maar dit detail nemen we er graag bij.
Eric Schuurmans
Album track list:
01. A Few Words from Our Charming Host (Humorous intro to track #2) - 02. (Do the) Curl Up and Die (Uptempo R'n'R, Chuck Berry vs Godzilla) - 03. That's Why I'm Crying (Midtempo Chicago-style blues) [S. Maghett] - 04. As I Am (Soul, R'n'R style ballad, organ feature) - 05. Bring It On Home (Harmonica feature) [W. Dixon] - 06. Tell Heaven (A low-down slow Blues, slide guitar) [traditional] - 07. Georgia Slop (Uptempo 1950's style R&B, R'n'R) [J. McCracklin] - 08. Jumping at Shadows (Slow blues ballad, lots of guitar) [D. Bennett] - 09. I Am Feeling So Good (Owed T'Don) (High energy boogie)
Lyrics/music © 2019 by: T. Gonyea, unless where else [noted: 3,5-8] - Produced by: Troy Gonyea
Album line-up:
Troy Gonyea: vocs, guitar, harmonica / Brooks Milgate: upright piano, Hammond organ / Marty Ballou: upright & e- bass / Marty Richards: drums
Discography Troy Gonyea:
Click Click Spark (Live) [2018] | The Rain Follows the Plow (EP,4#) [2008] |