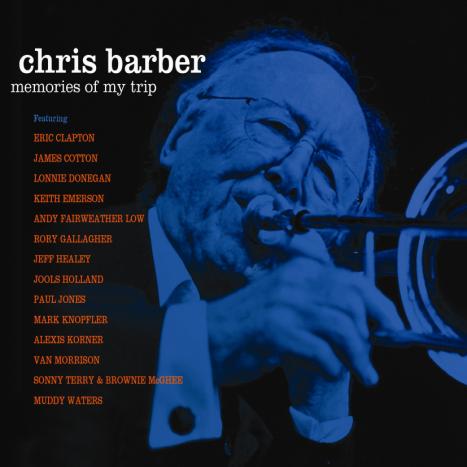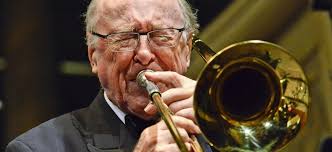 " Bix Beiderbecke of British-style-jazz… "
De vermaarde (nu 89-jarige) Britse jazz trombonist en bandleider Chris Barber heeft onlangs aangekondigd dat hij na 65 jaar definitief te stoppen als fulltime muzikant. Donald Christopher "Chris" Barber was de muzikale leider van onder meer de Chris Barber's Jazz Band en van The Big Chris Barber Band. Hij maakte furore in de traditionele jazz en is in de jaren '50 en '60 trendsettend geweest in het bekend maken van de blues en skiffle muziek in Europa. Van zijn orkest maakten musici als Monty Sunshine (klarinet), Pat Halcox (54 jaar) trompet, Lonnie Donegan (banjo, zang) en zangeres Ottilie Patterson deel uit.
In 1959 had Chris Barber zijn grootste hit met het nummer "Petite Fleur", gecomponeerd door Sidney Bechet. Op de achterkant van de single stond "Wild Cat Blues". In Nederland stond deze plaat 2 maanden op nummer 1 in de hitparade, in Engeland kwam het tot plaats 3, in Duitsland op nummer 2 en in de Verenigde Staten op plaats 5. Door dit succes werd Barber als eerste Europese jazzmusicus uitgenodigd voor een uitgebreide tournee door de Verenigde Staten. Omdat het erg lastig is voor niet Amerikanen om in de VS op te treden, kon het alleen op basis van culturele uitwisseling. Woody Herman kwam als tegenprestatie in Engeland spelen.
In de jaren '60 haalde Barber blues artiesten als Big Bill Broonzy, Sonny Terry & Brownie McGhee and Muddy Waters naar Europa en beïnvloedde daarmee de carrières van jonge rockmuzikanten als Peter Green, Eric Clapton and the Rolling Stones. In de jaren '70 en '80 maakte de Chris Barber Jazz & Blues Band bijzonder uitgebreide tournees door heel Europa. In Nederland trad hij veelvuldig op in het destijds vermaarde Pauwkes Jazzcorner in Beek en Donk.
In 1999 breidde Barber, met hulp van collega trombonist Bob Hunt, het orkest uit tot 11 personen. Dit met name om de muziek van Duke Ellington authentieker te kunnen spelen. Op 12 augustus 2019 maakte het management van Chris Barber bekend, dat na 70 jaar touren, het besluit is genomen dat Chris zijn loopbaan als actief musicus beëindigt. De traditie van zijn muziek en orkesten wordt voortgezet door zijn huidige band, onder muzikale leiding van Bob Hunt en gepresenteerd door Bert Brandsma.
Het dubbelalbum 'Memories of My Trip' dat deze maand verschijnt schets met 31 tracks een goed beeld van Chris Barber's brede muzikale kwaliteiten. De lijst van collega muzikanten met wie hij de nummers opnam is heel lang. We vinden er o.a. Muddy waters, Sonny Terry & Brownie McGhee, James Cotton, Lonnie Donegan, Dr. John, Jeff Healy, Eric Clapton, Rory Gallagher, Van Morrison en Mark Knopfler op terug. Op de eerste cd (Blues, Jazz & Gospel) met zeventien tracks, pik ik er enkele uit. Met de titelsong opent cd1. Dit nummer van Walter "Brownie" McGhee uit 1959 wordt gezongen McGhee zelf. Zijn maat Sonny Terry hoor je in de volgende tracks. Op het Nola-achtige "Weeping Willow", een opname uit 2010, spelen naast Eric Clapton en Barber, ook Chris Stainton (keys), Dave Bronze (bas) en Henry Spinetti (drums) mee. De Muddy Waters Band (met Muddy, Pinetop Perkins, Bob Margolin, Calvin Jones & Willie "Big Eye" Smith) speelt de klassieker "Kansas City" en op "Love Me Or Leave Me" laat harpist James Cotton zich horen. Rory Gallagher komt voorbij in "Can't be Satisfield", Lonnie Donegan (zang) in "Diggin' My Patatoes" en Jeff Healy (trompet, gitaar, zang) in "Going Up the River". Van Morrison is op drie nummers ("Goin' Home", "How Long Blues" en met Dr. John op piano op "Oh Didn't He Ramble") te horen, gospe zanger Professor Alex Bradford op "Couldn't Keep It to Myself" en, gitarist John Slaughter (1944-2010) -aan wie Barber het album opdraagt- sluit af met "Another Sad One".
Op cd2 (Jazz & Blues) staan veertien meer jazzy nummers. Met Ed Hall (Louis Armstrong All Stars) op klarinet opent hij swingend met de "St. Louis Blues/Missouri Special/St. Louis Blues" medley. Barber lanceerde in zijn Marquee Club in London onbekend talent, zelfs zonder blazers, zoals de progrock band T-Bones (met Keith Emerson achter het orgel). Met hen nam hij de instrumental "Rock Candy" op. Met klarinettist Joe Darensbourg (nog een van de Louis Armstrong All Stars en Barry Martyn's Legends of Jazz) en Pat Halcox op trompet doet Barber "Rose Boom", een andere opgewekte instrumental. Ook in het instrumentale jazzy "Tea Party Blues" spelen de blazers de hoofdrol. "Tailgate Boogie" is een piano gedreven boogiewoogie, met Sammy Price achter de toetsen, trompettist Keith Smith, Barber, klarinettist Sandy Brown en gitarist Ruan O'Lochlainn in de hoofdrollen. Een volgende opvallende gast van de Chris Barber's Six-Piece is de grote Ferdinand "Jelly Roll" Mortan fan, Jools Holland. Hij neemt plaats achter de piano op zijn "Winin' Boy Blues" en een andere klassieker "On the Sunny Side of the Street". Barber sluit hier met drie nummers met Mark Knopfler de deur. Barber was ook fan van Dire Straits' frontman en speelde even met de Nothing Hillbillies, waarvan Knopfler ook nog deel uitmaakte. Het bluesy relaxte "Blues Stay Away From Me", de knappe ragtime traditional "Dallas Rag" waarin eerst het fingerpicken van Knopfler centraal staat en later de blazers uitgebreid aan bod komen en, "'Til the Next Time in Town" dat gezongen wordt door Mark Knopfler. De afsluiter, een nummer dat hij ooit deed in een duet met Chet Atkins. 
"Ere aan wie ere toekomt" geldt zeker voor dit Britse jazz icoon Chris Barber, want niemand was zo lang actief in en bepalend voor de UK-jazz traditie. Daarnaast beïnvloedde hij de blues en rock scene er ook sterk. 
" "Honor who deserves honor" certainly applies to this British jazz icon Chris Barber. No one was ever so active in and, determined the UK jazz tradition for so long. In addition, Barber influenced also the British blues and rock scene strongly… " (ESC for Rootstime.be)
Eric Schuurmans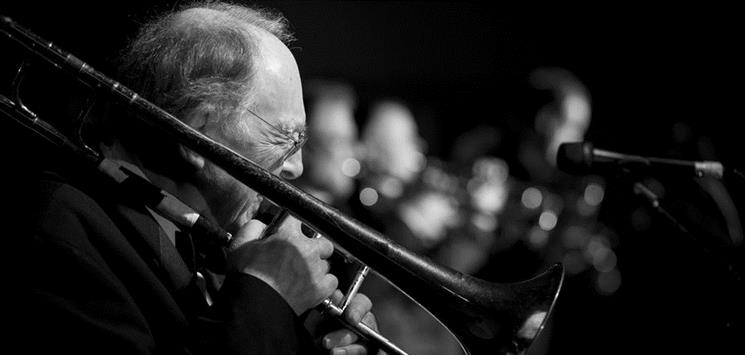 28/01/2020 @ TIVOLIVREDENBURG – UTRECHT.NL:
CHRIS BARBER AND THE BIG CHRIS BARBER BAND
Album track list CD1: blues, jazz & gospel (& line-up)
01. Memories Of My Trip (Brownie McGhee: vocs, guitar - 1959) [W."Brownie" McGhee] - 02. When Things Go Wrond (Otillie Patterson: vocs, Sonny Terry: vocs, harmonica & Brownie McGhee: vocs, guitar with Dick Smith: bass, Graham Burbidge: drums, Eddie Smith: banjo, Monty Sunshine: clarinet, Pat Halcox: trumpet & Chris Barber: trombone) [H.Whittaker] - 03. Do Lord, Do Remember Me (Otillie Patterson: vocs, Sonny Terry: vocs, harmonica & Brownie McGhee: vocs, guitar with Dick Smith: bass, Graham Burbidge: drums, Eddie Smith: banjo, Monty Sunshine: clarinet, Pat Halcox: trumpet & Chris Barber: trombone - 1958) [traditional arr. C.Barber] - 04. Weeping Willow (Eric Clapton: guitar, vocs and Chris Barber: trombone with Chris Stainton: keys, Dave Bronze: bass, Henry Spinetti: drums - 2010) [F.Allen] - 05. Kansas City (The Muddy Waters Blues Band: Muddy Waters: guitar, vocs – Pinetop Perkins: piano – Bob Margolin: guitar -Calvin Jones: bass – Willie "Big Eye" Smith: drums with Chris Barber: trombone - 1979) [J.Lieber, M.Stoller] - 06. Love Me Or Leave Me (James "Jimmy" Cotton: vocs, harmonica with Alexis Corner: guitar, Chris Barber: bass and Keith Scott: piano - 1961) [P.Mayfield] - 07. Can't Be Satisfied (Rory Gallagher : guitar, vocs with Chris Barber: bass - 1990) [M.Morganfield] - 08. Diggin' My Patatoes (Lonnie Donegan: vocs with the Chris Barber Jazz & Blues Band: Pat Halcox: trumpet – John Crocker: clarinet, tenor – Ian Wheelr: clarinet, harmonica – Chris Barber: trombone – Johnny McCallum: guitar – John Slaughter: guitar – Vic Pitt: bass & Norman Emberson: drums - 1987) [traditional arr. L.Donegan] - 09. Goin' Up the River (Jeff Healy: trumpet, guitar, vocs and his Jazz Wizards: Christopher Plock: clarinet, soprano and alto sax – Jesse Barksdale: guitar – Brian Graville: piano – Colin Bray: bass – Gary Scriven: drums, with Chris Barber: trombone, vocs - 2006) [C.Barber] - 10. How Long Blues (Van Morrison: vocs, harmonica, guitar with Chris Barber Skiffle Group: Chris Barber: trombone – Paul Sealey: banjo – John Slaughter: guitar – Vic Pitt: bass – Colin Miller: drums - 1998) [L.Carr arr. Van Morrison] - 11. Goin' Home (Van Morrison: vocs, guitar with Chris Barber Jazz Band: Chris Barber: trombone – Paul Sealey: banjo – John Slaughter: guitar – Vic Pitt: bass – Colin Miller: drums – Phil Halcox: trumpet – John Crocker: tenor – John Defferary: clarinet, tenor and Dr. John - 1998) [K.Colyer] - 12. Oh Didn't He Ramble (Van Morrison: vocs with Chris Barber Jazz & Blues Band: Pat Halcox: trumpet – Chris Barber: trombone – John Crocker: tenor - Johnny McCallum: banjo – Dr. John aka Mac Rebennack: piano – Marlow Henderson: guitar – Reggie McBride: bass – Ollie Brown: drums - 1976) [traditional arr. Van Morrison] - 13. Lonesome Road (Ottilie Patterson: vocs with Chris Barber's Jazz Band: Chris Barber: trombone – Ian Wheeler: clarinet – Eddie Smith: banjo – Dick Smith: bass – Graham Burbidge: drums - 1962) [N.Shilkret, G.Austin] - 14. I'll Be Rested (Paul Jones : vocs, harmonica with Chris Barber Jazz & Blues Band: Chris Barber: trombone – Johnny McCallum: banjo – John Slaughter: guitar – Vic Pitt: bass – Alan "Sticky" Wickett: drums - 1990) [Blind Roosevelt Graves] - 15. Precious Lord, Take My Hand (Andy Fairwather Low: vocs, guitar with the Chris Barber Jazz & Blues Band: Pat Halcox: trumpet – Chris Barber: trombone – John Defferary: clarinet, tenor – Andy Kuc: banjo – Vic Pitt: bass – John Sutton: drums - 2006) [T.A.Dorsey] - 16. Couldn't Keep It to Myself (Professor Alex Bradford: vocs with Chris Barber's Jazz Band and Singers: Pat Halcox, Chris Barber a John Crocker: vocs – Johnny McCallum: banjo – John Slaughter: guitar – Jackie Flavelle: bass – Graham Burbidge: drums - 1974) [A.Bradford, K.Morris] - 17. Another Sad One (John Slaughter's Last Blues: John Slaughter: guitar & friends - 2010) [J.Slaughter]
Album track list CD2: jazz & blues (& line-up):
01. St. Louis Blues/Missouri Special/St. Louis Blues (Ottillie Patterson: vocs, with Chris Barber's Jazz Band: Pat Halcox: trumpet – Chris Barber: trombone – Ian Wheeler: clarinet – Eddie Smith: banjo – Dick Smith: bass – Graham Burbidge: drums and Edmond Hall: clarinet - 1962) [W.C.Handy, C.Barber] - 02. High Siciety (Edmond Hall: clarinet and Ian Wheeler: clarinet with Chris Barber's Jazz Band: Pat Halcox: trumpet – Chris Barber: trombone – Eddie Smith: banjo – Dick Smith: bass – Graham Burbidge: drums – 1962) [P.Steele] - 03. Rock Candy (Keith Emerson: organ and the T-Bones: Ian Wheeler: clarinet – Eddie Smith: banjo – Dick Smith: bass – Graham Burbidge: drums, with Chris Barber: trombone - 1966) [J.McDuff] - 04. Georgia On My Mind (Trummy Young: trombone, vocs with the Chris Barber Jazz & Blues Band: Pat Halcox: trumpet – Chris Barber: trombone – John Crocker: clarinet, tenor – Sammy Rimington: alto – Johnny McCallum: guitar – Roger Hill: guitar – Vic Pitt: bass – Pete York: drums - 1978) [H.Carmichael] - 05. Rose Room (Joe Darensbourg: clarinet, Pat Halcox: trumpet and Chris Barber: trombone, Richard Simmons: piano, Terry Knight: bass, Dave Evans: drums - 1974) [A.Hickman, arr. C.Barber] - 06. C-Jam Blues (Albert Nicholas: clainet, with Chris Barber's Jazz Band: Pat Halcox: trumpet – Chris Barber: trombone – John Crocker: reeds – Stu Morrison: banjo – John Slaughter: guitar – Jackie Favelle: bass – Graham Burbidge: drums - 1968) [E "Duke" Ellington] - 07. The Party Blues (Chris Barber: trombone & the Boston Tea Party: Jonny Boston: tenor – James Evans: clarinet – Anton Fenech: guitar – John Slaughter: guitar – Gary Simons: bass & John Witfield: drums - 1993) [J.Boston, J.Evans] - 08. Jack Teagarden BLues (Eddie Durham: trombone with Chris Barber Jazz & Blues Band: Pat Halcox: trumpet – John Crocker: clarinet, tenor – Ian Wheeler: clarinet, harmonica – Chris Barber: trombone – Johnny McCallum: guitar – Roger Hill: guitar – Vic Pitt: bass – Norman Emberson: drums - 1983) [C.Barber] - 09.Tailgate Boogie (Sammy Price: piano, Sandy Brown: clarinet & Chris Barber: trombone with Keith Smith: trumpet, Ruan O'Lochlainn: guitar, John Robder: bass, Johnny Armitage: drums - 1969) [C.Barber] - 10. Winin' Boy Blues (Chris Barber's Six-Piece: Mike Henry: trumpet – Chris Barber: trombone – David Horniblow: clarinet, tenor – Joe Harler: guitar – Vic Pitt: bass – Alan "Sticky" Wickett: drums feat. Jools Holland: piano, vocs - 2010) [F "Jelly Roll" Morton] - 11. Oh the Sunny Side of the Street (Chris Barber's Six-Piece: Mike Henry: trumpet – Chris Barber: trombone – David Horniblow: clarinet, tenor – Joe Harler: guitar – Vic Pitt: bass – Alan "Sticky" Wickett: drums feat. Jools Holland: piano, vocs - 2010) [D.Fields, J.McHugh] - 12. Blues Stay Away From Me (Mark Knopfler: guitar, vocs with Chris Barber's Jazz Band: Chris Barber: vocs, trombone - Pat Halcox: trumpet – John Crocker: clarinet, tenor – John Defferary: clarinet – Paul Sealy: banjo – John Slaughter: guitar – Vic Pitt: bass – Colin MIller: drums - 2000) [L.A.Delmore, R.Delmore, W.Raney, H.Glover] - 13. Dallas Rag (Mark Knopfler with Chris Barber's Jazz Band: see #12 ) [traditional] - 14. 'Til the Next Time I'm In Town (Mark Knopfler with Chris Barber's Jazz Band: see #12) [M.Knopfler]
Lyrics/music © 2019 by as [noted]
Line-up Big Chris Barber Band anno 2019:
Chris Barber: bandleader, retired / Bob Hunt: trombone / "Magic" Mike Henry: trumpet, cornet / Peter Rudeforth: trumpet, bugle / Bert Brandsma: clarinet, tenor sax, bass sax / Nick White: clarinet, alt sax, baritone sax / Ian Killoran: clarinet, alt sax, tenor sax / Joe Farler - banjo, guitar / John Day – double bass / John Watson: drums
Discography Chris Barber:
Memories of My Trip (2CD) [2019] | Chris Barber, Bert Brandsma with, Highlights [2013] | Chris Barber Memories Of My Trip [2011] | Chris Barber's Jazz Band with Sonny Terry & Brownie McGhee, Sonny, Brownie & Chris [2009] | The Big Chris Barber Band, Barber At Blenheim [2009] | The Chris Barber Jazz & Blues Band, Barbican Blues [2009] | Chris Barber's Jazz Band, Chris Barber 1957-58 [2009] | The Big Chris Barber Band with Special Guest Andy Fairweather Low: As We Like It [2009] | Cornbread, Peas & Black Molasses (live) [1999] | Live at the BP Studienhaus [1997] | 40 Years Jubilee, Live At Sägewerk, Möhnesee, Germany [1995] | Copulatin' Jazz: The Music of Preservation Hall [1993] | Take Me Back to New Orleans [1980] | Echoes of Ellington [1978] | Echoes of Ellington, Vol. 2 [1976] | Echoes of Ellington, Vol. 1 [1976] | Chris Barber & Lonnie Donegan [1973] | Live in East Berlin [1968] | Louis Jordan Sings [1962] | In Budapest [1962] | Petite Fleur [1958] | Chris Barber in Concert, Vol. 2 (live) [1958] | Chris Barber Plays, Vol. 4, [1957] | Chris Barber Plays, Vol. 3 [1957] | Chris Barber Plays, Vol. 2 [1956] | Chris Barber in Concert (live) [1956] | Original Copenhagen Concert (live) [1954] | Bestsellers: Chris Barber & Papa Bue's Viking Jazzband [1954]