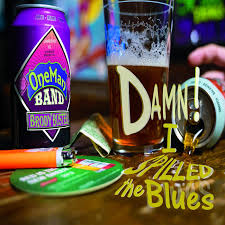 Ze bestaan zeker nog en duiken hier en daar en vaak onverwacht op, de muzikale eenzaten, de buskers, de "one man bands". Brody Buster, uit Lawrence, KS, begon als harmonicaspeler aan zijn carrière, een lange reis, die nu al jaren duurt. Hij ontgroeide zijn "wonderkind fase" die hem tot in de "Tonight Show with Jay Leno" en in B.B. King's Blues Club bracht en, op het podium naast o.a. Quincy Jones, Keb' Mo', Chaka Kahn en Lee Oskar. Buster werd, na zijn escapades met The Brody Buster Band, uiteindelijk multi-instrumentalist en singer-songwriter, maar ook de artiest die het in eigen beheer, op zijn eentje wou doen en, die je nu op de straat tegenkomt als Brody Buster's One Man Band. 
De Brody Buster's One Man Band won op de IBC 2017 in Memphis, TN, de tweede plaats "Solo/Duo" én, de eerste plaats als "Best Harmonica Player". Hij maakte indruk bij (jurylid) Kenny Neal, die hem uitnodigde naar zijn Brookstown Recording Studio's in Baton Rouge, LA, om er zijn nieuwe album op te nemen en dit als éérste op zijn nieuwe label Booga Music uit te brengen. 'Damn! I Spilt The Blues' zal deze maand uitgebracht worden i.s.m. de VizzTone Label Group. "98% werd opgenomen in één take, niet meer dan twee en, het klinkt als een driedelige band", aldus een tevreden studio en nu ook label eigenaar, Kenny Neal.
Met tien nieuwe songs in zijn rugzak trok Brody Buster in zijn eentje naar Baton Rouge. Solo is het zijn tweede studio album. Met The Brody Buster Band nam hij in 2012 met bassist Chris Handley en drummer Tommy Dimmel o.l.v. producer Jeff Nelson de EP 'Will Die Young' op. Hij opent heel bluesy met "Old Dog Blues", is wat overstuur (met knappe harmonica) in "Bad News", rockt bezeten op "2029" en is heel autobiografisch en open in "The Reason". Ook in "Alligator Blues" is Brody de rocker, terwijl hij in de andere nummers de wortels van de arrangementen in de geest van Hound Dog Taylor ("Like 'em Like That"), de eenogige én een van de beste "harp-in-a-rack"-spelers ter wereld, Hans Olson ("The Wind") en de jonge Rory Gallagher ("This Time I Got The Blues") weet te leggen.
Je zou zowel doof als stom zijn om niet te beseffen dat we hier met een groot talent te maken hebben. Wie zelf wil horen waarom, moet het eens met Brody Buster's One Man Band en 'Damn! I Spilled the Blues' doen!
" You would be both deaf and stupid not to realize that we are dealing with a great talent here. Whoever wants to hear why, must experience the Brody Buster's One Man Band and 'Damn! I do Spilled the Blues'… " (ESC for Rootstime.be)
Eric Schuurmans
Release: 18/10/19
Album track list:
01. Old Dog Blues - 02. Bad News - 03. 2029 - 04. The Wind - 05. The Reason - 06. Alligator Blues [with V.Flora] - 07. Like'em Like That [with J.Prestage] - 08. The Hustle [with T.Holliday] - 09. Week Long [with A.Law] - 10. This Time I Got the Blues [with E.Smiley]
Lyrics/music © 2019 by: B. Buster, unless where else [noted] - Produced by: Kenny Neal
Album line-up:
Brody Buster: vocs, guitar, harmonica, drums
Discography Brody Buster's One Man Band:
Damn! I Spilled the Blues [2019] | One Man Band [03/2016] | Will Die Young (EP,7#), by The Brody Buster Band (Brody Buster: vocs, guitar, harmonica / Chris Handley: bass / Tommy Dimmel: drums) [2012] |