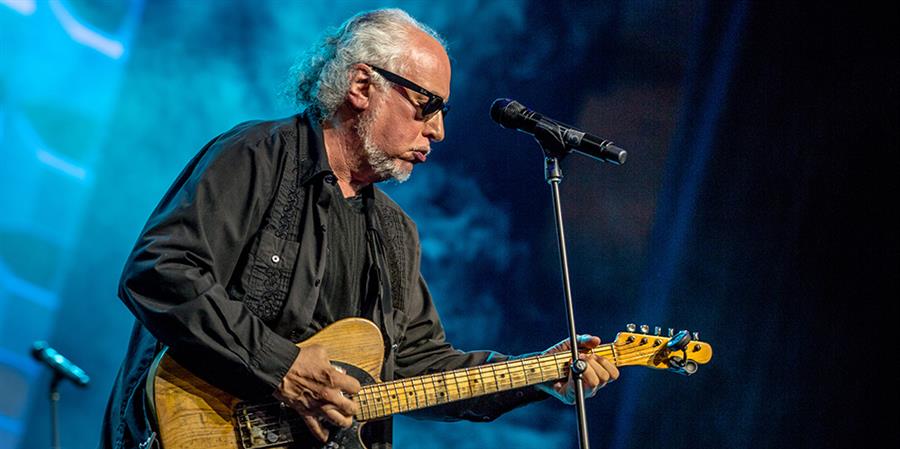 " No sugar added, just wood, steel, body and soul… "
Bob Margolin is een 70-jarige artiest die we van solo optredens, het Bob Margolin Trio (met Chuck Cotton: drums & Tad Walters: harmonica), met de "Bobs of the Blues" (Bob Corritore & Bob Stroger) én als "gast" in een andere blues bands kennen. De kenners kennen hem als "Steaday Rollin" en linken hem echter aan Muddy Waters, met wie hij van 1973 tot 1980 samenspeelde.
Margolin begon gitaar te spelen in 1964, als hij vijftien was en is voor het eerst te horen op een album met de psychedelische band The Freeborne uit Boston en hun 'Peak Impressions' uit 1967. Margolin speelde in de begeleidingsband van Muddy Waters (1930-1983) en trad op met Waters en The Band in "The Last Waltz". Als solo-opnamekunstenaar heeft hij albums opgenomen voor Alligator Records, Blind Pig, Telarc en zijn eigen platenlabel Steady Rollin. In 1978 maakte hij een gastoptreden op het debuutalbum van Big Joe Duskin, 'Cincinnati Stomp', op Arhoolie Records. In 1979 maakte hij een gastoptreden, samen met Pinetop Perkins, op het album 'The Nighthawks, Jacks & Kings'. In 1994 verscheen hij met Jerry Portnoy als gastmuzikanten op het album 'Ice Cream Man' van John Brim. Het kreeg een Blues Music Award (voorheen W. C. Handy Award) nominatie als "Best Traditional Blues Album of the Year".
Margolin is columnist voor het tijdschrift Blues Revue. In 2013 werd Margolin genomineerd voor een Blues Music Award in de categorie "Traditional Blues Male Artist". Zijn gezamenlijke album met Ann Rabson, 'Not Alone' werd ook genomineerd in de categorie "Acoustic Album".
'This Guitar and Tonight' is het éérste akoestische album dat Bob Margolin (solo) opnam. Hij schreef negen nieuwe nummers (één met Mark Kazanoff) en stapte met enkel zijn Gibson L-00 (wat kleinere) parlor gitaar uit 1935, naar de studio. Op twee tracks spelen twee gasten. Jim Vivino speelt gitaar op de opener/titelsong "This Guitar and Tonight" en Bob Coritore harmonica op het sierlijke, wat swingende "Blues Lover". Over de snaren glijdend en wat dreigend volgt dan "Evil Walks in Our World", op "Dancers Boogie" kan je zeker dansen en de snaren van zijn parlour relaxt pikkend, klinkt "Good Driving Song" erg zelfzeker. "I Can't Take Those Blues Away", "Together"  en "Predator", nog meer akoestische blues die niet puurder en intenser klinken kan.
Op 'This Guitar and Tonight' is blues man Bob Margolin "puur en echt". Met nummers die hij zonder poespas recht in de microfoon inzong en zijn parlor gitaar overtuigt hij solo zelf de grootste criticaster. Duidelijk dat Margolin (ook solo) nog wat extra in petto over heeft.
" It's clear that Bob Margolin (even solo!) has some "extra" in store… " (ESC for Rootstime.be)
Eric Schuurmans
Release: 25/10/19
Album track list:
01. This Guitar and Tonight - 02. Evil Walks in Our World - 03. Over Time - 04. Dancers Boogie - 05. Blues Lover - 06. Good Driving Song - 07. I Can't Take Those Blues Away - 08. Together - 09. Predator
Lyrics/music © 2019 by: Bob Margolin, (5): with Mark Kazanoff - Produced by: Bob Margolin
Album line-up:
Bob Margolin: vocs, a- guitar & Guests: Bob Corritore: harmonica (5) – Jimmy Vivino: guitar (1)
Discography Bob Margolin:
Solo: This Guitar and Tonight [2019] | Bob Margolin [2018] | My Road [2016] | Blues Around the World, with Mike Sponza Band [2011] | In North Carolina [2007] | Hold Me to It [1999] | Up & In [1997] | My Blues & My Guitar [1995] | Down in the Alley [1993] || With Muddy Waters: The Muddy Waters Woodstock Album (Chess), [1975] | "Unk" in Funk (Chess), [1974] |