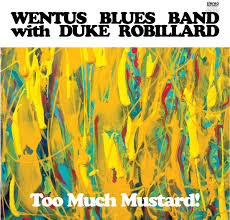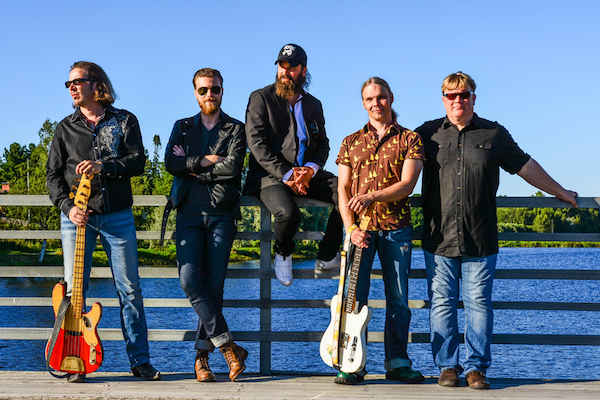 " 5 Sympaattiset suomalaiset tekee sen Duke Robillard in kanssa… "
De Finnen zijn het meest gelukkige volk ter wereld. Dat blijkt uit de World Happiness Index van de Verenigde Naties. Zo veel weten we niet over al die Finnen, maar wel dat in Kokkola, méér dan 3 decennia geleden (in 1986) in Suomi aka Finland, de Wentus Blues Band van frontman Juho Kinaret het noorderlicht zag. Overal in Europa (met meer dan 2500 optredens) hebben ze ondertussen al op een podium gestaan en, ook in Amerika hebben zij hun sporen achtergelaten. Het 5-tal debuteerde in 1989 met een titelloos album. In 2007 vierden zij hun 20-jarig jubileum met het uitbrengen van 'Family Meeting (Music is always timeless and timely)', een dubbele live CD, opgenomen in het Alexander Theater (aan Bulevardi) in Helsinki. Wat de registratie bijzonder maakt is de indrukwekkende line-up met enkele rock en blues legendes, zoals de overleden Eddie Kirkland (1923-2011), Phil Guy (1940-2008) & Louisiana Red (1932-2012) én, Lazy Lester, (ex-Rolling Stone) Mick Taylor, Kim Wilson, Omar Dykes, Barrence Whitfield, Sven Zetterberg, Eric Bibb en de Zweedse producer/componist Clas Yngström. Hun 30ste verjaardag vierden ze met 'Lucky Strike Mama' [2016]. 'Throwback', hun 11de studio album dat we hier al besproken, kwam vorig jaar uit en, dit om hun helden en mentors te eren. Op 'Throwback' verscheen een selectie van "favoriete" tracks die door "hen" (lees: Canned Heat, Eddie Kirkland, Louisiana Red…) geschreven zijn. De opnames gebeurden in de Villa Skola, een oude school in Ventus, Kokkola, Finland. De knappe tekening (zoek de namen!) op de hoes was van Patrik Norrman.
Er is al een opvolger, #11: 'Too Much Mustard!' van de Wentus Blues Band "with Duke Robillard"! Hun samenwerking met deze legende begon in 1987 in Finland wanneer ze voor Robillard openden. De Duke toerde met hen in Zweden en was ook te gast op hun feestje ter gelegenheid van hun 30ste verjaardag, dat ze (nog steeds: Juho Kinaret: zang/ Niko Riippa: gitaar/ Robban Hagnäs: bas/ Pekka Gröhn: piano, Hammond & Daniel Hjerppe: drums) in 2016 vierden. Robillard was ook de producer en speelt gitaar op het album. Eens samen opnemen met Duke Robillard, stond al jaren op de bucket list van deze 5 sympaattiset suomalaiset (sympathieke Finnen).
De 15 nummers die ze in de Lakewest Recording Studios in Rhode Island voor 'Too Much Mustard!' opnamen, zijn een mix van eigen nummers, 2 die Robillard schreef (nummers die hij zelf al eerder opnam: "She Made My Mind" en "Passionate Kiss") en 4 gekende covers (van Lazy Lester, Holmes Brothers, Tom Waits, Robert Johnson en (ja!) Leonard Cohen), waarmee ze het album openen.
De titel van het album heeft ook een eigen verhaal: Tom Waits nodigde Duke uit om een sessie met hem te spelen, en tijdens de sessie bleef Waits vragen aan Duke om meer distortion (lett.: vervorming) op de gitaar te zetten. Hij ging zo ver tot Duke vond, dat het vreselijk klonk en bleef grijnzen terwijl hij speelde. Tom Waits merkte dit op en vroeg hem met zijn typische zware stem van heel kort bij: "Wat is er aan de hand - teveel mosterd?...".
Ze openen hun feestje met het Wendell Holmes' nummer "Stayed at the Party" dat zeker een goede opwarmer is. Vooral Pekka Gröhn is hier vanachter zijn piano, de sfeermaker. Daarna volgt een geslaagde versie van Tom Waits' "2:19" ('Stearns County Dirt' [2017]) met de eerste solo's van Niko Riippa en Robert Johnson's "Judgement Day". Van de 4de cover is de tekst nu al legendarisch: "First We Take Manhattan (than we take Paris)"… Singer-songwriter Leonard Cohen (1934-2016) schreef het nummer, maar Jennifer Warnes bracht het in 1986 al uit op haar 'Famous Blue Raincoat' album. Het was (met enkel nummers van) haar tribute album aan de ondertussen overleden Canadese legende. Robillard die een grote fan is van de versie van Jennifer Warnes (en, van de toen 36-jarige Stevie Ray Vaughan die op het album gitaar speelt!), wou al langer dit nummer ook zelf opnemen. Dit was dus een unieke kans. "She's Killer Hot Blonde", het eerste eigen nummer dat Kinaret schreef én de titelsong zijn put-on-your-dancing-shoes-rockers, "Right in Your Arms" een slow blues "à la lettre" en, "Miranda" en "Selma" rustige love songs. De laatste original "Where Have All the Songbirds Gone" roept vragen op en "Passionate Kiss", de 2de bijdrage van Duke en de afsluiter, zeker herinneringen, die nooit vervagen.
Met de Wentus Blues Band is een het feestje altijd gegarandeerd. Samen met Duke Robillard namen ze 'Too Much Mustard!' op, met een swingende party als gevolg. Put on your dancing shoes!
" With the Wentus Blues Band a party is always guaranteed. Together with Duke Robillard they recorded "Too Much Mustard!", resulting in a great musical and swinging journey. People, put on your dancing shoes!... Ihmiset, laita tanssikengät! ... " (ESC for Rootstime.be)
Eric Schuurmans
Album track list:
01. Stayed at the Party [Wendell Holmes] - 02. 2:19 [Tom Waits/ Brennan Kathleen] - 03. Judgement Day [Robert Johnson] - 04. First We Take Manhattan [Leonard Cohen] - 05. She's Killer Hot Blonde - 06. Right in Your Arms - 07. Too Much Mustard! [Duke Robillard / Niko Riippa / Robban Hagnäs] - 08. She Made My friend [Duke Robillard] - 09. I Hear You Knockin' [J. Miller] - 10. Miranda - 11. You Got My Love - 12. Selma* - 13. Feels So Bad [Chuck Willis] - 14. Where Have All the Songbirds Gone - 15. Passionate Kiss [Duke Robillard]
Lyrics/music © 2019 by: Juho Kinaret / Niko Riippa / Robban Hagnäs / Pekka Grhön*, unless where else [noted: 1-4,7,9,13,15] - Produced by: Duke Robillard
Album line-up:
Juho Kinaret: vocs, percussion / Niko Riippa: e- guitar / Duke Robillard: e- guitar / Robban Hagnäs: bass / Pekka Gröhn: piano, Hammond organ / Daniel Hjerppe: drums, percussion
Discography Wentus Blues Band:
Too Much Mustard! With Duke Robillard [2019] | Throwback [2018] | Wentus Blues Band plays Canned Heat: "Future Blues" / "Time Was" (vinyl 7", single) [2018] | Dylan Suomeksi (compilation), with Wentus Blues Band [2016] | Lucky Strike Mama [2016] | Man Of Stone, with Dick Heckstall-Smith [2015] | Woodstock [2011] | Family Meeting – Live (2CD) [2007] | Agriculture [2007] | Wentus Blues Band feat. Phil Guy – Live in Helsinki – The Last of the Big Spenders [2005] |  Family Album [2004] | No Beginner [2001] | Hoy Hoy, with Pelle Lindström [1999] | Boogie Man (EP) [1997] | Chitlin' Circuit [1995] | Wentus Blues Band [1989]