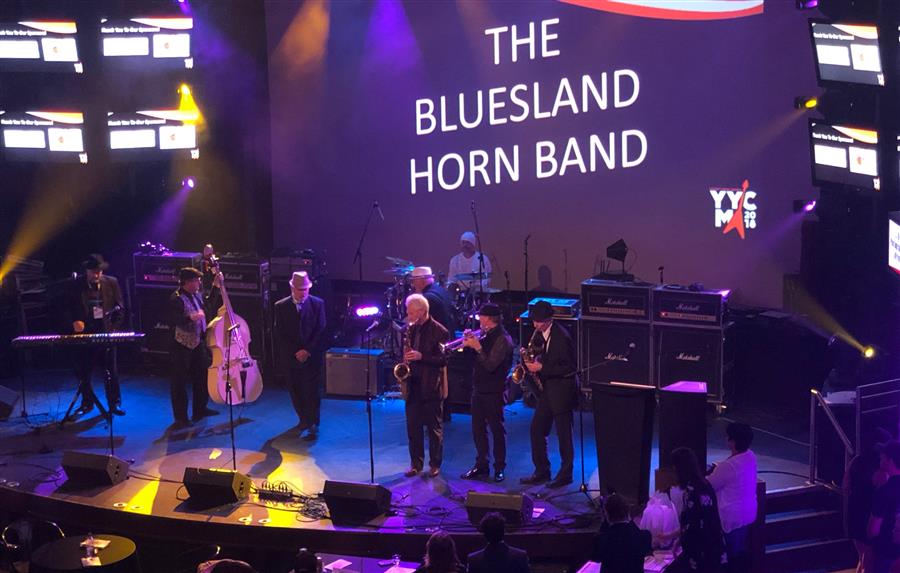 " Blues horn players were an endangered species, but the number of albums with guest horn sections increased rapidly and, we are now once again seeing actual albums by working horn bands coming to the fore… "
The Bluesland Horn Band is een Canadese achtkoppige "klassieke" blazersband, waarvan de leden van 1998 tot 2004 de podia van festivals en shows in West-Canada innamen en een album uitbrachten genaamd '1st Street'. De band werd in 2013 hervormd door producer/gitarist Terry Medd en heeft anno 2020 vijf top-10 albums op hun naam staan.
In het voorbije jaar verscheen 'Keep It in the Shadows', hun vijfde studio album, met op blues gebaseerde met soul/jazz, funk, gospel, western swing en helemaal tot midden in de jaren '60 R&B doordrenkte muziek en, met enkel originele nummers. De in Edmonton gevestigde band bestaat uit zanger Marty Cochrane, gitarist/producer Terry Medd en vier blazers: John Reid (tenorsax), Doug Zacharias (trompet), Pat Belliveau (bariton sax) & Steve Williams (tenor, altsax). De ritmesectie bestaat uit Pan Sciore op bas & Gavin Sorochan op drums. Guy Plecash is de orgelist.
Het album opent met het rockende titelnummer, een van Terry Medd's composities over hoe politici graag "in de schaduw" werken om hun wandaden te verbergen. Marty Cochrane's zang is geweldig en de pianobijdrage van "guest" Kenny "Blues Boss" Wayne uitstekend. De solo's, hier van Zacharias (trompet) en Medd (gitaar), zijn de kers op de taart. Na het rustige, wat slepende "Jukin" siert westerse swing Medd's "New Suit", een humoristisch verhaal over de aanschaf van een nieuw pak, nadat een motelbrand het oude had verbrand. Plecash schreef en zingt "Stone Man Blues", een prima slow blues over verloren liefde. Hij soleert ook op orgel samen met Medd. Het aanstekelige "Living on the Ceiling" scoort door het riff dat tenor saxman Reid schreef. Een andere gast, Sherman "Tank" Doucette blaast voluit op harp in een klaagzang over veroudering, "Old Man Blues", geschreven door Cochrane. Er zijn verder enkele instrumentals (als "Shades 2019") die teruggrijpen naar de R& B-bands uit de jaren '50 en '60 en enkele jazzy nummers (als "Tears R4 the Living"), die voor de nodige afwisseling zorgen.
'Keep It in the Shadows' van The Bluesland Horn Band is een uitstekend en aanstekelig album, met prima hoornarrangementen. De liefhebbers van swing, R&B en jazz komen hier zondermeer uitgebreid aan hun trekken.
" 'Keep It in the Shadows' by The Bluesland Horn Band is an excellent and catchy album, with great horn arrangements. Lovers of swing, R&B and jazz will certainly get their money's worth here... " (ESC for Rootstime.be)
Eric Schuurmans
Album track list:
01. Keep It in the Shadows - 02. Jukin - 03. New Suit - 04. Stone Man Blues [Guy Plecash] - 05. Living on the Ceiling - 06. Old Man Blues [Colchrane] - 07. Shades 2019 - 08. Tears R4 the Living - 09. Going Down to Texas - 10. Son of Thunder / Words/music © 2020 by: Terry Medd, or as [noted] - Produced by: Terry Medd
Album line-up:
Marty Cochrane: lead vocs / Terry Medd: guitar / The horn players: John Reid: tenor sax, Doug Zacharias: trumpet, Pat Belliveau: tenor sax & Steve Williams tenor/alto sax / Pan Sciore: bass / Gavin Sorochan: drums / Guy Plecash: organ – Guests: Kenny "Blues Boss" Wayne: piano (1) / Sherman "Tank" Doucette: harp (6)
Discography The Bluesland Horn Band:
Keep It in the Shadows [2019] | Let's Go Dancing [2017] | Radio Waves [2016] | Down In New Orleans [2014] | 1st Street [1998?] |