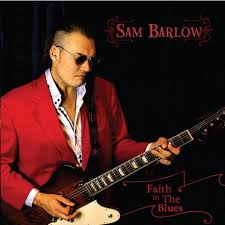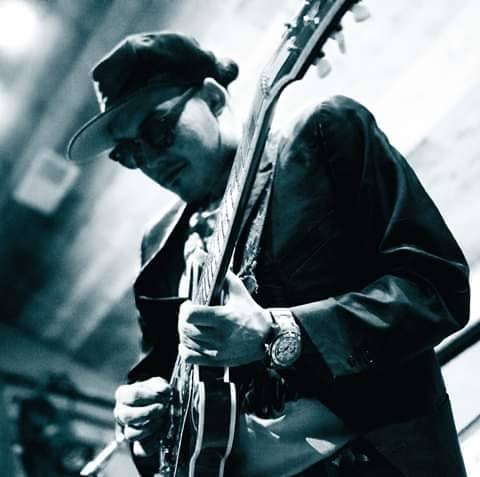 " I don't need no Sunday morning cause I got faith in the blues… "
Sam Barlow is een 26-jarige gitaar virtuoos, harmonicaspeler en zanger uit El Paso, een stad aan de Rio Grande in het uiterste westen van de Amerikaanse staat Texas. Sam was lang actief in Austin, waar hij populaire blues- en rockstijlen speelde en met legendes als Jimmie Vaughan en Elvin Bishop un contact kwam. In 2010 won hij de El Paso "Guitar Center King of the Blues" gitaarwedstrijd door GC, 's werelds grootste verkoper van muziekinstrumenten en -apparatuur. In zijn vrije tijd is hij een fervent blueshistoricus, liefhebber van gebakken kip, vrijdenker, hoedenman, verzamelaar van Star Wars-memorabilia en humorist.

Op zijn nieuwe album (m.i. zijn solo debuut) 'Faith in the Blues' zijn de meeste nummers, buiten de opener en één Willie Dixon cover, eigen composities. Barlow wordt gebackt door bassist Anthony Movsesian, drummer/ percussionist Joseph Seltzer en toetsenist Israel "Izzy" Aguirre (orgel, piano, keys). Als gasten ontving hij Dave Hamilton (bas), Erwin Solbach (piano) en zangeressen Annika Chambers en Maribel Rubio.
Het album opent (met Erwin Solbach op piano) met "Sittin' in the Jailhouse". Het is een "verloren" c.q. oud Johnny Winter slidy bluesrock nummer, een Robert Ross compositie -dat Winter opnam op zijn 'Raisin' Cain' 1980-album-  waarin de problemen begonnen: "'cause she was makin' eyes at me…". De titelsong "Faith in the Blues" wordt omschreven als een autobiografisch nummer, waarin Barlow zijn geloof in de toekomst en in de muziek rustig uitzingt: "I don't need no Sunday morning cause I got faith in the blues…". "Breaker Box Blues" is Barlow's eerste (slow) blues nummer, dat hij als 13-jarige in Texas schreef. Op Willie Dixon's "My Babe" duetteert Sam met blues diva Annika Chambers, waarbij zijn groovende harmonica en "Izzy" Aguirre's orgel, een wig tussen beiden wil drijven. "But, We Know" is een funky rocknummer -stijl Bo Diddley- voor verliefden, dat Barlow schreef samen met een van zijn favoriete zangeressen, Kendra Elliott. In de achtergrond hoor je Maribel Rubio. De emotionele ballade "Can't Take Another You" dateert ook uit zijn beginperiode. Het erg funky, opzwepende "Get off Me" behoeft verder geen woorden en op "Soul on a Rail" wat dan volgt, klinkt hij heel soulvol. Op "My Little Lady",een van Barlow's favoriete live nummers dat hij opdraagt aan Kathryn "the Little Lady" Melton, werkt hij samen met college muzikant, bassist Dave Hamilton. "Street Blues" is de enige, erg explosieve swingende instrumental op het album en "Gonna Make Her My Baby" -een nummer over verliefdheid- zou een SRV-nummer kunnen zijn. "Valentine Special", de afsluiter, is een slide blues nummer dat spontaan "live" opgenomen werd in de studio, met bassist Anthony Movsesian even op wasbord.
Knap wat Sam Barlow op zijn debuut album 'Faith in the Blues' hier al aflevert. Dit jong talent zal ongetwijfeld ook hier nog van zich laten horen!
" Great what Sam Barlow already delivers here on his debut album 'Faith in the Blues'. Faith, this young talent will undoubtedly also be heard here!... " (ESC for Rootstime.be)
Eric Schuurmans
10 cd's te winnen!
Wil je daar kans op maken, dan mail je ons gewoon even:
je naam, je adres en de vermelding: SAM BARLOW
Binnen een aantal weken wordt uit alle inzendingen de gelukkigen getrokken.
Wij hopen dat u massaal Rootstime - hier - zult mailen
De winnaars worden per mail verwittigd.
Album track list: 01. Sittin' in the Jailhouse [R. Ross] – 02. Faith in the Blues - 03. Breaker Box Blues - 04. My Babe [Willie Dixon] - 05. But, We Know [w/ K. Elliott] - 06. Can't Take Another You - 07. Get off Me - 08. Soul on a Rail - 09. My Little Lady - 10. Street Blues - 11. Gonna Make Her My Baby - 12. – Valentine Special / Words/music © 2020 by: S. Barlow, or as [noted: 1,4] - Produced and recorded by: Richard Cagle | Album line-up: Sam Barlow: lead vocs, guitar, harmonicas / Anthony Movsesian: bass, washboard (12) / Joseph Seltzer: drums, percussion / Israel "Izzy" Aguirre: organ, piano, keys & Dave Hamilton bass (9) / Erwin Solbach: piano (1) / Annika Chambers: vocs (4) / Maribel Rubio: harmony vocs (5)
Discography Sam Barlow: Faith in the Blues [2020] | A Texas Bluesman & his Soul Band, by The Sam Barlow Band (single) [2019] |