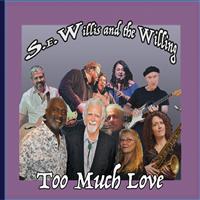 " I love this Band! We aren't the Elvin Bishop Band anymore… "
In 2015 werd Steve Willis met zijn band, tijdens het uitreiken van de Blues Foundations Awards in Memphis, uitgeroepen als "Band of the Year" voor het werk dat ze leverden met Elvin Bishop. Willis speelde toen al vijftig jaar r'n'r, country en blues met muzikanten in lokale clubs in het zuidwesten van de Verenigde Staten en in de Elvin Bishop Band. Zelf met de band verder spelen, dat werd hun doel.  
De kern van de band bestaat uit Bobby Cochran en Ruth Davies. Drummer/zanger Bobby Cochran was al langer muzikant, begon in marching bands, drum-line en was muzikant in de Army band tijdens de Vietnam jaren. Hij werkte samen met Bobby Freeman, Carol Doda (de eerste openbare topless danseres in San Francisco), de Edwin Hawkins Singers, Cold Blood en Tom Forgerty. Bassiste Ruth Davies was actief in de Bay Area jazz scene en werkte samen met JL Hooker, Elvis Costello en Nick Lowe. Het trio wordt op hun debuutalbum bijgestaan door Nancy Wright, Danny Caron, Bob Welsh, Marina Crouse, Christoffer "Kid" Anderson en Lisa Leuschner. M.a.w. een club muzikanten met een "ruime" ervaring.
" The new songs are my attempt to deal with, it's not beer and big-legged woman, but mostly it's love and death… " (S.E. Willis)
Het eerste album dat Steve Willis vorig jaar met the Willing opnam heet 'Too Much Love'. Willis schreef de elf nummers, waarvan er vier "oude" nummers zijn, die hij schreef voor een Honky Tonk project in Flagstaff, AZ. De andere nummers zijn recenter geschreven en gaan niet over drinken of vrouwen, maar over liefde en de dood. De meeste nummers worden gezongen door Willis, drie door Cochran en één door Marina Crouse. De extra opnames en de afwerking gebeurden in de Greaseland studio's van "Kid" Andersen, die ook op gitaar en percussie op het album te horen is.
Als we beginnen met de Honky Tonk nummers dan is er eerst de gelaten country ballade met wat Tex Mex details, "My Happy Home". Het album eindigt met de drie overige: de country tearjerker pur sang "Honky Tonk Romance", het swingende "I Study the Room" en het broeierige "Honky Tonkin Night and Day". Hier zingen Nancy Wright en John Willis de harmonieën. Verder is 'Too Much Love' een mix van blues, pure country, rock & roll, rhythm & blues, van zydeco en Elvin Bishop-achtige blues. Zo is er de wat oubollige mix van R&B en R'n'R in "I Sure Don't Know Who Does", maar overtuigt de sterke opener, een aanstekelige shuffle, "Turn Back", die je zeker aan de swing van Elvin Bishop doet denken wel. Ook in het instrumentale vrolijke "Apocalypto" zitten die Bishop invloeden. Door Willis' accordeon wordt "Crawl Off and Die" een dreigende soort funky zydeco, terwijl "Let That Be the Reason" door de sax van Nancy Wright ook erg funky klinkt. "Wake Up", een prachtige ballade, krijgt door Willis' zang een hoog soulgehalte en "Too Much Love" door de accordeon dan weer zydeco allures.
S.E. Willis and the Willing presenteren met 'Too Much Love' hun eerste eigen bijdrage als band. Al lijken de opnames soms wat oubollig en zijn de Alvin Bishop invloeden nog duidelijk aanwezig, toch blijft alles aangenaam en goed in de oren klinken.
Eric Schuurmans
10 cd's te winnen!
Wil je daar kans op maken, dan mail je ons gewoon even:
je naam, je adres en de vermelding: S.E. WILLIS AND THE WILLING
Binnen een aantal weken wordt uit alle inzendingen de gelukkigen getrokken.
Wij hopen dat u massaal Rootstime - hier - zult mailen
De winnaars worden per mail verwittigd.
Album track list:
01. Turn Back - 02. My Happy Home - 03. I Sure Don't Know Who Does - 04. Apocalypto - 05. Crawl Off and Die - 06. Let That Be the Reason [Cochran/Willis] - 07. Wake Up [Willis/Takeda] - 08. Too Much Love - 09. Honky Tonk Romance - 10. I Study the Room - 11. Honky Tonkin Night and Day / Words/music © 2019 by: S.E. Willis, or as [noted: 6,7]
Album line-up:
Steve Willis: lead vocs (exc. 3,6,8), piano, harmonica, accordion / Bobby Cochran: drums, lead vocs (3,6,8) / Ruth Davies: bass / Nancy Wright: sax, harm-vocs (9) / Bob Welsh: guitar (3,4) / Danny Caron: guitar (1,6,7) / Kid Andersen: a- guitar (2,9-11), e- guitar §-(4,8), percussion (1,9) / Marina Crouse: lead vocs (3) / John Willis: harm-vocs (10) / Kisa Leuschner: b-vocs (1,8)
Discography S.E. Willis (and the Willing):
Too Much Love, by S.E. Willis and the Willing [2019] | Turtle Dove Bounce: Solo Piano Blues and Boogie with Vocal and harmonica [2014] | Pass the Hat [2011] | Taproot: Songs of Robert Johnson and Hank Williams Performed by S.E.Willis [2008] | Cold Hand in Mine [2003] | Luckiest Man Alive, with Elvin Bishop, Charlie Musselwhite & Mark Hummel [2002] ||