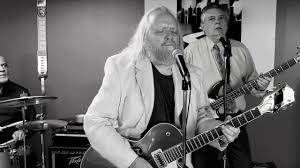 " Undoubtely, the last real deal, the missing link!... "
Soms zegt een titel van een album al heel veel over de artiest die het opnam. 'The Last of the Boogiemen' is er zo een. Veteraan Rusty Ends bracht het recent uit en nam het op met zijn Hillbilly HooDoo, een trio dat bestaat uit: bassist Uncle Dave Zirnheld, drummer Gene Wickliffe & tenorsaxofonist Gary Falk. De gitaar van Rusty heeft hem uit de ruige roadhouses tussen Louisville en Fort Knox gehaald, waar hij met groepen als de Shirelles, de Drifters, de Marvelettes, Bobby Lewis en de Coasters, The Little River Band en The Premiers speelde.
Rusty Ends & Hillbilly HooDoo zijn volgens sommigen de laatste "real deal", de ontbrekende schakel tussen blues en rockabilly uit de jaren '50 en de muziekstijlen van de 21ste eeuw. In de 12 originele nummers op 'The Last of the Boogie Men' vermengen ze blues en genres die hen beïnvloed hebben (rock 'n roll, rockabilly en zelfs swing), tot een pittige hillbilly gumbo.
Rusty Who? In 1969 debuteerde Rusty Ends met 'Does Anyone Really Know What Time It Is' met de band Cooper 'n' Brass in Memphis in de (Sam) Phillips International Recording Studio in Memphis, Tennessee. Rusty was daarna (ik spreek over de jaren '90) één van de oprichters van The Rusty Spoon Blues Band. Rond 2010 verdween Rusty kort uit de muziekscène. Het gerucht deed de ronde dat hij naar de Everglades trok en Indiaanse mystiek studeerde bij een oude medicijn man van de Seminole indianen. Vijf jaar later vroeg zijn goede vriend Dave Zirnheld hem (ik noemde Uncle Dave eerder al) om terug met hem samen te spelen tijdens kerkdiensten. Rusty had de smaak terug te pakken en besloot om opnieuw een band op te richten, om een combinatie van covers en originele songs te spelen. Hij noemde de band Rusty Ends & Hillbilly HooDoo.
'The Last of the Boogie Men' is zowat het meest uitgeklede album dat Rusty, na zijn debuut in 1969, ooit opnam. Alleen gitaar, bas en drums en op twee tracks Gary Falk op tenorsax in de opener "Cheap Wine" en het soulvolle "Let Me Cross Your Mind. Eerst een paar favorieten: het rustige bluesy nummer "We Love Our Way Through the Blues" van de Memphis-componisten John Cummings en John Ward, waar Rusty's gitaar Wes Montgomery en Otis Rush oproept, het rockabilly nummer "Cottonmouth Rock" en de Muscle Shoals-groove "I Forgot to Say I Love You", dat Rusty schreef met Wayne Young. Van de knappe gitaar shuffle uit de instrumentale boogie "Unholy Roller" gaat het via de funky titeltrack gezwind verder naar "Rockabilly Boogie #1003", het jazzy "Stiletto Heels and Fishnet Hose" en het Western swingende "Bob Wills Played the Blues". Voor het einde is er nog de mid tempo blues rocker "Midnight Angels" en "Sinners Strut", de afsluiter, is een instrumental.
Rusty Ends & Hillbilly HooDoo bewijzen met 'The Last of the Boogiemen' dat muzikanten wel hun streken, maar niet hun passie kwijtraken.
" With 'The Last of the Boogiemen', Rusty Ends & Hillbilly HooDoo prove that musicians do lose their pranks, but don't lose their passion… " (ESC for Rootstime.be)
Eric Schuurmans
Album track list: 01. Cheap Wine – 02. Unholy Roller [w/Gene Wickliffe] – 03. Hillbilly Hoodoo – 04. I Forgot to Say I Love You [w/Wayne Young] – 05. Rockabilly Boogie #1003 – 06. Cottonmouth Rock – 07. Stiletto Heels and Fishnet Hose - 08. Let Me Cross Your Mind [w/Dave Zirnheld] - 09. We Love Our Way Through the Blues [by John Cummings & John Ward] - 10. Bob Wills Played the Blues [w/David Witherspoon] - 11. Midnight Angels - 12. Sinners Strut / Words/music © 2020 by: Rusty Ends, and or with as [noted/ 2,4,8-10] | Album line-up: Rusty Ends: vocs, guitar / Uncle Dave Zirnheld: bass, bvs / Gene Wickliffe: drums / Gary Falk: tenor sax (1,8)
Discography Rusty Ends & the Hillbilly Hoodoo: The Last of the Boogiemen [2020] | Does Anyone Really Know What Time It Is, by the Cooper 'n' Brass [1969] |