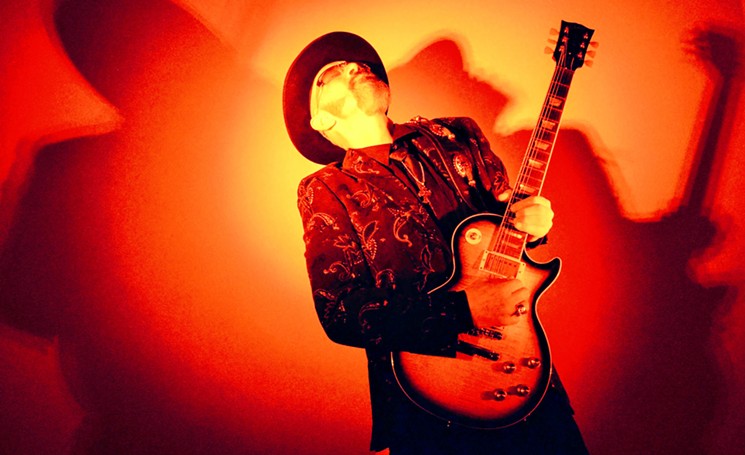 Al meer dan 20 jaar lang maakt zanger-songwriter/gitarist Mark May deel uit van de blues scene in Houston, Texas, waar hij met zijn band optrad in clubs, bars en tijdens festivals. Mark speelde al op zijn vijfde gitaar en kan terugblikken op een eigen carrière van zo'n vijftien jaar. Mark May opende voor The Allman Brothers band tijdens hun 1997/98 Amphitheater Tour en geraakte zo bevriend met de nu 76-jarige (Forrest Richard) "Dickey" Betts. Betts, die goed bevriend was met gitarist Duane Allman (broer van Gregg) was de medeoprichter van The Allman Brothers Band. Met hen won Dickey een Grammy voor de wereldhit "Jessica", een nummer dat zijn inspiratie vond in Dickey's dochter, Jessica Betts. Na de split in 1976 van de ABB ging Betts in 1977 verder als Dickey Betts & Great Southern. Met hen bracht hij o.a. in 1978 het album 'Atlanta's Burning Down' uit. In deze groep was Mark May de zanger/ gitarist, Dickey's rechterhand.
May debuteerde speelde eerst met The Alligators en werd later de frontman van de Mark May Blues Band. Zijn vijfde en zesde albums ('Release My Soul' – 2011 en 'Blues Heaven' – 2016) besproken we al op Rootstime. Nu is er de opvolger, zijn zevende album 'Deep Dark Demon'. Het is een album met in de line-up naast de gitaar van May nog de tweede lead gitaar van Billy Wells en met verder bassist Darrell Lacy, drummers Brandon Jackson & Geronimo Calderon (co-producer), saxofonist Eric Demmer en toetsenisten Barry Seelen & Shawn Allen. Op de titelsong is Mike Zito op lead gitaar te horen.
De twaalf tracks op 'Deep Dark Demon' zijn vooral aanstekelige nummers, die May's kennis en kunde als singer-songwriter en gitarist goed in de verf zijn. Vooral de stevig rockende opener "Harvey's Dirty Side" met veel wah-wah gitaar, het Santana-achtige "Back" en de titel song -een nummer "as blue as its gets"- zetten de trend. "BBQ and Blues" is een gemoedelijke shuffle, "Sweet Music" erg funky en "My Last Ride" rockt zoals het moet. "For Your Love" is dan weer een mooi soulnummer met veel radio potentie en "Walking Out That Door" een snedige blues rocker. Naar het einde neemt "Something Good" je mee terug naar de soul sound van in de jaren 70 en de afsluiter, "Invisible Man" schreef May met bassist Charles Darrell Lacy.
'Deep Dark Demon' het nieuwe album van de Mark May Band verzamelt opnieuw het beste van één van Texas' top muzikanten, die nooit zijn liefde voor de blues zal verliezen.
" 'Deep Dark Demon' the new album from the Mark May Band once again gathers the best of one of Texas' top musicians, who will never lose his love for the blues… " (ESC for Rootstime.be)
Eric Schuurmans
Release: 17/07/2020
Album track list: 01. Harvey's Dirty Side – 02. BBQ and Blues – 03. Back – 04. Deep Dark Demon - 05. Sweet Music – 06. Rolling Me Down – 08. My Last Ride – 09. For Your Love – 10. Walking Out That Door – 11. Something Good – 12. Invisible Man [w/Charles Darrell Lacy] / Words/music © 2020 by: Mark May and with as [noted: 12] - Produced by: Mark May & Geronimo Calderon
Album line-up: Mark May: lead/harmony vocs, lead/rhythm guitars / Billy Wells: lead/rhythm guitars, bvs / Darrell Lacy: bass, bvs / Drums: Brandon Jackson  (1-3,5-7,9), Geronimo Calderon (4,8,10,11) / Eric Demmer: sax (8) / B3: Barry Seelen (1-3,5-7,9) + piano (6), Shawn Allen (4,8,10,11) / Al Pagliuso: percussion (3,7,8) / Mike Zito: lead guitar (4)
Discography Mark May Band: Deep Dark Demon [2020] | Blues Heaven [2016] | Sean Carney's Blues for Cure: Blues (for a Cure), Blues Cures Studio Jam Vol. 6, feat. Mark May… [2015] | Release My Soul [2011] | In Texas Live [2009] | Doll Maker [2002] | Telephone Road, by Mark May & the Alligators [1997] | Call On The Blues, by Mark May & the Alligators [1995] |