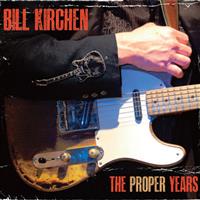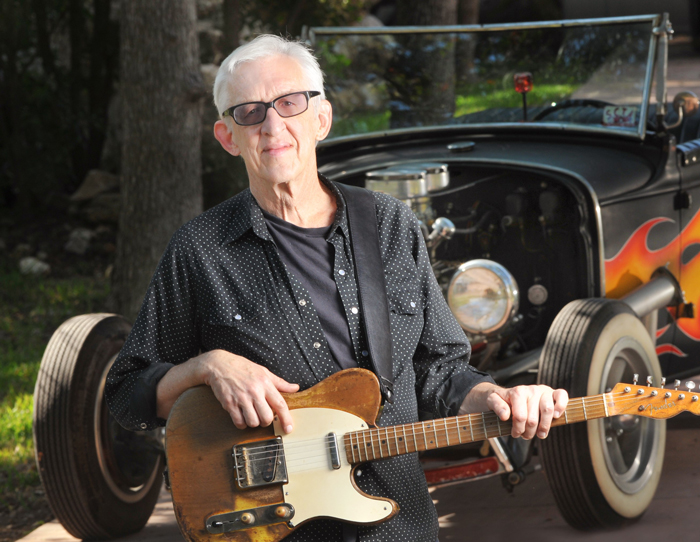 " The TITAN of the TELECASTER… "
William Knight "Bill" Kirchen (geboren 1948) is een uit Ann Arbon, Michigan, afkomstige gitarist, zanger en songwriter. Hij maakte van 1967 tot midden jaren '70 deel uit van de Lost Planet Airmen, de begeleidingsband van Commander Cody en staat bekend als "Titan of the Telecaster", vanwege zijn muzikale bekwaamheid op een van de succesvolste en meestverkochte gitaren van Leo Fender.
Een muzikant met een carrière als die van Bill Kirchen vind je maar zelden. Het begon tijdens zijn studententijd aan de Ann Arbor Universiteit van Michigan met de Seventh Seal en spelen in de jugband de Who Knows Pickers, tijdens de senior talentenjacht van de High School (waar o.a. Iggy Pop het waagde), tot het met George Frayne en John Tichy leggen van de basis van de "hippie countryband" Commander Cody & His Lost Planet Airmen. Hij deelde verder podia met artiesten waaronder de Jesus of Cool, Nick Lowe en Lowe's oude protegé, Elvis Costello. Kirchen toerde de wereld rond met Nick Lowe (in 1993/94 met The Impossible Birds: Robert Treherne, Geraint Watkins, Paul Riley en Kirchen), die de producer was van Kirchen's tweede soloalbum met zijn band de Moonlighters, de post-Airmen backing band van Commander Cody, die Kirchen vormde midden jaren '70. De Moonlighters debuteerden in 1977 met een titelloos album en in 1983 volgde 'Rush Hour' (heruitgegeven in 2006), dat origineel in Londen opgenomen werd bij Demon Records. Costello rekruteerde Kirchen voor spraakmakende optredens zoals tijdens het Hardly Strictly Bluegrass Festival. Costello noemde zelfs zijn festivalband naar Kirchen's 'Hammer of the Honky-Tonk Gods' 2006-album. In 2010 zijn op de opvolger, 'Word to the Wise' Costello, Maria Muldaur en Dan Hicks te horen.
'Rush Hour' (1983/2006) en de opvolger 'Word to the Wise' (2010), plus Kirchen's derde album bij Proper American, 'Seeds and Stems' uit 2013, zijn op 2 cd's gecombineerd als een retrospectief getiteld 'The Proper Years'. Het werd uitgebracht op het Britse label The Last Music Co. 'Waxworks', een vinyl best-of-versie van 'The Proper Years' werd ook uitgebracht.
'The Proper Years' zijn twee cd's met 38 nummers, een uitgebalanceerde mix van originelen en covers. Ze laten de veelzijdigheid van Kirchen horen als speler en zanger en een van de eersten, die rockabilly, country, western swing, honky-tonk, jump blues, jazz en boogiewoogie en zelfs de "psychedelische folkrock" vermengde, die hij speelde tijdens zijn studie aan de University of Michigan. Aanvang jaren noemde Kirchen zijn geluid "dieselbilly", waarmee hij zijn voorliefde voor het sub genre van country/truck driving songs, een kruising met de Bakersfield Sound, omschreef.
In de lange tracklist vallen zeker de songs op die Kirchen met zijn gasten doet. Namen als Nick Lowe & Geraint Watkins (op de eerste elf tracks van de eerste cd), Elvis Costello ("Man In the Bottom of the Well"), Commander Cody ("I Don't Work That Cheap"), zangeres Chris O'Connell (Roger Miller's "Husbands and Wives") en Kevin "Blackie" Farrell ("Open Range") vullen de lijst. Het meest opvallende nummer is hier zeker "Shelly's Winter Love", met gastoptredens van twee legendarische Britse singer-songwriters, Nick Lowe en Paul Carrack. Samen met Kirchen doen ze de ballade van Merle Haggard uit 1971, met meeslepende harmonieën die doen denken aan de Everly Brothers. Een twangy gitaar, zacht getokkel op akoestische gitaar en piano komen samen en complementeren zo het croonen. In dit prachtig honky tonk nummer leggen Kirchen, Lowe en Carrack heel subtiel een vleugje van hun gedeelde popgevoeligheid. Kirchen slaagt er zelf ook in om in het midden van het nummer, met een twangified blues-surf gitaarsolo, als een herinnering dat, hoewel dit een Haggard-song is, er een onmiskenbare Kirchen-stempel op te zetten. Daarnaast zijn er op de andere cd bijdragen van Maria Muldaur ("Ain't Got Time For the Blues") en Dan Hicks ("Word to the Wise"), artiesten bij wie Kirchen ooit in de (begeleidings)band speelde. Verder staan hier ook nog Norton Buffalo ("Valley Of the Moon"), Butch Hancock ("Oxblood") en Austin de Lone ("Think It Over" - "The Times They Are A-Changin'") als "interessante" namen op de gastenlijst.
Telecaster-meester Bill Kirchen blijft sinds 1967 verbonden met Commander Cody en zijn Lost Planet Airmen. Gitaarspelen is al decennia lang zijn enige baan geweest. Op 'The Proper Years' blikt hij in achtendertig nummers met gerenomeerde gasten terug op zijn ongelooflijke tour-de-force in de wereld van Americana en Alt Country.
" On 'The Proper Years' Bill Kirchen looks back with renowned guests on his incredible tour-de-force in the world of Americana and Alt Country in thirty-eight songs… " (ESC for Rootstime.be)
Eric Schuurmans
10 cd's te winnen!
Wil je daar kans op maken, dan mail je ons gewoon even:
je naam, je adres en de vermelding: BILL KIRCHEN
Binnen een aantal weken wordt uit alle inzendingen de gelukkigen getrokken.
Wij hopen dat u massaal Rootstime - hier - zult mailen
De winnaars worden per mail verwittigd.
Album track list: CD1: 01. Hammer of the Honky-Tonk Gods - 02. Rocks Into Sand - 03. Get a Little Goner - 04. Skid Row In My Mind - 05. Working Man - 06. Soul Cruisin' - 07. Truth Be Told - 08. Devil With the Blue Dress - 09. One More Day - 10. Heart Of Gold - 11.  If It's Really Got to Be This Way - 12.  Bump Wood - 13.  Shelly's Winter Love [Merle Haggard] - 14 . Man In The Bottom Of The Well - 15.  I Don't Work That Cheap - 16.  Time Will Tell the Story - 17.  Husbands And Wives [Roger Miller] - 18. Open Range - 19.  Arkansas Diamond / (1-11): w/Nick Lowe and Geraint Watkins, (13): w/Paul Carrack and Nick Lowe, (14): w/Elvis Costello, (15): w/ Commander Cody, (17): w/ Chris O'Connell, (18): w/ Blackie Farrell / CD2: 01. Word to the Wise - 02. Ain't Got Time For the Blues – 03. Valley Of the Moon - 04. Too Much Fun - 05. Tell Me the Reason - 06. Down To Seeds and Stems - 07. Semi-Truck - 08. Rockabilly Funeral - 09. Womb To The Tomb- 10.  Flip Flop - 11. Swing Fever – 12. It Takes a Lot to Laugh, It Takes a Train To Cry - 13. Truck Stop At the End Of the World - 14. Mama Hated Diesels - 15. Hot Rod Lincoln - 16. Talkin' About Chicken - 17. Think It Over - 18. Oxblood - 19. The Times They Are A-Changin' / (1): w/Dan Hicks, (2): w/Maria Muldaur, (3): w/Norton Buffalo, (17,19): w/Austin de Lone, (18): w/ Butch Hancock / Words/music © 2020 by: Bill Kirchen, or as [noted] |
Discography Bill Kirchen (Moonlighters*): The Proper Years [2020] | Waxworks, The Best of the Proper Years [2020] | Tombstone Every Mile, w/Too Much Fun [2019] | Transatlanticana, w/Austin De Lone [2016] | Seeds and Stems [2013] | Bill Kirchen's Honky Tonk Holiday [2012] | Word to the Wise [2010] | The Missing Moonlighters – Live / Studio Closet Tapes* (2CD) [2008] | Hammer of the Honky-Tonk Gods [2006] | King of Dieselbilly [2005] | Dieselbilly Road Trip [2003] | Tied to the Wheel [2001] | Raise a Ruckus [1999] | Hot Rod Lincoln Live! [1997] | Have Love, Will Travel [1996] | Tombstone Every Mile [1994] | Rush Hour* [1983/2006] | Midnight in Memphis* (single) [1977] | The Moonlighthers* [1977] |