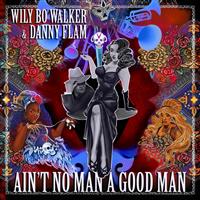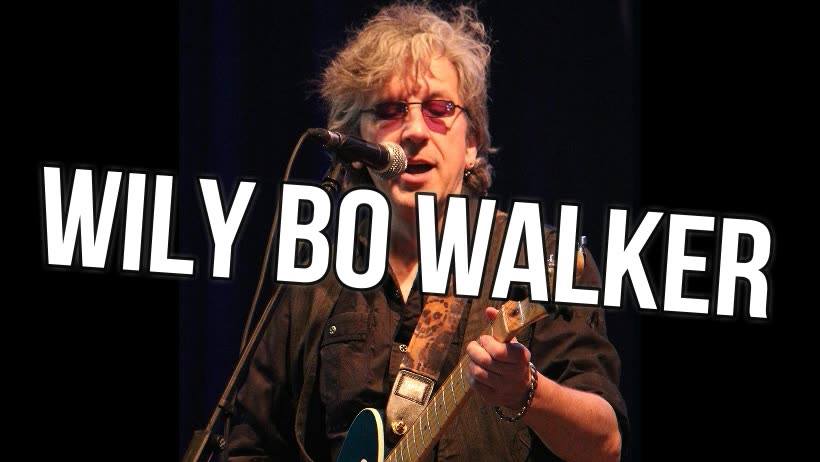 " After more than 40 years and, against old odds… "
Wily Bo Walker (WBW) is een extravagante Schotse, vaak in Londen en NY vertoevende performer, soloartiest en de frontman van meerdere bands. WB Walker's muziekstijl is een amalgaan van stijlen: blues, soul, jazz, indie, rock, alternatieve en hedendaagse muziek. Van zijn New Yorkse "blues en soul revue"-producties tot zijn Britse, New Orléans-geaarde "Rattlin Bone Theatre Show" en, van zijn akoestische swamp'n'stomp Americana "VoodooVille"-shows, tot zijn uitgeklede & kickin' Rock & Blues "Wily Bo Walker Band"; Wily Bo bewijst telkens waarom hij erkend wordt, als een artiest die genres in nieuwe vormen kan veranderen én, dat hij het waard is opgenomen te zijn in de US Blues Hall of Fame als "Master Blues Artist".
WBW werkt regelmatig samen met bevriende muzikanten als gitarist, songriter, componist & arrangeur E D Brayshaw ('The Roads We Ride', 2019 - als The Baddies: 'Dancing Under the Coyote Moon…', 2004), singer/songwriter Kareña Kelly (met wie hij de band The Blue Valentines runt) en Grammy Award winnaar, trombonist Danny Flam.
'Moon Over Indigo' (2015) was het 3de deel van een aangekondigde trilogie. Deel 1 was het mini album 'A Long Way From Heaven' (2015), dat hij deed samen met Kareña K en deel 2 was de 6-track EP 'Stone Cold Beautiful' (2015), die hij deed samen met zijn muzikale partner E D Brayshaw. Voor deel 3 werkte Walker samen met Danny Flam. Ze namen al het album 'Willy Bo Walker & The Danny Flam Big Band' (2013) op.
"Limited Edition Double Album with 10 horn-driven & remastered grooves from previous albums…"
Voortbordurend op het succes van 'Moon Over Indigo', werkten Wily Bo en Danny Flam opnieuw samen met meer dan 30 van de beste Amerikaanse en Britse muzikanten aan een nieuw album dat "genre-wendingen zou verkennen", wat van een Wily Bo productie verwacht wordt. Het "Limited Edition Double Album" kreeg de titel 'Ain't No Man a Good Man' en bevat van 1-10, tracks van het nieuwe album én van 11-20, 10 tracks "horn-driven & remastered grooves" van eerdere WB Walker albums ('Almost Transparent Blues', 2018, 'The Wily Bo Walker Story', 2016 & 'Moon Over Indigo', 2015).
De lange lijst met muzikanten en vocalisten voor de opnames waren leden van Walker's akoestische en elektrische bands, meerdere gitaristen (o.a. Mike Ross), drummers (o.a. Max Saidi, Eran Asias & Marc Ambrosino) en toetsenisten (o.a. Steve Watts, Kareña K & Benjy King). Daarnaast ook leden van de New York Brass (Ron Bertolet, Mark Gatz, Nir Naaman…) en bijdragen van The Brown Sisters (3 zussen: Adrienne, Andrea & Vanessa) of Chicago Gospel Choir en het Cenovia Cummins String Quartet.
Wij concentreren ons in de review op de eerste cd van deze "beperkte" editie. Op de tracklist van 'Ain't No Man a Good Man' staan tien "nieuwe" nummers "die luisteraars meenemen op een swingende, macabere jazz- en blues funhouse-rit vol spanning en rillingen". Het album opent met het door Blood, Sweat & Tears geïnspireerde titelnummer "Ain't No Man a Good Man", dat resulteerde in passionele, door blazers gedreven, erg theatrale soulmuziek. Diezelfde blazers drijven ook "Fool For You (2020 Hindsight)" naar een hoger niveau. "Did I Forget" is een nummer van de Britse blues muzikant Long John Baldry, waarin WB Walker lui swingend zijn liefde opbiecht, geaccentueerd door de onstuimige bariton sax van Ron Bertolet. Daarna speelt Wily in "Velvet Windows (Treme Trippin')" de rol van een man die zich opwindt over de rompslomp van liefde. De biecht gaat nog even verder op het verleidelijke "Walking with the Devil (Blood On My Hands)", een langzaam brandende blues-samba met leadgitaar van Mike Ross. E D Brayshaw schreef mee aan "Night of the Hunter" dat al eerder verscheen op het 2019-album 'The Roads We Ride' en, toen aangekondigd werd als "Wily Bo & EDB's met blues doordrenkte drie cent Rock Opera". Door de donkere zang en blazers bereikt het hier de film noir-soundtrackstatus. "Ain't Hungry No More" kreeg een reggae-nabehandeling. WB Walker gaat voor deze "Voodoo Zombie Blues" terug naar zijn Rattlin' Bone-album uit 2014, 'The Life and Death of…'. De late night blues "Time to Forget You" (een nummer van de Amerikaanse muzikant, autotechnieker Jimmy Dean Brooks) werd in 2010 voor het eerst opgenomen in de Abbey Road Studio's samen met Kareña K, Danny Flam & The New York Brass en The Brown Sisters, om het wat meer R & B-pit te injecteren.
"De Londres à la New Orléans: burlesque blues, a bawdy barroom brawler and yet another drunken fable…"
De twee overblijvende tracks zetten ons op weg van "Londres à la New Orléans" met "burleske blues, een schunnig bargevecht en een dronken fabel...". Beginnend met een vaudeville-versie van de klassieker "St James Infirmary Blues". "St. James Infirmary (Blues)" is gebaseerd op een 18de eeuws traditioneel Engels volksliedje "The Unfortunate Rake", dat gaat over een zeeman, die zijn geld verkwanselt aan prostituees en vervolgens overlijdt aan een geslachtsziekte. In deze standard speelt Wily Bo de rol van de circusdirecteur in een wervelend circus spektakel. In de afsluiter "Build My Gallows (Ain't No Return)" (Bouw mijn galg, er is geen weg terug) -toevallig ook het clublied van de Schotse Rangers Football Club: "So build my gallows build them high / That I might see before I die / The Antrim glen and the hills of County Down / And I'll see again the lights of home")- roept Wily Bo de geest en stijl van Led Zeppelin op, waarbij Troy Redfern hem helpt om Jimmy Page's legendarische slide gitaar op de Silvertone te evoceren. De Zeppelin song "Gallows Pole" ('Led Zeppelin III', 1970) staat hier verder los van en is gebaseerd op een oud Blues-nummer genaamd "Gallis Pole", dat populair werd gemaakt door Leadbelly. Het Cenovia Cummins String Quartet levert hier de Kashmir-smaak (Led Zeppelin - 'Physical Graffiti', 1975), verwijzend naar de smeekbeden van een man die gedoemd was om de ultieme prijs aan de galg te betalen voor zijn verboden verlangens.
Na méér dan 40 jaar en, opnieuw "against all odds" doet Wily Bo Walker op 'Ain't No Man a Good Man' wat iedereen ondertussen van hem verwacht, niet-conventionele, genre- en grensoverschrijdende blues blijven opnemen en uitbrengen. Met de hulp van Danny Flam werd 'Ain't No Man a Good Man' een mooie aanvulling voor zijn ondertussen meer dan twee dozijn tellende collectie.
" After more than 40 years and, again and "against all odds" on 'Ain't No Man a Good Man' Wily Bo Walker does, what's been expected of him for more than four decades, continuing to record and release non-conventional, genre and cross-border blues.... "  - ESC for www.rootstime.be
Eric Schuurmans
Album track list: CD1: 01. Ain't No Man a Good Man - 02. Fool For You (2020 Hindsight) [Stone McEwan] - 03. Did I Forget [Long John Baldry] - 04. Velvet Windows (Treme Trippin') [w/E D Brayshaw] - 05. Walking With the Devil (Blood On My Hands) - 06. Night Of the Hunter [w/E D Brayshaw] -  07. Ain't Hungry No More - 08. Time To Forget You [Jimmy Dean Brooks] [w/ Kareña K, Jimmy Dean Brooks] - 09. St James Infirmary Blues [Irving Mills] - 10. Build My Gallows (Ain't No Return) / Music / lyrics: Wily Bo Walker & E D Brayshaw (4), or as [noted] / Produced by: Willy Bo Walker | CD2: 11. Chattahoochee Cooche Man [Donnie McCormick] – 12. I Want to Know (NY Funk Mix) – 13. Who Do You Love (NY Chiller Mix) [Elias McDaniel] – 14. Walk in Chinese Footsteps [w/E D Brayshaw] – 15. For the Children – 16. Drive (Two Lane Blacktop Mix) – 17. Jawbreaker – 18. Moon Over Indigo – 19. When the Angels Call Your Time (Bourbon Street Mix) – 20. Long Way to Heaven (Chicago Gospel Mix) | Album line-up: Wily Bo Walker: lead vocs, guitar, e- bass, banjo, keys, tambourine, percussion, sound FX, bvs & storytelling / Danny Flam: trombones, trumpets, sousaphone, Hammond, bvs / Kareña K: bvs, keys, percussion, Stevie Watts: Hammond & Wurlitzer, Benjy King: Hammond & piano, Ruslan Agabayev: keys, Paul Long: Hammond / Tommy Rhodes: bass, Clarky: double & e- bass, Tom Welsch: e- bass, Neville L'Green: e- bass / Max Saidi: drums, Eran Asias: drums & percussion, Anthony Sullivan: drums, Marc Ambrosino: drums / Ron Bertolet: baritone & tenor sax, Kenny Rampton: trumpet, Mark Gatz: sax, Mike McGovern: trumpet, Nir Naaman: sax, Tony Gorruso: trumpet, Steve Withoft: trombone, Alex Bland: tenor sax / Li'l Neill: bvs / The Brown Sisters of Chicago: feat. Adrienne, Andrea & Vanessa Brown – Dukes / The Cenovia Cummins String Quartet: Cenovia Cummins & Louise Owen: violin, Alissa Smith: viola, Laura Bontrager: cello / Troy Redfern: slide guitar (10)… / All songs by Wily Bo Walker, except (2,4,6,8,9,11,13,14) as [noted]
Discography WILY BO WALKER: Ain't No Man a Good Man, w/Danny Flam [2020] | St James Infirmery Blues (de Londrés à la New Orléans) (single), w/Danny Flam [2020] | The Roads We Ride, w/ E D Brayshaw (2CD) [2019] | Almost Transperant Blues [2018] | Running Wild, w/ E D Brayshaw [2017] | The Wily Bo Walker Story Vol. II [2016] | The Wily Bo Walker Story Vol. I [2016] | Stone Cold Beautiful, w/ E D Brayshaw (EP,6#) [2015] | Moon Over Indigo, w/ Danny Flam [2015] | Dancing Under The Coyote Moon…, w/ E D Brayshaw [2014] | A Long Way From Heaven (EP), feat. Kareña K [2014] | Drive [2014] | Willy Bo Walker & The Danny Flam Big Band [2013] | Castle of Clay / Forty Days (Reprise) (single), written by Saul Stern [2013] | Walk In Chinese Footsteps (only online) [2013] | The Mescal Canyon Troubadours, by The Mescal Canyon Troubadours [2013] | Paris (Tribute to Django Reinhardt), by Wily Bo Walker & Amir Ben-Haim (only online) (Wily Bo Walker: lead vocal, lyrics, Amir Ben-Haim: guitars, bass, percussion, composition, arrangements & production, Kareña K: b-vocs & vocal arrangements, Yaron Gershovsky: piano, Ron Ben-Haim: vocal effects) [2013] | Irritated Shadow, w/ Amir Ben-Haim [2012] | The Life and Death of…, by Rattlin Bone (Incl. the singles "Rain On My Footsteps", "Shoot Me Down - feat. The Vampirettes, "Drag Me Down" & "Speaking Of Happiness") [2011] | The Ligfe and death of… Rattlin Bone [2010] |