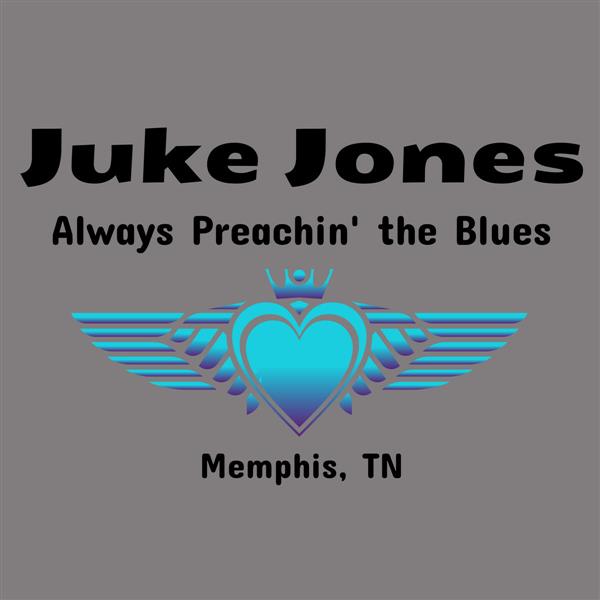 " A one-man blues band hailing from Memphis and always preachin' the Blues… "
Juke Jones is een one-man blues band uit Memphis, Tennessee. Jones speelt gruizige, rauwe blues uit Chicago, Texas, de Delta en de Mississippi Hill Country. Zijn invloeden zijn onder meer R.L. Burnside, Junior Kimbrough, Muddy Waters, Jessie Mae Hemphill, Howlin Wolf, Son House, Stevie Ray Vaughn en Elmore James.
Op zijn album 'Bluff City Breakdown' verzamelt hij nummers van muzikanten die hem beïnvloed hebben. Het album werd opgenomen in de Sun Studio en biedt een korrelige, rauwe mix van Delta, Chicago en Hill Country Blues. Jukes Jones zingt, speelt op gitaar, mondharmonica en doet de drumsequenties. Mixen, masteren en de cover art gebeurden ook via hem.
Als rauw en ruig kan je hem typeren en dit al vanaf de opener, Muddy Waters' "Rollin' and Tumblin'. "Shake Your Money Maker" houdt door het hoge slide gitaar gehalte zijn typische Elmore James' vibe. Van "Blues Number 2"" -wat je op internet vindt als een jazz nummer van Hank Mobley dat ook in Miles
Davis' songbook stond- durf ik alleen maar zeggen dat het erg bluesy en totaal niet jazzy is. Nog meer bekende klassiekers zijn JL Hooker's "Boom Boom", RL Burnside's relaxte "Goin Down South" en het nummer van Ida Cox & Jesse Crump "Death Letter Blues", een signature Delta blues song, die door Son House in 1965, Johnny Winter en nog zoveel anderen maar al te graag gecoverd werd. Jessie Mae Hemphill (1923-2006) werd geboren in de buurt van Como en Senatobia, in het noordelijke Mississippi heuvelland, net ten oosten van de Mississippi delta. Zij was een gitarist, songwriter en zangeres, gespecialiseerd in de Noord MS hill country blues. Van haar speelt Jones "Go Back to Your Used to Be" en het slide nummer "Standing in My Doorway Crying". Joe Purdy is een Amerikaanse singer-songwriter (en acteur) die de afgelopen vijftien jaar veertien albums heeft uitgebracht. In 2004 verscheen op Purdy's 'Julie Blue', "Far Away Blues". Juke Jones schreef met zijn eigen woorden voor zijn nieuwe album, een "eigen" qua tekst volledig verschillende versie van "Far Away Blues". "Blues Before Sunrise" is van Leroy Carr. Deze andere Amerikaanse blueszanger en -pianist werd vooral bekend samen met zijn langjarige partner, de gitarist Scrapper Blackwell, met wie hij als duo optrad en opnamen maakte. Eindigen doet Jones met klasse. Met Robert Johnson's "Walkin' Blues" en Booker "Bukka" White's "Shake 'Em on Down".
De one-man bands, ze blijven op een eigenzinnige wijze in de bluesscene bestaan. Ook Juke Jones is er zo een. 'Bluff City Breakdown' is een interessante kijk op de manier hoe Juke Jones met blues klassiekers omgaat.
" 'Bluff City Breakdown' is an interesting take on how Juke Jones handles blues classics… " (ESC for Rootstime.be)
Eric Schuurmans
10 cd's te winnen!
Wil je daar kans op maken, dan mail je ons gewoon even:
je naam, je adres en de vermelding:JUKE JONES
Binnen een aantal weken wordt uit alle inzendingen de gelukkigen getrokken.
Wij hopen dat u massaal Rootstime - hier - zult mailen
De winnaars worden per mail verwittigd.
Album track list:
01. Rollin' and Tumblin' [McKinley Morganfield] – 02. Shake Your Money Maker [Elmore James] – 03. Blues Number 2 [?] - 04. Boom Boom [JL Hooker] – 05. Goin Down South [RL Burnside] – 06. Death Letter Blues [Ida Cox / Jesse Crump > Son House] – 07. Go Back to Your Used to Be [Jessie Mae Hemphill] – 08. Far Away Blues [Joe Purdy] - 09. Blues Before Sunrise [Leroy Carr] - 10. Standing in My Doorway Crying [Jessie Mae Hemphill] - 11. Walkin' Blues [Robert Johnson] - 12. Shake 'Em on Down [Booker "Bukka" White] / Words/music © 2020 by as [noted]
Album line-up:
Juke Jones: vocs, guitar, harmonica, drums, percussion
Discography Juke Jones:
Bluff City Breakdown [2020] |