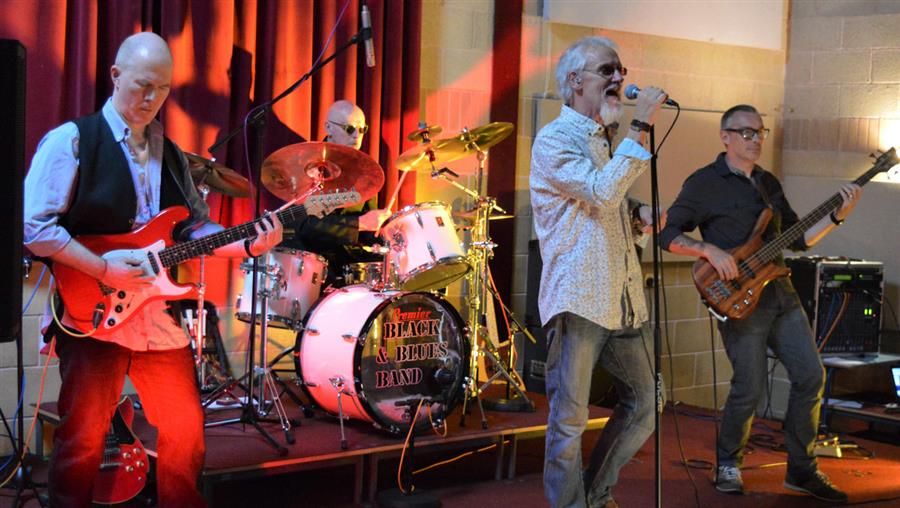 " Blues is our business!... "
Het lijkt me deze week qua bands een Britse week, want ook frontman Roger Keenan (zang), Jon Crowe (gitaar), Alan Vincent (bas) & Gary Santry (drums) -samen The Black and Blues Band- komen uit de music scene in Londen en Wales en omschrijven zich als "a hard-working professional (British) bluesband". Ze stonden al als support op het podium met Robert Plant, Grey Wolves en Andy Fairweather Lowe.
Het was frontman Roger Keenan die de band oprichtte en 'A Lonely Road' is het debuutalbum van The Black and Blues Band, dat aanvang dit jaar uitgebracht werd. Al zo'n vijf jaar zitten ze samen in de blues business en dat deze muziek veteranen elk de nodige ervaring bezitten, is bijna een vanzelfsprekendheid. Het album werd opgenomen in de Hilltop Studios en het artwork is van bassist Alan Vincent.
Het album opent sterk met "Queen of Hearts". Het is een energieke blues rocker met een aanstekelig riff en een hoofdrol voor vooral frontman Roger Keenan en gitarist Jon Crowe. In "When the Blues Got a Hold on You" hoor je vooral bassist/co-songwriter/producer Alan Vincent (in de jaren '90 actief bij de Prog Rock band Rysk) aan het werk. "I Ride this Train" is het enige niet origineel Keenan/Vincent nummer, maar werd geschreven door Crispin Jones. In dezelfde stijl, maar trager gaat de B&BB verder met "Black and Blue Loving You". Ook nu weer ontbreken de solo's van Crowe niet. Hij is afkomstig uit Shropshire (in de Engelse regio West Midlands) en leerde zichzelf gitaar spelen. In de afgelopen 30 jaar heeft Jon een breed scala aan elektrische en akoestische muziek ontdekt en gespeeld, waaronder Rock, Blues, Country, Folk en Gypsy Jazz. "Wrong Side of the Tracks" is een rustig nummer en "Cut and Run" opnieuw een nummer met een sterk riff en drummer Gary Santry die hier alles netjes lijmt. Lekker British en bluesy klinkt "Climb into the Bottle" met ook hier weer een sterke baslijn van Vincent en de afsluiter "I Can't Let Go" is een sterk, bluesy rocknummer.
The Black and Blues Band is een stevige blues rock band met een eigen stijl en muzikanten met de ervaring om te weten, hoe Blues moet klinken.
" The Black and Blues Band is a solid blues rock band with their own style and musicians with the experience to know how Blues should sound... " (ESC for Rootstime.be)
Eric Schuurmans
Album track list:
01. Queen of Hearts – 02. When the Blues Got a Hold on You – 03. I Ride this Train [Crispin Jones] - 04. Black and Blue Loving You - 05. Wrong Side of the Tracks - 06. Cut and Run - 07. If You're Looking For Love - 08. Climb into the Bottle - 09. King of Mistrust - 10. I Can't Let Go / Words/music © 2020 by Roger Keenan (6-8) & Alan M Vincent (1,2,4,5,9,10), or as [noted: 3] - Engineered and Produced by Alan Vincent
Album line-up:
Roger Keenan: vocals / Jon Crowe: guitar / Alan Vincent: bass / Gary Santry: drums
Discography Black and Blues Band:
A Lonely Road [2020] |