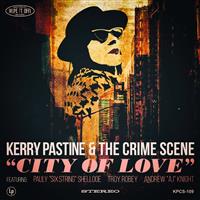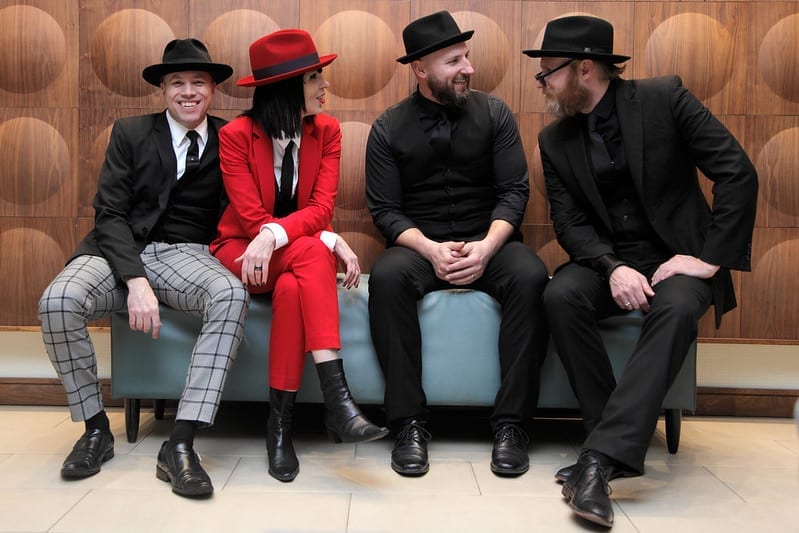 " Hop on, hop off through the City of Love… "
Kerry Pastine uit Denver, Colorado, is schilderes, ontwerpster, schrijfster en daarnaast ook frontdame & singer-songwriter van een roots rock power band, The Crime Scene. Met haar muzikale partner en levensgezel/ gitarist Pauly "Six" Shellooe -men noemt hem zo, omdat hij voor iedere show, welgeteld zes groene druiven eet, om zijn gewrichten lenig te houden- trok ze in 2015 met bassist Lance "Romance" Bakemeyer en drummer Mike "Mad Dog" Minnick in Denver de Keep & KP6 studio's in om 'Let's Do This Thing' op te nemen. Het was de opvolger van Kerry's 2014-debuut 'The Other Side'. In september 1919 verscheen hun derde studio album 'City of Love', maar daarover seffens wat meer.
"Their unique sound sets them apart from other artists and bands in the "Americana" genre.  "It's rockabilly with a Patti Smith attitude..." dixit Longmont Magazine
Hun muziek wordt omschreven als "Amerikaanse roots rock, vermengd met een mix van R&R, rockabilly, jump blues, soul en garagerock".

'City of Love' werd ook opgenomen in Denver maar in de Rock Drill Record Factory & 3 Legged Midnight Studio. Het album is geproduceerd, opgenomen, gemixt en gemasterd door Paul Shellooe. De fotografie is van Leslie Van Stelten. Alle nummers zijn geschreven door Kerry Pastine, behalve "All Night Long", "Tears of Heartache", "Ragi'", "Crawl" en "Down" zijn geschreven door Mark Richardson, die als gast op o.a. Hammond B3 op het album meespeelt. "My Baby's Comin 'Home" is een nummer van BB King en Fats Washington.
Ze zeggen dat verandering een van de enige zekerheden is. Of het nu de groei van een stad is, of de evolutie van een muzikaal ensemble, zonder groei komt de dood. Je zou gerust kunnen zeggen dat Kerry Pastine een architect is van leven, liefde, geluk én verandering. Met 'City of Love' verkent ze deze thema's met gratie en zelfvertrouwen. Voor de opnames koos ze een aantal van de beste muzikanten uit de scene, om haar muzikale visie vast te leggen. De resultaten zijn gewoon adembenemend.
Van de vermoeiende wandeling van "Goin' for Broke", de opener, tot de swing van "Singapore Downbeat", waarin The Crime Scene voor Kerry de basis legt om het muzikale stadsbeeld te schetsen. Een stad, waarvan de architectuur geworteld is in het verleden, maar een gedurfde stap zet in de toekomst. Pastine scoort als vocaliste in het titelnummer "City of Love" en tilt een stijlvol, maar spartaans uitje naar het niveau van muzikale kunst. Niet alleen in dit nummer, maar ook in "Tears of Heartache",maakt ze het de luisteraar duidelijk, dat ze bereid is om haar stem naar de buitengrenzen van het emotionele bereik te duwen. Een van de nummers die een andere kant van de band laat horen is "Crawl",dat ook duidelijk aangeeft dat rock de rode draad in ieder nummer is. Het zwoele "Rain or Shine" is een rustig nummer en  
"All Night Long" al de volgende rocker, die aan Andrew "AJ" Knight de ruimte geeft die een drummer wel eens nodig heeft. Ook bassist Troy Robey en Pauly "Six" Shellooe laten met snedige solo's de teugels vieren. "Under Your Spell" is een Latino nummer dat uitnodigt om te dansen en "My Baby's Comin' Home", waarmee Kerry afrondt, een roots rocker die de thuiskomst ongetwijfeld zal opvrolijken.
Zij die Kerry Pastine & The Crime Scene nog niet kenden krijgen met 'City of Love' al direct de beste plaatsen op deze citytrip. Dus stap in en maak met Kerry een rit door de City of Love, dat je zeker niet onberoerd zal laten.
" Those who didn't know Kerry Pastine & The Crime Scene yet will,  with 'City of Love', get the best places on this city trip right away. So hop in and take a ride with Kerry through the City of Love that will certainly not leave you untouched… " (ESC for Rootstime.be)
Eric Schuurmans
10 cd's te winnen!
Wil je daar kans op maken, dan mail je ons gewoon even:
je naam, je adres en de vermelding: KERRY PASTINE & THE CRIME SCENE
Binnen een aantal weken wordt uit alle inzendingen de gelukkigen getrokken.
Wij hopen dat u massaal Rootstime - hier - zult mailen
De winnaars worden per mail verwittigd.
Album track list:
01. Goin' for Broke - 02. Leanin' In - 03. Singapore Downbeat - 04. City of Love - 05. Tears of Heartache - 06. Ragin' - 07. Crawl - 08. Rain or Shine - 09. Down Down - 10. All Night Long - 11. Under Your Spell - 12. My Baby's Comin' Home / Words/music © 2019 by: Kerry Pastine & Mark Richardson (5-7,9,10), or as [noted: 12] - Produced by: Paul Shellooe
Album line-up:
Kerry Pastine: lead & b-vocs, tambourine, vibra-slap / Pauly "Six" Shellooe: guitars, vocs / Troy Robey: e- & upright bass, vocs, piano, Wurlitzer 200A / Andrew "AJ" Knight: drums, vocs, percussion, piano & Guests: Cass Clayton: vocs / Jessica Rogalski: vocs / Mark Richardson: Hammond B3, Farfisa, Fender Rhodes
Discography Kerry Pastine & the Crime Scene:
Zou Bisou Bisou [05/2020] | Red Right Hand [03/2020] | City of Love [2019] | I Make My Own Luck [2018] | Bad Magic baby [2017] | It's a Crime Scene Christmas (EP,8#) [11/2015] | Let's Do This Thing [08/2015] | The Other Side [2014] | Know Thyself: The Audiobook, a guided journey to self and unlocking the power within. An audiobook by Kerry Pastine [2012] |