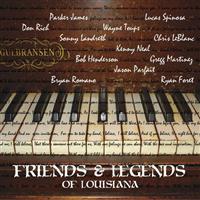 " A project that would include variety of sounds and genres
to cover the melting pot of musical styles in the great south… "

Het idee om een aantal artiesten van in en rond de staat Louisiana (hoofdstad Baton Rouge) in de studio bijeen te brengen, kwam van Lucas Spinosa en Mike David. Spinosa is in 2018 opgenomen in de Louisiana Hall of Fame als muzikant en songwriter, David is promotor en manager. De bedoeling was dat het een muzikaal project werd "dat een verscheidenheid aan geluiden en genres zou omvatten, die de smeltkroes van muziekstijlen in het grote zuiden zou bestrijken…".
Lucas was al in muziek geïnteresseerd op de leeftijd van acht en speelt sinds de middelbare school al professioneel. Tegen de tijd dat hij 19 was, had hij zijn eerste album opgenomen. Lucas Spinosa is een (sessie) muzikant en songwriter en nam in de jaren '90 met zijn country band, Lucas Spinosa & Southern Star vier albums op. Met Rougon (de band rond frontman Romano, bassist Steve Schittone & drummer Randy Carpenter) bracht hij in 2018 het rock album 'Set Me Free' uit. Op 'Live @ the Bellemont' (2019) van The Inn Crowd is Spinosa op orgel te horen.
Voor de opnames van 'Friends & Legends of Louisiana' werd de Brignac Lane Studio in St. Amant, LA, geboekt waar Lucas Spinosa (keys) afsprak met gitaristen Cranston Clements & Bob Henderson, bassist David Hyde, drummer Brian Brignac en de blazers Jason Parfait (sax en zang op de opener) en Ian Smith (trompet, trombone). Daarnaast is Sonny Landreth op een nummer op gitaar te horen. Niet minder dan elf muzikanten deden de zang op de tien opgenomen tracks, waarvoor Spinosa alle nummers schreef.
"With a little help from friends…"
Op de sterke opener, de energieke shuffle "Beale Street Blues", spelen de blazers, maar vooral saxofonist Jason Parfait een hoofdrol. Naast de sax neemt hij ook de zang voor zijn rekening. "While You're Still Mine" is een soulvolle jazzy melige ballade, gezongen door Parker James. Het aanstekelige gospel meets R&B "Belly of the Beast" drijft op een Latino ritme. Op het nummer zingt Wayne Toups en wordt hij begeleid op slide gitaar door Sonny Landreth. Don Rich is frontman op "Want It to Be" en Bob Henderson is dit op "I Believe", waarvoor hij ook de gitaar omhangt en even op sax speelt. De gastenlijst is lang en bevat ook de sympathieke streekgenoot Kenny Neal. Hij doet op het bluesy countrynummer "Southern Side of Life" de zang en bracht ook zijn harmonica mee. Na een reeks rustige nummers, gooit Chris Leblanc op "Red Tail Lights on a Blues Highway" het roer om. Hij weet aardig te boeien met dit blues/rock nummer over een spookachtige snelweg. Op de mooie ballade "The Two of Us" neemt Gregg Martinez de zang honneurs waar en Ryan Foret doet dit op "Living in a Fantasy". Het album sluit af met een laatste ballade "Memories". Bryan Romano doet hier de zang en op sax soleert nog eens de geweldige Jason Parfait.
'Friends & Legends of Louisiana' is een muzikaal project, opgezet en begeleid door Lucas Spinosa en ondersteund door meerdere bekende lokale all-stars. Qua stijlen is het heel verscheiden, maar dit maakt het muzikaal erg interessant. 
" 'Friends & Legends of Louisiana' is a musical project set up and supervised by Lucas Spinosa. It's supported by several well-known local all-stars. In terms of styles it is very diverse, but this makes it very interesting musically… " (ESC for Rootstime.be)
Eric Schuurmans
Album track list, featurings & vocals: 01. Beale Street Blues (feat. Jason Parfait: vocs, sax) – 02. While You're Still Mine (feat. Parker James: vocs) – 03. Belly of the Beast (feat. Wayne Toups: vocs & Sonny Landreth: slide guitar) – 04. Want It to Be (feat. Don Rich: vocs, keys) – 05. I Believe (feat. Bob Henderson: vocs, guitar, sax) – 06. Southern Side of Life (feat. Kenny Neal: vocs, harmonica) – 07. Red Tail Lights on a Blues Highway (feat. Chris Leblanc: vocs) – 08. The Two of Us (feat. Gregg Martinez: vocs) – 09. Living in a Fantasy (feat. Ryan Foret: vocs) – 10. Memories (feat. Bryan Romano) / Words/music © 2020 by: Lucas Spinosa & Billy E. Henderson (3,7,10) - Produced by: Lucas Spinosa || Album line-up: Jason Parfait (1), Parker James (2), Wayne Toups, Don Rich (4), Bob Henderson (5), Kenny Neal (6), Chris Leblanc (7), Gregg Martinez (8), Ryan Foret (9), Bryan Romano (10): vocs (see track list, featurings) / Chanston Clements, Bob Henderson & Sonny Landreth (3): guitar / David Hyde: bass / Brian Brignac: drums, percussion / Lucas Spinosa: piano, B3 organ, keys / Tillis Verdin: keys (2) / Ian Smith: trumpet, Flugelhorn, trombone / Jason Parfait: sax / Bob Henderson, Elaine Foster & Taylor Lendo: b-vocs
Discography LUCAS SPINOSA (& SOUTHERN STAR*):Friends & Legends of Louisiana (the Collection) [2020] | Live @ the Bellemont, by The Inn Crowd – Lucas Spinosa: organ, vocs [2019] | Set Me Free, by Rougon [2018] | From the Heart* [1998] | Evangeline* [1997] | Magic* [1994] |