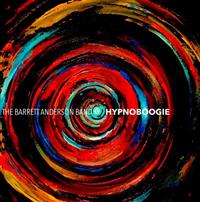 " We boogied, we moved, we let it all out, and once it's out, it can't go back in… "
Barrett Anderson, al meer dan 15 jaar een veteraan in de blues scene van Boston, was lid van zowel Ronnie Earl & The Broadcasters (1999-2002) als The Monster Mike Welch Band. Hij bracht ook enige tijd door in North Mississippi als back-up van de bluesman T- Model Ford en, waar hij in 2007 in Como, MS, ook zijn eerste album 'All the Way Down' met Jimbo Mathus (frontman van de Squirrel Nut Zippers) opnam. In december 2013 ontving Barrett een Boston Music Award als "Blues Artist of the Year", waarmee hij muzikale beroemdheden als Roomful of Blues en The James Montgomery Band evenaarde. Van 2002 tot 2005 maakte Barrett ook deel uit van The Monster Mike Welch Band, met wie hij ook in de studio stond.
Op de discografie van Barrett Anderson staat, naast zijn debuutalbum ('All the Way Down', 2007) verder ook zijn tweede soloalbum 'The Long Fall' dat in 2012 verscheen. De line-up bestond naast Anderson (zang, gitaar) uit Hammond orgelist Ron Levy (Albert King, BB King, Roomful of Blues) & drummer Per Hanson (Ronnie Earl & The Broadcasters). Daarna was het acht jaar wachten op 'Hypnoboogie' dat hij met The Barrett Anderson Band opnam en dat einde van deze maand verschijnt.
'Hypnoboogie' werd een "live" album, opgenomen in The Fallout Shelter -een studio in de kelder van een 18e-eeuws molengebouw met een nachtclub uit de jaren '40-extensie- in Norwood, MA, met zeven originals en vier covers. Naast Barrett Anderson (zang, gitaar) stonden ook Charlie Mallet (gitaar, zang), drummer Doug MacLeod, bassist Jamie "Black Cat Bone" Hatch & gast zangeres -ik veronderstel familie- Emily Anderson met hem die avond op het podium.
"It's not blues, although there are blues influences. It's not rock, although we've taken plenty of Stones' cues…"
Heel herkenbaar is "Mona (I Need You Baby)" een popnummer geschreven door Ellas McDaniel, alias Bo Diddley. Het nummer kwam voor het eerst uit in 1957 als B-kant van zijn single "Hey! Bo Diddley". De plaat was geen hit, maar zowel de voor- als de achterkant is meermalen gecoverd. De bekendste coverversie is die van The Rolling Stones op hun eerste album 'The Rolling Stones /  England's Newest Hit Makers' dat in 1964 verscheen. "Good Man" is de eerste original waarmee ze de druk op de ketel nog even hooghouden en "Lookin' Good" is een nummer van Sam Maghett, die in 1963 zelf de mosterd was gaan halen bij "All the Blues, All the Time" van Ike Turner. Met "Not Your Baby" -en daarna ook met het swampy "Emma Lee"- verwacht je even een pauze, maar dan moeten de wah-wah's, een korte bassolo en de funky beats nog komen. De instrumentale tracks "The Long Fall" en "Blind Faith" -zonder daarbij het furieuze "Broken Down" te vergeten- roepen op hun beurt de psychedelische/blues achtige jams op, die we een halve eeuw geleden al hoorden van bands als die van Al Kooper, Jorma Kaukonen, Allman Brothers en de Garcia Band. Wie we ook voorbij zijn gegaan is Eddie Son House en zijn "Grinnin' in Your Face" waarin Charlie Mallet's slides de snaren doen smelten en Guy Forsyth doen verbleken. De afsluiter "(Ain't Nobody But a) House Party" is de hit van The J. Geils band. Zo zie je maar dat ook na jaren muzikale smaken niet erg verschillen.
Als "live" album zal 'Hypnoboogie', het nieuwe album van The Barrett Anderson Band", door de intensiteit, originaliteit, creativiteit en passie die er insteekt, het zeker doen. Ze omschreven het zelf perfect als "Het is geen blues, hoewel er bluesinvloeden zijn. Het is geen rock, hoewel er veel riffs en beats van de Stones werden genomen…". 'Hypnoboogie' is het uitkristaliseren van alles: invloeden, emoties, sounds en stijlen.
" As a "live" album, 'Hypnoboogie', the new album from The Barrett Anderson Band, will certainly do it because of the intensity, originality, creativity and passion the band put into it... " (ESC for Rootstime.be)
Eric Schuurmans
Release: 25/09/2020
Album track list: 01. Mona [E. McDaniel aka Bo Diddley] – 02.Good Man – 03. Lookin' Good [Sam Maghett] – 04. Not Your Baby – 05. Emma Lee – 06. The Long Fall– 07. Grinnin' in Your Face [Eddie Son House] – 08. Blind Faith – 09. Broken Down – 10. Gone – 11. House Party [Carl Fisher & Joe Thomas > The J. Geils Band] / Words/music © 2020 by: Barrett Anderson, or as [noted: 1,3,7,11] - Produced by: Barrett Anderson| Album line-up: Barrett Anderson: vocs, guitar / Charlie Mallet: guitar, vocs / Doug MacLeod: drums / Jamie "Black Cat Bone" Hatch: bass, vocs & Guest: Emily Anderson: vocs
Discography (THE) BARRETT ANDERSON (BAND*): Hypnoboogie*, Recorded live @ the Fallout Shelter, 02/01/2020 [2020] | The Long Fall [2012] | All the Way Down [2007] | Adding Insight to Injury, by The Monster Mike Welch Band feat. Barrett Anderson [2005] |