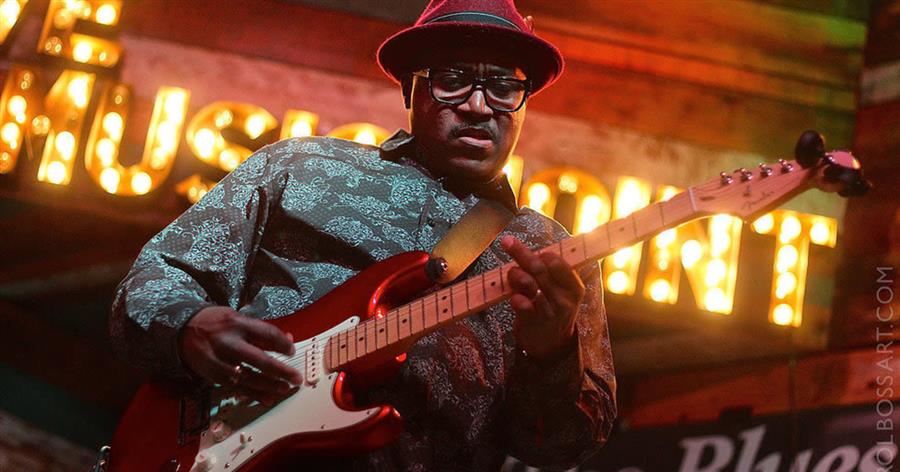 " That funky blues man brings nice relaxing soul blues…  "
Larry Lampkin is een blues muzikant uit Fort Worth, Texas. Hij is een gepassioneerde zanger en gitarist, die zelf zijn nummers over het leven van iedere dag schrijft. Lampkin is beïnvloed door de muziek uit de Delta, Chicago en Texas, waaruit hij zijn eigen rock en soul/blues stijl ontwikkelde. Lampkin bracht al vier albums uit. In 2011 'When I Get Home', in 2014 'The Blues is Real', in 2017 'Keep Doing What You Do' en recent 'Funky Blues Man'.
De titelsong "Funky Blues Man" is de opener van Larry Lampkin's nieuwe album. Het is een ode aan de "real fine woman" die hij vond en die hij hier bezingt en met veel blues gitaar voor zich wint. "Love the One You Love" is de slow blues die ook over de liefde gaat en "Weekend Blues Party" het uptempo nummer dat, zoals je zult horen, telkens -bijna vanzelfsprekend- volgt. De man met de harmonica is hier Jimmy Jones. "Let Our Love Flow" is dan weer een rustige soul blues, waarin Larry's gitaar de gevoelens prikkelt. Het wordt daarna erg funky met het groovende "Jinx" en opnieuw rustig met "The Good Old Days", waarmee het lijkt of je in een bootje te dobberen ligt. Op "Love of Your Life" zit Larry "the Bear" Grigsby achter de piano en kiest Larry voor een Latino groove, op "Stuck in a Situation" voor wat meer ouderwetse soul. Larry gaat met "Eleanor" low down en sluit na deze instrumental af met "Looking so Good". Beamen, dit maakt je inderdaad "feel so good, feel fine…."!
'Funky Man Blues' van Larry Lampkin is op zich geen opvallend album, maar een dat getuigt van gitaar vakmanschap en smaak, eentje dat de blues liefhebbers zeker zal aanspreken. 
" Larry Lampkin's 'Funky Man Blues' is not a striking album in itself, but one that shows guitar craftsmanship and taste, one that will certainly appeal to blues aficionados… " (ESC for Rootstime.be)
Eric Schuurmans
Album track list: 01. Funky Blues Man – 02. Love the One You Love – 03. Weekend Blues Party – 04. Let Our Love Flow – 05. Jinx – 06. The Good Old Days – 07. Love of Your Life – 08. Stuck in a Situation – 09. Eleanor – 10. Looking so Good / Words/music © 2020 by: Larry Lampkin – Recorded, mixed, mastered & produced by: Larry Lampkin || Album line-up: Larry Lampkin: guitar, vocs / Joe "Kat Daddy" McClure: bass / Organ: Steve Ford, Richard Corsey (1), Lewis Fuellen (7) / Drums: James Lowder, Christian Dorn (1,2,4)  / Piano: Steve Ford, Harold "the Bear" Grisby (8) / Jimmy Jones: harmonica (3)
Discography LARRY LAMPKIN: Funky Man Blues [2020] | Keep Doing What You Do [2017] | The Blues is Real [2014] | When I Get Home [2011] |