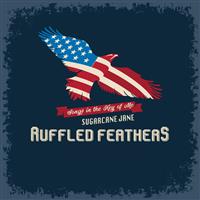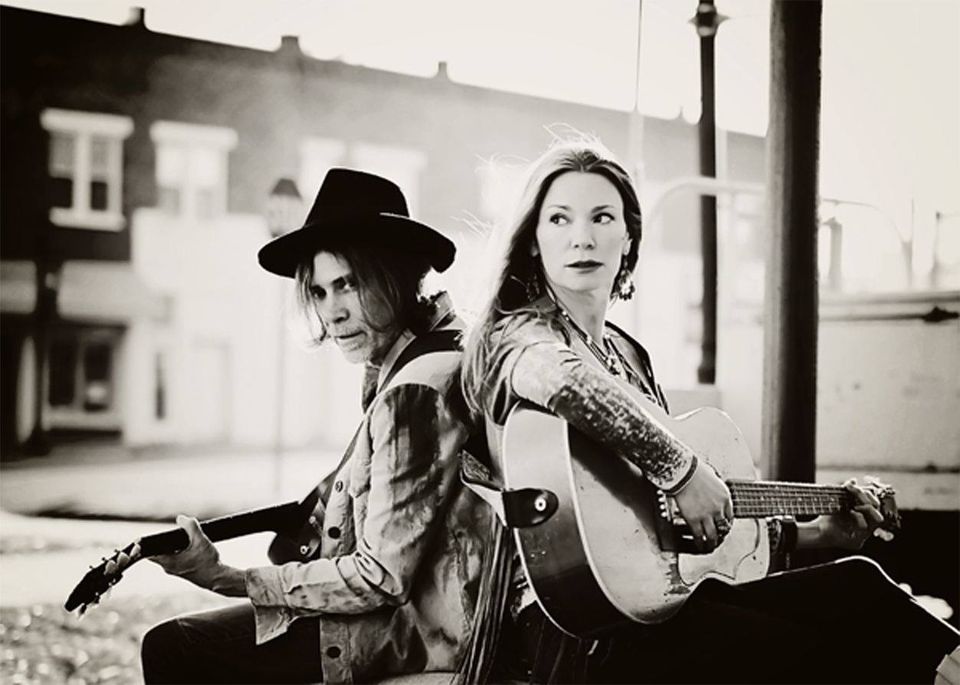 " What's all about right now around us… "
Sugarcane Jane, een Amerikaans roots duo én echtpaar uit de Golfkust van Alabama, zijn Anthony Crawford en Savana Lee. Ze hebben zich gevestigd in de landelijke stad Loxley in het zuiden van Alabama en hebben samen drie kinderen. Beiden zijn ze in Birmingham de eigenaar van Admiral Bean Studio. Anthony werd geboren in Birmingham en kan, gezien zijn rijke muzikale ervaring als veelgevraagd sessiemuzikant, multi-instrumentalist (gitaar, bas, mandoline, viool, drums, harmonica, pedal steel, piano, keys en banjo) en producer, putten uit al heel wat ervaring. Hij werkte al met "notabelen" samen als Neil Young, Steve Winwood en Dwight Yoakam. Naast Sugarcane Jane speelt Anthony ook in International Harvesters, The Shocking Pinks en (samen met Savana) in Willie Sugarcapps. De muziek die ze als duo samen maken is eenvoudig en direct, geworteld in country en rock, en wordt verankerd door hun zoete en soulvolle harmonieën...
'Ruffled Feathers: Songs in the Key of Me' is de titel van hun laatste en tiende studio album. Het album werd opgenomen in een vlaag van inspirerende gedachten die bij hen in een week opkwamen. Het werd opgenomen, gemixt en afgewerkt in de Bean Studio in Loxley, Alabama en werd vorige maand uitgebracht door Admiral Bean Records 2020. Het album is een soort coming out. Met nummers als "I'm Gonna Grow Me a New Mind" ("It's truly what I love the most / About the Father, the Son and the Holy Ghost") en "That's What I See" ("Now how can you hat a man who clearly  loves his country?...") is het paar niet bang om de wereld precies te laten weten waar hun hart ligt en maakt Crawford maakt muziek om Donald Trump te steunen.
Het album opent geweldig met het aanstekelige "Feelings in a Song" dat met totale, opgewekte country-vibe en met een poppy gevoel doorheen de kamer rolt. Als ik het met iets zou vergelijken, zou het met Fleetwood Mac zijn, of met iets van Tom Petty en Bonnie Raitt. In "The Answer of the Day" is het waar het echt om draait als je naar teksten luistert. In het nummer vertellen Anthony en Savana ons over de dingen die er vandaag gaande zijn: "Do you stand up and fight, do you kneel down and bow / it's your right, your choice, to which one you choose…". "Good Book Stories" is een opgewekt nummer met uitstekende gitaarpartijen, die vragen om meer. In "Let the Media Die" doen ze een oproep -wellicht de sterkste op dit album- om meer te communiceren en minder afhankelijk te zijn van de media, die onze vrijheid in gevaar brengt. In "Waking Up America" is hun oproep nog breder en harder: "Cities are burning, people in the street…". De afsluiter "Holy Spirit" vraagt om bezinning, want genoeg stof tot nadenken is er.
Het duo Sugarcane Jane houdt ons wakker met hun motiverende muziek, traditionele boodschappen en oproepen. Wat ze brengen in hun knappe mix van folk, country en rock, is organisch en echt, waarover ze waken is gemeend en beslecht. Dat alles maakt van 'Ruffled Feathers' een bijzonder album.
" The two of Sugarcane Jane keep us awake with their motivational music, traditional messages and calls. What they bring in their clever mix of folk, country and rock is organic and real, what they watch out for is sincere and settled. All this makes of 'Ruffled Feathers' an extraordinary album… " (ESC for Rootstime.be)
Eric Schuurmans
10 cd's te winnen!
Wil je daar kans op maken, dan mail je ons gewoon even:
je naam, je adres en de vermelding: SUGARCANE JANE
Binnen een aantal weken wordt uit alle inzendingen de gelukkigen getrokken.
Wij hopen dat u massaal Rootstime - hier - zult mailen
De winnaars worden per mail verwittigd.
Album track list: Feelings in a Song. / I'm Gonna Grow Me A New Mind / Answer of the Day./ Waiting on Answers. / Good Book Stories / Let the Media Die / Long Overdue / That's What I See. / Words/music © 2020 by: Anthony Crawford, or as [noted] - Produced by: Anthony Crawford | Album line-up: Anthony Crawford: vocs, all instrumentation: a- & e- guitar, bass & drums, pedal steel (1) / Savana Lee: vocs
Discography SUGARCANE JANE: Ruffled Feathers: Songs in the Key of Me [2020] | Sugarcane Jane & the Bucket Fillers - Live [2019] | All Time High [2018] | Southern State of Mind [2018] | Ladders & Edges [2017] | National Treasure, by Anthony Crawford [2016] | Dirt Road's End [2015] | Listen with Headphones [2012] | Music is Love: ASinger-songwriters' Tribute to the Music of Crosby, Stills, Nash & Young, by various artists [2012] | Sugarcane Jane [2009] | Alright with Me [2009] |