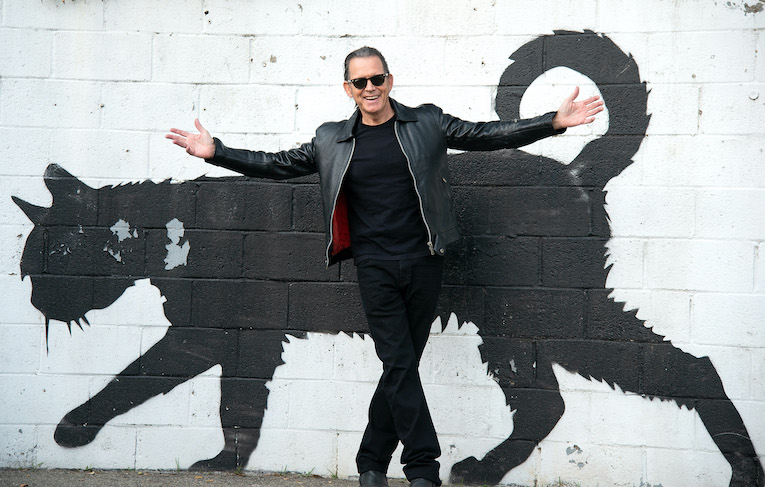 "I've made seven albums for Alligator, and I've never made the same record twice. I will always try to be my most authentic self. I give it all I've got every time we hit the stage!..." (Tommy Castro)
De 66-jarige Tommy Castro (geboren in San Jose, CA) is al vier decennia lang blues, R&B en rock gitarist en singer/songwriter. Op zijn tiende speelde hij al gitaar en is hij is altijd geboeid geweest door elektrische blues, Chicago blues, West Coast blues en soul & rock uit de sixties. Hij keek op naar gitaristen als Mike Bloomfield, Elvin Bishop, Eric Clapton, B.B. King, Buddy Guy, Elmore James en Freddie King en zangers als Ray Charles, Wilson Pickett en James Brown. Zijn stijl is een hybride van stijlen.
In de jaren '70 speelde Castro in coverbands, in de jaren '80 vervoegde hij The Dynatones en vanaf 1991 leidde hij zijn eigen driekoppige band (drummer, bassist & saxofonist Keith Crossan). Vanaf 2009 vervoegde trompettist Tom Poole en een keyboardspeler het viertal. In 1996 tekende Castro bij Blind Pig Records en bracht hij zijn tweede album 'Exception to the Rule' (1995) uit.
In 2009 tekende Castro bij Chicago Alligator Records en bracht hij met producer by John Porter 'Hard Believer' (2009) uit. In 2010 werden er aan Castro door The Blues Foundation meerdere Blues Music Awards uitgereikt: "Blues Male Artist of the Year, "Contemporary Blues Album of the Year", "B.B. King Entertainer of the Year" én "Band of the Year".
In 2011 richtte Castro de vierkoppige band The Painkillers (gitaar/zang, keyboards, bas en drums) op. Zijn vierde Alligator-release 'The Devil You Know' (2013) werd opgenomen met als gasten Marcia Ball, Tab Benoit, Joe Bonamassa, The Holmes Brothers en Magic Dick. Als opvolger van 'Stompin' Ground (2017) werd een nieuw live album 'Killin' it Live' (2019) opgenomen. Dit album nam Castro op in vijf verschillende plaatse en in verschillende staten in Amerika met The Painkillers (Randy McDonald: bas, Bowen Brown: drums & Michael Emerson: keys).
"'A Bluesman Came to Town' isn't a story about me" says Castro... "It's pulled from some of my friends and my experiences, though. I've seen first-hand for a lot of years what it's like out there on the road…"
Tommy Castro brengt deze maand bij Alligator Records zijn zevende album 'A Bluesman Came to Town', een Odyssee met rootsmuziek, uit. Dit bijzondere project deed Castro samen met de Grammy Award-winnende producer en songwriter Tom Hambridge. D.m.v. van 13 nummers vertelt het album het verhaal van een jonge man, die werkte op zijn familieboerderij en die gebeten werd door de blues microbe. Hij speelde goed gitaar, ging op zoek naar roem en fortuin, maar vond wat hij achterliet, de schat waar hij naar op zoek was. "'A Bluesman Came to Town' is niet het verhaal over mij. Het is ontleend aan de ervaringen van sommige van mijn vrienden en mijn eigen ervaringen. Ik heb vele jaren zelf ondervonden, wat het betekent om "on the road" te zijn…" (dixit Castro).
'A Bluesman Came to Town" opent (en eindigt) met "Somewhere", een verwijzing van Castro naar daar ("in the middle of nowhere…") waar alles begon (en eindigt) en, met daartussen, de verhalen en emoties van onderweg. Ook al wordt het hem afgeraden, het bloed kruipt waar het niet gaan kan en de muzikant trekt de weg op, de drukte tegemoet tot hij is opgebrand. In de titelsong, "Child Don't Go", het soulvolle funky "Hustle" en de slepende shuffle "I Got Burned" verwoordt Castro, begeleid door Kevin McKendree op piano en blazers (met arrangementen van Keith Crossan) dit. "Blues Prisoner" is een slow blues à la lettre over het alleen zijn, "I Caught a Break" pure r'n'r over nodig een pauze nemen en "Woman, Drugs and Alcohol" dat even klinkt als "Come Together", behoeft m.i. geen uitleg. Als je voelt dat het dreigt mis te gaan moet je, zoals Castro op "Draw the Line" zingt, je afvragen waar de lijn getrokken moet worden. "I Wanna Go Back Home", wat bijna een tearjerker had kunnen zijn, is een schreeuw om de wartme van thuis, hier prachtig ingekleurd door de saxen (met arrangementen van Deanna Bogart). Wat er dan volgt is de ontlading in "Bring It on Back" en de herhaling van "Somewhere".
"Nog steeds blijft Tommy Castro de fans verbazen. Zijn 'A Bluesman Came to Town' gaat niet alleen over zichzelf, maar over iedere muzikant die steeds en vaak met zichzelf alleen onderweg is. Dit is Castro op zijn breedst, waarbij het vertrouwde alles zo authentiek en herkenbaar maakt…"
"Tommy Castro still continues to amaze music lovers. His 'A Bluesman Came to Town' is not only about himself, but about every musician who is always and often alone on the road. This is Castro at its widest, where the recognizable makes everything so authentic and recognizable…" (ESC for Rootstime)
Eric Schuurmans
Release: 17/09/21
Album track list: 01. Somewhere – 02. Bluesman Came to Town – 03. Child Don't Go – 04. You to Hold On to – 05. Hustle [w/Wilson] – 06. I Got Burned – 07. Blues Prisoner – 08. I Caught a Break – 09. Woman, Drugs and Alcohol - 10. Draw the Line [w/Cohen] – 11. I Wanna Go Back Home – 12. Bring It on Back [w/Cohen] – 13. Somewhere (Reprise) / Music/Lyrics by: Castro, Hambridge (2-9,11,13) & Fleming (2-4,6-9,11), w/as [noted: 5,10,12] © 2021 - Produced by: Tom Hambridge | Album credits: Tommy Castro: vocs, guitar / Rob McNelley: Guitar / Tom Hambridge: drums, percussion, bv / Tommy MacDonald: bass / Kevin McKendree: keys & Bowen Brown: drums (13) / Randy McDonald: bass (13) / / Mike Emerson: keys (3,10) / Keith Crossan: saxes and horn arrangement (5) / Deanna Bogart: saxes and horn arrangement (11) / Terri Odabi: voc (3) / Jimmy Hall: harmonica (1), bv (2)
Discography TOMMY CASTRO (& THE PAINKILLERS*): A Bluesman Came to Town [2021] | Killin' it Live* [2019] | Stompin' Ground* [2017] | Method to My Madness* [2015] | The Devil You Know* [2014] | Greedy/That's All I Got* (Vinyl, 7", 45RPM) [2013] | Tommy Castro Presents the Legendary Rhythm & Blues Revue! [2011] | Hard Believer [2009] (Alligator debut) | Command Performance: Legendary Rhythm & Blues Revue [2008] | Painkiller [2007] | Soul Shaker [2005] | The Essential [2003] | Gratitude [2003] | Triple Trouble [2003] | Guilty of Love [2001] | Mystic Theater Live (promo EP) [2001]) | Live @ the Fillmore [2000] | Right as Rain [1998] | Can't Keep a Good Man Down [1997] | Exception to the Rule [1995] | No Foolin' [1994]