"Yippie ya yeah…"
Als je een voorliefde hebt voor traditionele klassieke countryartiesten zoals Hank Williams en Patsy Cline, dan zal deze band uit Portland in Oregon je zeker ook verbazen. Jenny Don't & the Spurs bestaan uit frontdame Jenny Connors, die overdag een makelaar is en 's avonds zingt vanuit het hart met de legendarische drummer Sam Henry, bassist Kelly Halliburton en gitarist Christopher March, die spelen alsof er geen morgen is.
Jenny Don't & the Spurs brachten in de loop der jaren een aantal uitstekende albums uit, waarvan de meest recente een titelloos album in 2016 en in 2017 'Call of the Road', met eerder in hetzelfde jaar, een live album. Het nieuwe album van de honky tonk/rockabilly/punk antihelden 'Fire on the Ridge' kwam vorig jaar uit. Met 11 nummers die ongeveer 33 minuten duren, is er absoluut geen seconde verspild. Het album vat een verscheidenheid aan muziekstijlen samen, waaruit de band zijn invloeden put en varieert tussen snelle uptempo nummers als "Be the Only One", "Restless Moon",het punky "Trouble on My Mind" en "Train Ticket", liederlijke westerns zoals de opener "Fire on the Ridge") en Patsy Cline-achtige ballades zoals "Friday Night". Voeg daar nog enkele " blijven hangers" aan toe als het aanstekelige en emotionele "California Cowboy" en "Johnny Vagabond", dan is er op "Foolish Lies" waarin Jenny haar jodelkwaliteiten demonstreert en de filmische afsluiter "Queen of the Desert" na, m.i. al veel gezegd om iedere country liefhebber te overtuigen. 'Fire on the Ridge' is echter niet alleen een album voor de country liefhebber!
"Jenny Don't & the Purs' 'Fire on the Ridge' is an excellent album, but not just for country purists…" (ESC for Rootstime)
Eric Schuurmans
10 CD's te winnen!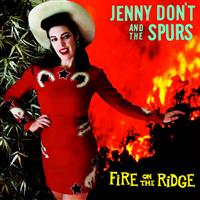 Wil je daar kans op maken, dan mail je ons gewoon even:
je naam, je adres en de vermelding: JENNY DON'T & THE SPURS
Binnen een aantal weken wordt uit alle inzendingen de gelukkigen getrokken.
Wij hopen dat u massaal Rootstime - hier - zult mailen
De winnaars worden per mail verwittigd.
Album tracklist: 01. Fire on the Ridge – 02. California Cowboy – 03. Be the Only One – 04. Restless Moon – 05. Foolish Lies - 06. Train Ticket - 07. Friday Night - 08. She's Not the One - 09. Johnny Vagabond – 10. Trouble on My Mind - 11. Queen of the Desert  | Album credits: Jenny Connors: vocs & The Spurs: Sam Henry: drums, Kelly Halliburton: bass & Christopher March: guitar 
Discography JENNY DON'T & THE SPURS: Right from the Start / Three of Four Nights [2021] | Dead Man's Cove / Durgin' the Fear [2021] | Fire on the Ridge [2021] | What Can I Do / Still as the Night [2018] | Call Off the Road [2017] | Holiday Tears / Santa, Pls Bring Him Home [2017] | Live in Bonn [2017] | Jenny Don't & the Spurs [2016] | Trouble with the Law / My Blue Heart [2014] |