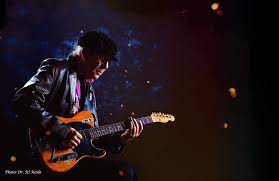 "5 Decades of experience, always passionate,
engaging and dedicated to making audience move and sweat…"
Billy Hector -hij noemt zichzelf "muzikant van de werkman"- is een blues gitarist en singer-songwriter uit Orange in de staat New Jersey (in de Mid-Atlantische en Noordoostelijke regio's van de VS). Nadat hij tijdens de Ed Sullivan Show voor het eerst The Beatles zag, veranderde voor hem de wereld. Later werd hij aangetrokken door de blues. Hector kreeg zijn eerste gitaar lessen als hij negen is en gaat later jazz gitaar en muziekgeschiedenis studeren aan de William Patterson universiteit.
Eerder speelde Hector in blues bands en trad hij op in kleine clubs. In de voorbije twintig jaren, nam Hector zo'n zeventien albums op. Zijn gitaarstijl is een combinatie van Jersey Shore blues, funk en R&R. Hector is ondertussen al vijf decennia muzikant. Hij heeft in verschillende formaties gespeeld en heeft ook getoerd als gitarist van o.a. Hubert Sumlin en Joe Louis Walker. Na midden jaren tachtig eerst met een vijfkoppige blues/rock band The fairlanes te hebben opgetreden, besloot hij in 1993 door te gaan als trio onder de naam The Billy Hector Band (met naast Billy op gitaar en zang, Sim Cain op drums &  Tim Tindall op bas). Zijn reguliere bandleden zijn Timmy Tindall op bas en Dan Hickey op drums.
Hector is al vaak genomineerd. Hij ontving van Bob Makin (The Aquarian Weekly's East Coast Rocker) de "Best Guitarist Award" en ook drie Asbury Park Music Awards: "Best Guitarist", "Best Blues Band" & "Living Legend".
Met 'Rock Night in Jersey' brengt Billy Hector (als opvolger van 'In These Times', 2019) zijn veertiende studio album bij het Ghetto Surf Music label uit. Hij schreef hiervoor samen met zijn creatieve metgezel Suzan Lastovica negen nieuwe songs en covert een Lead Belly traditional, "Po' Howard". Met "I Know How to Party" en "She Don't Love Him No More" begint het feestje stevig, geleid door snedige gitaren en vallen er al de eerste zweetdruppels op de dansvloer. Op "France Chance" neemt de bottleneck het over, Lead Belly "Poor Howard" kreeg een Bo Diddley-update en "Ms. Martha" of "Rockstar Betty" kom je liefst niet alleen tegen. Gedreven doen daarna de blazers hun ding op "Doctor Doctor", de druk gaat gelukkig even van de ketel op "Tell Me What You Want", om dan met het funky "Lazy Man" relaxt de eindstreep te halen.
"Billy Hector's 'Rock Night in Jersey' is rock and roll that your body and your ears want…" (ESC, for Rootstime - BE)
Eric Schuurmans
10 CD's te winnen!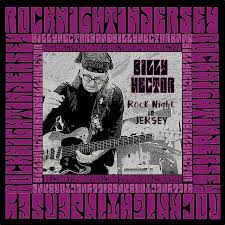 Wil je daar kans op maken, dan mail je ons gewoon even:
je naam, je adres en de vermelding: BILLY HECTOR
Binnen een aantal weken wordt uit alle inzendingen de gelukkigen getrokken.
Wij hopen dat u massaal Rootstime - hier - zult mailen
De winnaars worden per mail verwittigd.
'ROCK NIGHT IN JERSEY: tracklist: 01. I Know How to Party – 02. She Don't Love Him No More – 03. France Chance - 04. Poor Howard [Lead Belly] – 05. Ms. Martha – 06. Rockstar Betty – 07. Empathize – 08. Doctor Doctor – 09. Tell Me What You Want – 10. Lazy Man | Music/Lyrics by: William Hector, w/Suzan Lastovica or as [noted: 4] | Produced by: Suzan & Billy | Credits: Billy Hector: vocs, guitars / Drums : Sim Cain & Ernest Carter (10) / Bass : Wilbo Wright & Tim Tindall:  bass (8,10) / Suzan Lastovica: bvs / David Nunez: B3, piano / Ed Alstrom: piano (8) / Steve Jankowski: trumpet / Tom LaBella: tenor & alto sax / John Martin: baritone sax, trombone
Discography BILLY HECTOR: Rock Night in Jersey [2022] | In These Times, w/The Acoustic Armada [2019] | Some Day Baby [2018] | Old School Thang [2015] | The Fire Within (ep,4#) [2014] | Choice Cuts [2013] | Traveller [2009] | Mixed Bag, Vol. 2 [2008] | Mixed Bag, Vol. 1 [2008] | Undertow [2008] | Hard Rockin' Blues [2007] | Live & Kickin' (dvd) [2005] | Out of Order [2003] | Stonehenge [2003] | Undertow [2002] | Busy Man [2002] | Duct Tape Life [2001] | What Can a Poor Boy Do? [2000] | Hard to Please [1998] |1994-Cold Wind [1994] | Wild, Wild Beast [1993] | All the Way Live [1989] |