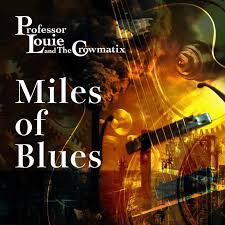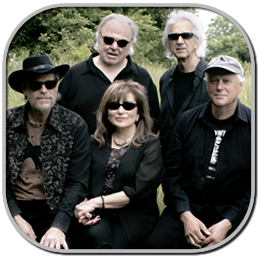 " From L-50 to Steampunk & Miles of Blues in between… "
De Canadees Richard Clare "Rick" Danko (1943-1999) was jarenlang basgitarist, songwriter en rockzanger. Danko maakte deel uit van de Canadees-Amerikaanse rockband The Band. Dat collega artiest Aaron Louis Hurwitz zijn bijnaam "Professor Louie" van Rick Danko kreeg, is m.i. zeker geen toevalligheid. Om je te onderscheiden van de rest, moet je respect afdwingen, dit verdienen! Dit is wat de Americana/roots band uit Woodstock, NY, Professor Louie & the Crowmatix al meer dan een decennialang doen.

Frontman, zanger, multi-instrumentalist (Hammond B3, piano, keys, accordeon) en producer Aaron Louis Hurwitz werkte 15 jaar lang als muzikant, producer & engineer samen met The Band, die voor het eerst het stof deed opwaaien in de 2de helft van de jaren '60, als begeleidingsgroep van Bob Dylan. The Band bestond uit 5 multi-instrumentalisten. De Canadezen Robbie Robertson, Richard Manuel, Garth Hudson, Rick Danko en, de uit Arkansas afkomstige Levon Helm. Hurwitz was de co-producer van 3 van hun "reunited" albums ('Jericho' [1993], 'High on the Hog' [1996] & 'Jubilation' [1998]). Hurwitz kreeg van Rick Danko, uit respect voor zijn werk als arrangeur en motivator, de bijnaam "Professor Louie".
Professor Louie & The Crowmatix is qua stijl de verzamelnaam voor een blend van blues, rock, R&B, gospel & folk. De actuele band samenstelling bestaat uit Aaron "Professor Louie" Hurwitz (Hammond, keyboards, zang, accordeon), Miss Marie Spinosa (zang, percussie, piano), Gary Burke (drums), Frank Campbell (bas, zang), Josh Colow (gitaar, zang) & John Platania (gitaar).
De Crowmatix is ontstaan uit sessiemuzikanten, die in Hurwitz' studio werkten voor The Band. Vanaf 2001 gaat Professor Louie & The Crowmatix touren en nemen ze eigen nummers op. In totaal nemen ze 15 studio en 2 live albums op. De band heeft ook de backings gedaan voor Rick Danko, Garth Hudson, Commander Cody Band en Michael Falzarano. In 2005 is Professor Louie & the Crowmatix de 1ste band, waarvan het live concert 'The Spirit of Woodstock' wordt uitgebracht door het New York State Museum. Het album 'The Spirit of Woodstock' [2006] is een verzameling van muziek van Bob Dylan, The Band, Bruce Springsteen, The Crowmatix en meer. In 2005 brengen ze 'Century Of The Blues' uit en in 2008 volgt het compilatiealbum 'As The Crow Flies'. Het album' "Whispering Pines' uit 2010 werd genomineerd voor 5 Grammy's.
'The Lost Band Tracks' [2018] is een nooit eerder uitgegeven album (met 6 tracks van co-producer/ songwriter Jules Shear) dat origineel in 1991, als come back album bij Columbia Records met de hulp van producers Rick Chertoff en Jules Shear opgenomen werd met leden van The Band (waar Robbie Robertson & Richard Manuel net uitgestapt waren), waaronder Levon Helm, Rick Danko & Garth Hudson en Stan Szelest, Jim Weider & Randy Ciarlante. Hurwitz was toen de drijvende kracht achter The Band en de nummers heropnemen met zijn eigen Cromatix (all star Band) moest er ooit van komen. De opvolger 'Songs of Inspiration' verscheen begin van het jaar. Naast 4 door Hurwitz en Spinosa herwerkte gekende traditionals ("I Shall Not Be Moved", "I'm On My Way", "Motherless Child" en "Angel Band") en klassiekers als Rosetta Tharpe's "Up Above My Head", "Rivers of Babylon" (van Brent Dowe & Trevor McNaughton) en "You'll Never Walk Alone" (van Oscar Hammerstein & Richard Rodgers), ook eigen werk, dat hier erg goed bij aansluit.
Het jaar is nog niet om en er is al de opvolger: 'Miles of Blues'. Het is een verzameling van nieuwe nummers en 1 bonus live track "Bull Frog Jam Blues (From L-50 to Steampunk and Miles of Blues in Between". Op 2 tracks ("Oh My Lady" en "Bull Frog Jam Blues") zijn de Woodstock Horns (Nick Discroll: soprano & tenor sax, Jim Buckley: baritone sax, Danny Coyle: trompet, Chuck Smith: trombone) te horen. Tom "Bones Malone" (Blues Brothers Band) schreef voor hen de arrangementen.
Op de opener "L-50 Blues" valt al direct Platania's slide gitaar op. Het nummer is een ode aan de meest populaire akoestische Gibson Archtop gitaar. Op "Funky Steampunk Blues" zorgt drummer Burke voor de jungle beat, een nummer dat duidelijk knipoogt naar een nummer van Bo Diddley en Billy Boy Arnold. Ook in "Love Bound" zijn het Louie en Platania resp. op keys en lead gitaar die de riff bepalen terwijl Miss Marie het uitzingt. Louie vindt daarna zijn weg via enkele klassieke blues kronkels, om in "Passion in My Life" zijn liefde te verklaren aan Miss Marie, die achter de piano heeft plaats genomen. Met "Rain 40 Days" zitten we in de bayou, waar de mensen tijdens het orkaanseizoen veel beproevingen moeten ondergaan. Louie zit opnieuw achter de keys voor de zwierige road song "Exit Zero" om dan een klassieker van Percy Mayfield te doen. "Please Send Somebody to Love" is een romantische ballade die nog velen doet wegsmelten. "Orange Juice Blues" is een tribute aan Rick Danko en The Band, waarmee we teruggaan naar 'The Basement Tapes' in 2000. In "Oh My Lady" en "Bull Frog Jam Blues (Live)" is het tijd voor Woodstock Horns. Eerst klinken ze wat dramatisch, maar in de live finale zit er duidelijk meer leven. Deze boogie is het begin van een feestje, dat eindigt met een kakofonische climax.
Alleen "groten" schudden de nummers losjes uit hun mouwen. Professor Louie doet dit al een 2de keer dit jaar. 'Miles of Blues' is genieten van een opvallende toetsenman en The Crowmatix. Wij worden hier blij van.
" Only great songwriters can shake the numbers out of their sleeve. Professor Louie is already doing this a 2nd time this year. 'Miles of Blues' is enjoying a striking keyboard player and The Crowmatix. This makes us music lovers more than just happy… " (ESC for Rootstime.be)
Eric Schuurmans
10 cd's te winnen!
Wil je daar kans op maken, dan mail je ons gewoon even:
je naam, je adres en de vermelding: PROFESSOR LOUIE AND THE CROWMATIX
Binnen een aantal weken wordt uit alle inzendingen de gelukkigen getrokken.
Wij hopen dat u massaal Rootstime - hier - zult mailen
De winnaars worden per mail verwittigd.
Album track list:
01. L-50 Blues [with J.Platania] - 02. Funky Steampunk Blues - 03. Love Bound - 04. Passion in My Life - 05. Rain 40 Days - 06. Exit Zero - 07. Please Send Somebody to Love [Percy Mayfield] - 08. Orange Juice Blues [Richard Manuel/The Band] - 09. Oh My Lady - 10. Bull Froeg Jam Blues (Live)
Lyrics/music © 2019 by: A. Hurwitz, M. Spinosa, unless where else [noted: 7,8] - Produced by: Aaron L. Hurwitz
Album line-up:
Aaron Louis Hurwitz aka Professor Louie: vocs, keys, accordion, Hammond / Miss Marie Spinosa: vocs, piano, percussion, whistleing / Gary Burke: drums / Frank Campbell: bass, b-vocs / John Platania: a- & e- guitar, b-vocs / Bobbie Van Detta: guitar, b-vocs (9) / Tom "Bones" Malone: horns (9)
& Woodstock Horns: 10: "Bull Frog Jam Blues", live at Metzgar Fest – Nick Discroll: soprano & tenor sax, Jim Buckley: baritone sax, Danny Coyle: trumpet, Chuck Smith: trombone
Discography Professor Louie and the Crowmatix:
Miles of Blues [2019] | Songs of Inspiration [2019] | The Lost Band Tracks (EP,6#) [2018] | Crowlin' the Blues [2017] | Music From Hurley Mountain [2016] | Soul Blues [2014] | Wings On Fire (vinyl LP) [2013] | Wings On Fire [2012] | Whispering Pines [2010] | View Of The Moon (Movie Score) [2009] | As The Crow Flies [2008] | Holiday Time [2007] | The Spirit Of Woodstock (Live concert) [2006] | Century Of The Blues [2005] | Live [2004] | Flyin' High [2003] | Jam [2001] | Over The Edge [2000] |