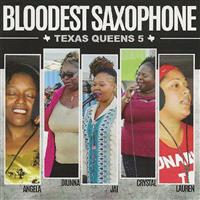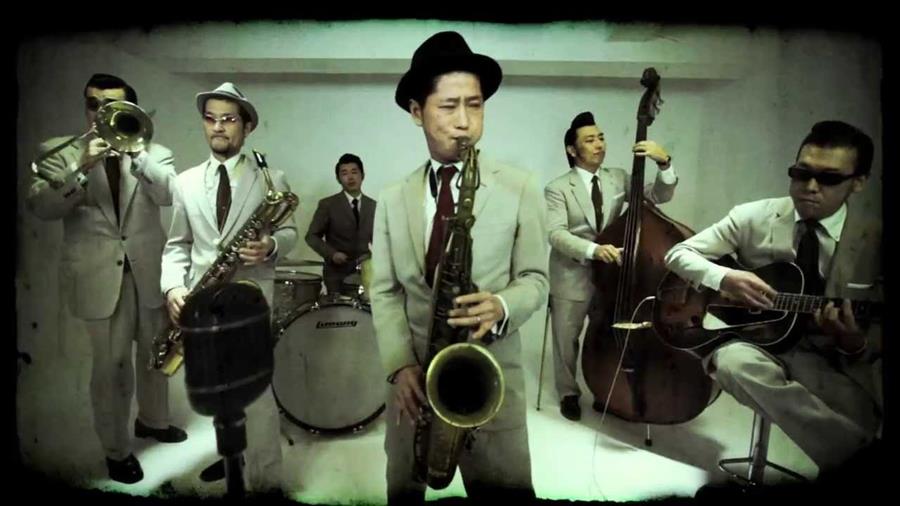 " To rule the world with the saxophone! "
In Tokyo in 1998 werd o.l.v. saxophonist Koda "Young Corn" Shintaro de jump blues & swing band Bloodest Saxophone opgericht, met de ambitie om "to rule the world with the saxophone". De andere muzikanten die zich hier bij aansloten waren Coh "Colenel Sanders" (trombone), Osikawa Yukimasa (bariton sax), Shuji "Apple Juice" (gitaar), The TAKEO "Little Tokyo" (staande bas) & Kiminori "Dog Boy" (drums, conga's). Dat ze al zo'n twintig jaar niet de minsten zijn bewijzen de elf albums die ze al opnamen en dat ze de planken deelden met o.a. Big Jay McNeely (1927-2018) en Jewel Brown. 
" With the cream of the Texas R&B scene!... "
In Austin, TX, kwam Eddie Stout, producer en de legendarische baas van het Dialtone Records label, met het idee om de retrosound van Bloodest Saxophone te combineren met de stemmen van enkele "big female ladies" uit Texas. Na hun optreden in Austin tijdens het jaarlijkse Eastside Kings Festival (waar de band in 2017 opende in Antone's Night Club), trok hij met de Japaners  in het voorbije jaar naar de Wire Recording Studio in Austin. De dames die op zijn aanbod ingingen waren Diunna Greenleaf, Lauren Cervantes, Angela Miller, Jai Malano & Chrystal Thomas (toegeven ze is van Shreveport, Louisiana!). Locale helde Nick Connolly (keys), Kaz Kazanoff (tenor sax) & Johnny Moeller (gitaar) zorgede voor wat "gewicht" gewicht.

Naast twee instrumentals, de furieuze rocker van Shintaro "Pork Chop Chick" en "Cockroach Run", zongen al de dames het gekende Willie Dixon's nummer "I Just Want to Make Love to You" samen. Diunna Greenleaf zong als enige nummer enkel de opener, de eerste opname van Big Maybelle uit 1954, "I've Got a Feeling". Crystal Thomas zong van John Rebennack aka Dr. John de slow blues "Losing Battle" en van Roscoe Robinson "Don't Move Me". Het was daarna de beurt aan de flamboyante Jai Malano. Zij koos voor het gekende Rufus Thomas' nummer uit 1965 "Walking the Dog", Charles Sheffield's Latino getinte "It's Your Voodoo Walking" uit 1961 en van Amos Milburn & His Aladdin Chickenshackers de jump blues single uit 1954, "I Done Done It". Vierde in de rij was de misschien wat minder bekende Lauren Cervantes. Haar keuze ging naar een calypso nummer van Louis Jordan's "Run Joe" uit 1950 en "The Grape Vine". Lucky Millinder & His Orchestra waren de eersten die dit nummer van Carl Erskine brachten. Angela Miller was dan de vijfde. Zij zong enkel "Don't Hit Me No More" van Jay Mayo "Ink" Williams.
Als je geweldige stemmen uit Texas zet bij bij geweldige blazers uit Japan, dan wordt alles nog geweldiger. Als je van soul, R & B en jump blues houdt, zoek dan niet verder, want dit is een geweldig album!
" When you combine great voices from Texas with great horns from Japan, everything will become even "bigger". If you like soul, R & B and jump blues, then look no further, because this is a great album! "  - esc for www.rootstime.be
Eric Schuurmans
Album track list:
01."I've Got a Feeling" [Sidney J. Wyche] - 02."I Just Want to Make Love to You" [Willie Dixon] - 03."Losing Battle" [John Rebennack/ Leonard Dauenhauer] - 04."Walking the Dog" [Rufus Thomas] - 05."Pork Chop Chick" instrumental [Koda "Young Corn" Shintaro ] - 06."Run Joe" [Joe Willoughby/ Louis Jordan/ Walter Merrick] - 07."It's Your Voodoo Walking" [Charles Sheffield] - 08."Don't Move Me" [Roscoe Robinson] - 09."Don't Hit Me No More" [J.M. Williams] - 10."I Done Done It" [Rudolph Toombs/ Charles E. Calhoun/ Amos Milburn] - 11."The Grape Vine" [Carl Erskine/ Henry Glover/ Henry Bernard] - 12."Cockroach Run" instrumental [Lafayette Thomas] – Written by as [noted] ℗ 2019 – Producer: Eddie Stout
Album line-up:
Bloodest Saxophone : Koda "Young Corn" Shintaro: tenor sax / Coh "Colenel Sanders": trombone / Osikawa Yukimasa: baritone sax / Shuji "Apple Juice": guitar / The TAKEO "Little Tokyo": upright bass / Kiminori "Dog Boy": drums, congas & Additional musicians : Angela Miller, Lauren Cervantes: b-vocs / Nick Connolly: piano, organ / Kaz Kazanoff: tenor sax (5) / Johnny Moeller: guitar (5,12) & Vocalists: Diunna Greenleaf (1,2), Chrystal Thomas (2,3,8), Jai Malano (2,4,7,10) – Lauren Cervantes (2,6,11), Angela Miller (2,9)
Discography BLOODEST SAXOPHONE:
Texas Queens 5 [2019] | In Texas [12/2018] | I Just Want to Make to Make Love to You, feat. Texas Blues Ladies [11/2018] | Roller Coaster Boogie, feat. Jewel Brown [2015] | Rhythm and Blues [2014] | Swing to Bop [2010] |