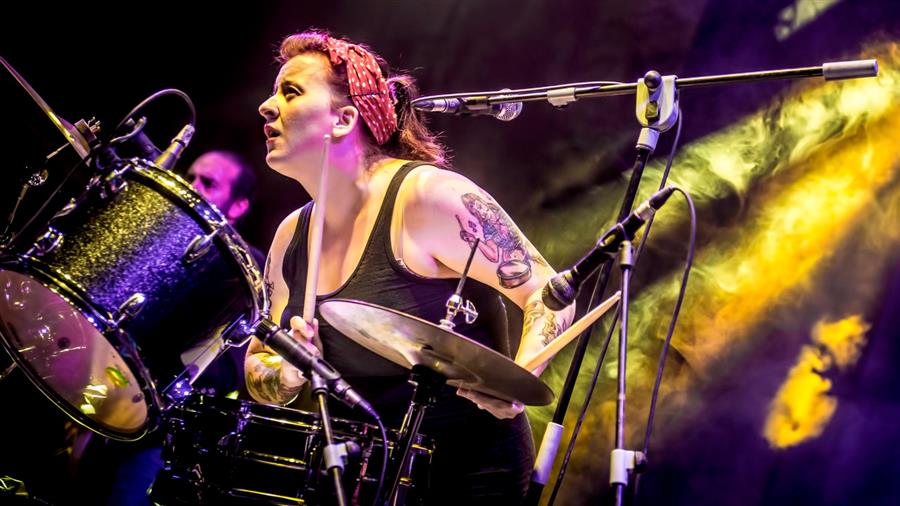 " I knew she was a talent, that just couldn't be denied… "
(Bruce Iglauer, President Alligator Records)
Als nieuwe telg in de Alligator Records familie koos label oprichter Bruce Iglauer, nadat hij ze gehoord had, resoluut voor een zingende drumster uit Halifax, de hoofdstad en de grootste stad van de Canadese provincie Nova Scotia, de opvallende Lindsay Beaver.
Lindsay groeide op in een muzikale omgeving, waarin haar ouders naar zowat "alles" luisterden. Op haar elfde ontdekte ze de beste en invloedrijkste rappers aller tijden Tupac Shakur (1971-1996) alias 2Pac en Makaveli en koos ze voor hip hop. Op haar veertiende hoorde ze Jimi Hendrix en "everything changed". Ze kocht een gitaar en leerde spelen. Als ze op haar zeventiende Billie Holiday hoorde koos ze eerst voor jazz en daarna voor "de" blues. Na haar middelbare school volgde ze les als klassieke sopraan en richtte ze een jazz bandje op. Omdat ze later muzikante wou worden en niet de juiste zanger en drummer kon vinden voor haar "real" band, besloot Lindsay om alles zelf te doen. In 2018 verhuisde (op aanraden van Jimmie Vaughan) ze naar Austin, TX en richtte er (met gitarist Brad Stivers en bassist Josh Williams) haar eigen band op.
Lindsay Beaver nam in eigen beheer met haar band de 24th Street Wailers vijf albums op. 'Tough as Love' is de eerste release onder haar eigen naam en haar debuut bij Alligator Records. Met Beaver zelf als producer, nam ze het album op in Wire Recording in haar nieuwe thuisstad Austin. Van de twaalf tracks schreef Beaver er zeven. Ze koos covers van die artiesten, die haar inspireerden als Little Wille John ("You Hurt Me"), Angeli Strehli ("Lost Cause") en Art Neville ("Let's Rock"). Naast de leden van haar tour band (Stivers & Willims), werkten er ook enkele bevriende gasten aan het album mee. Zo is Marcia Ball te horen op de zwoele, slow rockende blues "Too Cold to Cry" en op John Daylyss' slow blues "You Hurt Me". Gitariste Laura Chavez (Candye Kane) sluit mee af in de bruisende rocker "Mean to Me", gitariste Eve Monsees soleert in een van de andere rockers "Oh Yeah", Dennis Gruenling speelt harmonica in de groovy opener "You're Evil" en James Moore's "I Got Love If You Want It" en, de uitbundig boppende saxofonist Sax Gordon gaat voluit in "What & Fool You've Been". Op "Don't Be Afraid of Love" is Brad Stivers niet alleen gitarist, hij zingt ook in deze furieuze rocker. Reo Casey soleert in de shuffle "Dangerous" en "She'll Be Gone", een van haar vijf covers, koos Lindsay van Joyce Johnson & Peter Williams.
Van de eerste tot en met de laatste track is Lindsday Beaver's debuut album bij Alligator Records 'Tough as Love' een "rough & raw" roots rock album met veel blues invloeden. Lindsay Beaver was ook voor mij een ontdekking, die me na de eerste tromroffels al volledig verbaasde.
" From the first to the last track, 'Tough as Love', Lindsday Beaver's debut album for Alligator Records is a "rough & raw" roots rock album with lots of blues influences. Lindsay Beaver was also a discovery for me. After the first blows on her drums, she already surprised me completely... "  - esc for www.rootstime.be
Eric Schuurmans
Album track list:
01."You're Evil" – 02."Too Cold to Cry" – 03."What & Fool You've Been" – 04."You Hurt Me" [Darlyss John & Mertis John] – 05."Don't Be Afraid of Love" – 06."I Got Love If You Want It" [James Moore] – 07."Dangerous" – 08."Oh Yeah" – 09."Lost Cause" [Angela Strehli] – 10."She'll Be Gone" [Joyce Johnson & Peter Williams]– 11."Let's Rock" [Art Neville] – 12."Mean to Me" – Written by Lindsay Beaver, except where otherwise [noted] ℗ 2018 – Producer: Lindsay Beaver
Album line-up:
Lindsay Beaver: vocs, drums / Brad Stivers: guitar, vocs (5)/ Josh Williams: bass
& Marcia Ball: piano (2,4) / Red Casey: guitar – R ch, 1st solo (7) / Laura Chavez: guitar – R ch, 2nd solo (12) / Matt Farrell: piano (9-11) / Sax Gordon: tenor & baitone sax (3) / Josh Williams, Red Casey & Brad Stivers: b-vocs (8,10)
Discography LINDSAY BEAVER (with 24th STREET WAILERS*):
Tough as Love [2018] | Where Evil Grows* [2015] | Wicked* [2014] | Live in Halifax* [2013] | Unshakeable* [2012] | Dirty Little Young'uns* [2010] |