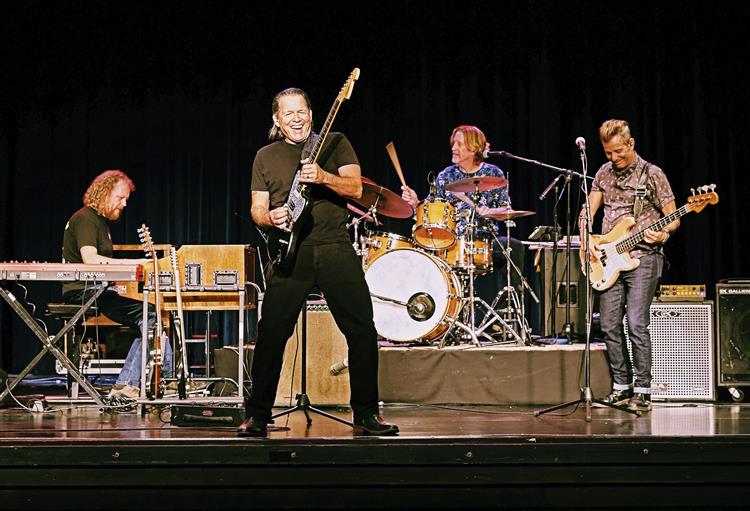 " Party time is Friday Night everybody!... "
Tommy Castro (1955, San Jose, CA) zit als blues, R&B en rock gitarist en singer-songwriter al sinds midden jaren 1990 in het vak.  Als kind speelde hij al gitaar op zijn tiende. Hij is geboeid door elektrische blues, Chicago blues, West Coast blues en soul & rock uit de sixties. Zijn stijl is een hybride van stijlen. Hij zelf keek op naar gitaristen als Mike Bloomfield, Elvin Bishop, Eric Clapton, B.B. King, Buddy Guy, Elmore James en Freddie King en zangers als Ray Charles, Wilson Pickett en James Brown.
In de jaren '70 speelde Castro in cover bands en in de jaren '80 vervoegde hij The Dynatones. Sinds 1991 leidt hij zijn eigen driekoppige band (drummer, bassist & saxofonist Keith Crossan). Vanaf 2009 vervoegt trompettist Tom Poole en een keyboardspeler het viertal. In 1996 tekent Castro bij Blind Pig Records en brengt hij 'Exception to the Rule' [1995] uit.
In 2001 en 2002 opent Castro de zomertour van B.B. King. Bij Telarc en 33rd Street brengt hij drie albums uit: 'Mystic Theater Live' [2001], 'Guilty of Love' [2001] en 'Triple Trouble 2003]. Op het album 'Guilty of Love' [2001] is John Lee Hooker voor het laatst te horen. In 2002 werkt Castro mee aan het Bo Diddley tribute album 'Hey Bo Diddley – A Tribute!' ("I Can Tell").
In 2009 tekent Castro bij het Chicago Alligator Records label en brengt hij met producer by John Porter 'Hard Believer' [2009] uit. In 2010 werd Castro door The Blues Foundation geëerd met meerdere Blues Music Awards: "Blues Male Artist of the Year, "Contemporary Blues Album of the Year", "B.B. King Entertainer of the Year én Band of the Year".
In 2011 start Castro met een vierkoppige band The Painkillers (gitaar/zang, keyboards, bas en drums). 'The Devil You Know' [2013] werd opgenomen met als gasten Marcia Ball, Tab Benoit, Joe Bonamassa, The Holmes Brothers en Magic Dick. Als opvolger van 'Stompin' Ground [2017] is nu een nieuw live album 'Killin' it Live'. Dit album nam Castro met The Painkillers (Randy McDonald: bas, Bowen Brown: drums & Michael Emerson: keys) op in vijf verschillende plaatse en in verschillende staten in Amerika. De co-producer was Ron Alan Cohen. Op twee covers na (Sleepy John Estes' "Leaving Trunk" -een nummer dat Castro nog nooit opnam, maar al zo dikwijls live bracht- en -met een ongelooflijke bassolo van Randy McDonald- Buddy Miles' "Them Changes") schreef Castro (eerder) alle overige acht nummers.
In Daryl's House in Pawling, NY, nam Castro vier nummers op. De opener "Make It Back to Memphis" (uit zijn 'Hard Believer' [2009]), "Lose Lose" ('Method to My Madness' [2015]), "Shakin' the Hard Times Loose" ('Guilty of Love' [2001])en "She Wanted to Give It to Me" ('The Devil You Know' [2014]). Uit verschillende periodes en uit vier verschillende albums, vier nummers: een enthousiaste rocker met duidelijke bedoelingen, een smachtende slow blues, nog een furieuze rocker en een blues rocker met enkele snedige solo's, om met enkele woorden de sfeer te schetsen. "Can't Keep a Good Man Down" en "Calling San Francisco" (resp. de titelsong van Castro's tweede album uit 1997 en een nummer uit zijn derde album 'Right as Rain' [1999]) werden opgenomen in de Belly Up Tavern in Solana Beach, CA. Ook nu weer gooit Castro het roer om als hij kiest voor een swampy rocker en een shuffle, met opnieuw een uitsekende Mike Emerson op boogiewoogie piano. Voor "Anytime Soon" moeten we teruggaan naar 2005 ('Soul Shaker') en ons ditmaal virtueel mee verplaatsen naar het Wildwood Amphitheatre in Lake Orion, MI, om te kunnen genieten van een fantastische ballade. Nog niet genoemd is "Two Hearts" ('Method to My Madness' [2015]). Het is één van de twee nummers die opgenomen werden op de meest gekende locatie in Austin, TX, in de Antone's club. Met  
Tomy Castro & the Painkillers vatten op 'Killin' It Live' perfect samen wat ze al jaren zo onweerstaanbaar sterk maakt. Hun kracht, dynamiek en enthousiasme is te voelen op iedere track en dit is daarom uitkijken naar de volgende live ontmoeting: 19/02/2019: SPIRIT of 66 – VERVIERS!
" On 'Killin' It Live' Tomy Castro & the Painkillers summarize perfectly, which has made them so irresistibly strong for years. Their strength, dynamism and enthusiasm can be felt on every track and requires for more!... "  - esc for www.rootstime.be
Eric Schuurmans

15/02/2019 @  Q-FACTORY – A'DAM.NL
16/02/19 @ GROENE ENGEL – OSS.NL
19/02/19 @ SPIRIT OF 66 – VERVIERS
Album track list:
01."Make It Back to Memphis" [& Bonnie Hayes] – 02."Can't Keep a Good Man Down" – 03."Leaving Trunk" [Sleepy John Estes] – 04."Lose Lose" [& Joe Louis Walker] – 05."Calling San Francisco" [& Randy McDonald] – 06."Shakin' the Hard Times Loose" [& Gary Nicholson] – 07."Anytime Soon" [& Jeff Silbar] – 08."She Wanted to Give It to Me" [& Anthony Bryan Cage & Narada Michael Walden] – 09."Two Hearts" – 10."Them Changes" [Buddy Miles] – Written by Tommy Castro, except where otherwise [noted] ℗ 2018 – Producers: Tommy Castro & Ron Alan Cohen / Recorded @: #(1,4,6,8): Daryl's House, Pawling, NY - #(2,5): Belly Up Tavern, Solana Beach, CA - #(3): Biscuits & Blues, San Francisco, CA - #(7): Wilwood Amphitheatre, Lake Orion, MI - #(9,10): Antone's, Austin, TX
Album line-up:
Tommy Castro: vocs, guitar / Randy McDonald: bass, b-vocs / Bowen Brown: drums / Mike Emerson: keys
Discography TOMMY CASTRO (AND THE PAINKILLERS*):
Killin' it Live* [2019] | Stompin' Ground* [2017] | Method To My Madness* [2015] | The Devil You Know* [2014] | Greedy/That's All I Got* (Vinyl, 7", 45RPM) [2013] | Tommy Castro Presents The Legendary Rhythm & Blues Revue! [2011] | Hard Believer [2009] | Command Performance: Legendary Rhythm & Blues Revue [2008] | Painkiller [2007] | Soul Shaker [2005] | The Essential [2003] | Gratitude [2003] | Triple Trouble [2003] | Guilty of Love [2001] | Mystic Theater Live (promotional EP) [2001]) | Live at the Fillmore [2000] | Right as Rain [1998] | Can't Keep a Good Man Down [1997] | Exception to the Rule [1995] | No Foolin [1994]