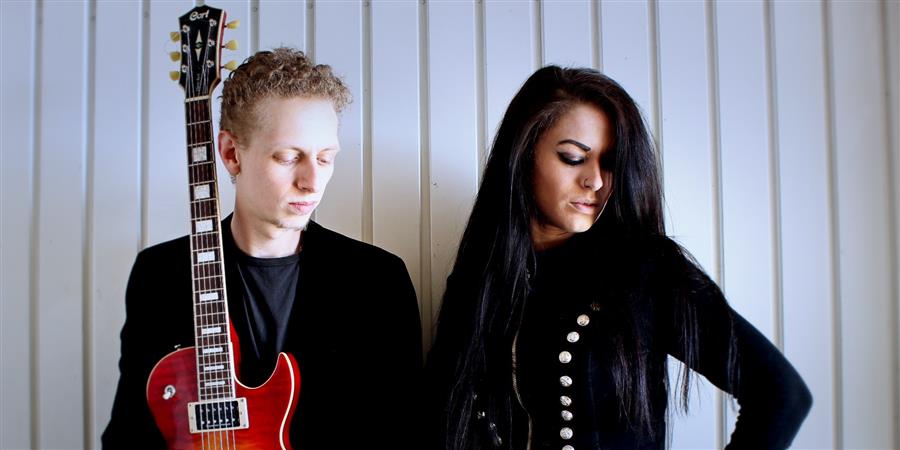 Rosedale  is de Franse (niet de Amerikaanse alt-rock band rond Mike Liorti) blues rock formatie rond zangeres Amandyn Roses en gitarist / singer-songwriter Charlie Fabert. Fabert werkte lang samen met Fred Chapellier. In 2005 vormde hij de Charlie Fabert Blues Band en werkte hij o.a. samen met Paul Cox, met wie hij voor de opnames van het album 'That's What We Were Born For' [2011] in de studio stond. In 2012 nam hij met Fred Chapelier deel aan de IBC in Memphis, TN. Amandyn Roses speelde eerst accordeon en piano, voor dat ze zangeres werd. Ze ontmoette Fabert tijdens haar muziekopleiding in de Muziek Academie van Nancy. Enkele jaren geleden opende ze in Altkirch (Alsace) haar eigen muziekschool.
'Long Way to Go' was Rosedale's debuut album én hun debuut bij Dixiefrog Records. Eind vorig jaar volgde de opvolger 'Wide Awake'. Van de tien nummers schreef Charlie Fabert er drie alleen en zeven met de hulp van Amandyn Roses, toetsenist Larry L. Telford ("Soul Possession"), Paul Cox en Celia Wilson. Naast  Phil Sissler (bas) en Denis Palatin (drums, percussie) zijn ook Henrik Freischlader (extra gitaar op de mooie slow blues "Drifting") en Paul Cox (zang op "Down the Line") als gasten te horen.
De nummers die Fabert alleen schreef, zijn de shuffle "The Sun Won't Rise Today", het zwoele "Smoking Gun" en de afsluiter "The Kind of Man You Are", een slow blues met een ontketende Fabert. Aan de rockende opener "Racing at the Wheel"  schreef heel de band en Larry Telford mee, "Dance With the Devil", de intieme ballade "Fireplace" en "How in the World (Did You Believe)" zijn composities van het duo Roses & Fabert en, op "Troublemaker" deed Telford nog een duit in Fabert's zakje.
Rosedale zetten na hun debuut in 2017 resluut een volgende stap. 'Wide Awake' is een blues rock album dat bewijst dat wat vooraf ging, geentoeval was. Van februari tot april treden ze enkele keren op in Duitsland en Zwitserland, maar optredens in de Lage Landen zijn er nog niet gepland.
" Après leur début en 2017, Rosedale prend la prochaine étape. 'Wide Awake' est un album de blues rock qui prouve que ce qui s'est passé avant n'était pas une coïncidence. De février à avril, ils jouent plusieurs fois en Allemagne et en Suisse, mais ils ne sont pas encore programmés dans les Pays-Bas… "  - esc for www.rootstime.be
Eric Schuurmans
Album track list:
01."Racing at the Wheel" [Larry L.Telford / C.Fabert / A.Roses / D.Palatin / P.Sissler] - 02."Dance With the Devil" - 03."The Sun Won't Rise Today"* - 04."Fireplace" - 05."Down the Line" [Paul Cox / Charlie Fabert] - 06."Smoking Gun"* - 07."How in the World (Did You Believe)" - 08."Drifting" [Celia Wilson / Charlie Fabert] - 09."Troublemaker" [Larry L.Telford / Charlie Fabert] - 10."The Kind of Man You Are"* – Written by Amandyn Roses / Charlie Fabert*, except where otherwise [noted] ℗ 2018 – Producer: Charlie Fabert & Amandyn Roses
Album line-up:
Amandyn Roses: lead vocs / Charlie Fabert: guitars / Phil Sissler: bass / Denis Palatin: drums, percussion
& Special guests: Henrik Freischlader: add. guitar (8) / Paul Cox: add. lead vocs (5)
Discography ROSEDALE:
Wide Awake [2018] | Long Way to Go [2017] | Before the Storm, (EP,5#) [2016]