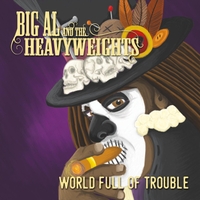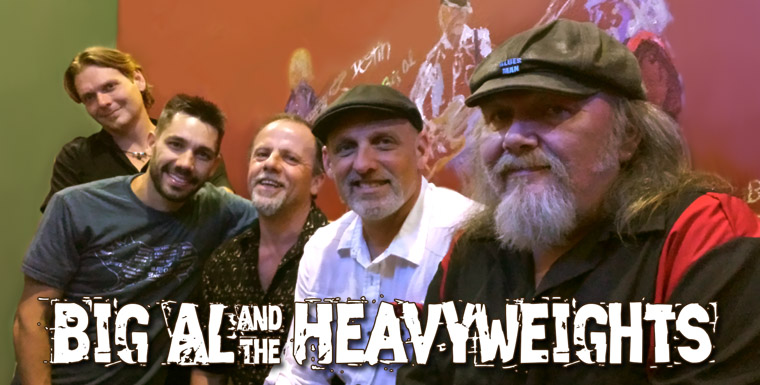 " Gumbo Music… "
Albert J. Lauro, Jr. aka drummer "Big" Al richtte in 1992 met Warren Haynes de Unknown Blues Band (UBB) op. De twee ontmoetten elkaar in David Allan Coe's Band. Al snel begonnen ze met de UBB op te treden in kleine clubs en op festivals. De band begon naam te krijgen vanwege hun lange sets en hun vermogen om hun vele muzikale invloeden samen te smelten tot één krachtig merk, blues. De band begon te openen voor vele acts. Een van die acties was B.L.T. met Dickey Betts, Chuck Leavell en Butch Trucks. Dickey Betts was echt geïnspireerd door Warren Haynes en bood hem een ​​plaats aan in een band, die hij aan het samenstellen was. Haynes ging een belangrijke speler worden in The Allman Brothers Band en vormde later zijn eigen band, Gov't Mule. De rest is geschiedenis.
Wat Big Al betreft, hij had een ongelooflijke gitarist en zanger verloren, maar nooit een vriend. Het enige wat nog te doen was om verder te gaan en, dat deed hij, een nieuwe band samenstellen en een platencontract afsluiten. De line-up van Big Al & the Heavyweights begon met Big Al (drums en zang) zelf. Al is geboren en getogen in New Orléans, LA en is een echte New Orléanian. James Bass van Baton Rouge is de leadgitarist, Dean "The Bass Machine" Galatas van Bayou Liberty de bassist en "Harmonica Red" ook van Baton Rouge, harmonicaspeler.
Big Al & The Heavyweights begonnen door het land te toeren en concentreerden zich vooral op het geluid van Louisiana. Ze noemden hun muziek "Gumbo Grooves". Met hun eerste cd 'That Is not Nice [1996] scoorden ze. Op vraag van Blues Brother Dan Aykroyd werden ze de house band op zijn House of Blues Radio Show.  De volgende cd werd opgenomen op het Bluziana Music label en heette 'Hey, Hey Mardi Gras' [1998]. Na een webuitzending van de beroemde J & J Blues Bar in Ft. Worth, TX, kreeg de band steeds meer aanvragen voor een live-cd. 'Live Crawfish' werd in 2000 opgenomen. Momenteel zijn de Heavyweights Big Al (drums), Dean Galatas (bas), Wayne Lohr (piano, zang), Destin Thibodeaux (harmonica), Lance Ellis (sax en klarinet), John Lisi (gitaar) en Lance Younger (zang, gitaar).
Op hun zevende album 'World Full of Trouble' spelen naast Big Al (drums) en zijn Heavyweights, Lance Younger (zang, gitaar), Bob Margolin (gitaar), Jason Ricci (harp) & Greg "Schatzy" Schatz (accordion). Het album weerspiegelt hun liefde voor zoveel verschillende muziekstijlen, van blues tot rock, van zydeco tot jazz en zelfs van country. Met zijn oude vriend, mondharmonicavirtuoos en ex-bandlid Heavyweight, is Big Al te horen op "Bayou Life", "Millionaire Baby", "Mother Trucker" en "Crazy About You Baby". Als grote Muddy Waters' fan was hij blij met de andere gast, de legendarische oude Muddy Waters' gitarist, Bob Margolin. Hij is te horen op de opener "World Full of Trouble" en "Love So Fine". Verder is Big Al ook heel enthousiast over het Louisiana Music Hall of Fame lid, al jaren Heavyweight en co-songwriter, Wayne Lohr die ook een uitstekende toetsenist en een enorm soulvolle zanger is. Ook Destin Thibodaux, een van de studenten van Jason, was co-songwriter. Hij is een uitstekende arrangeur, een harmonica-speler en speelt zelfs bas op "Crazy About You Baby". Voor de gitaarfans is er de geweldige John Lisi die in Jason Ricci's band speelt en zanger/gitarist Lance Younger (World Full of Trouble, Testify, Bayou Life, Mother Trucker en Two Wrongs). Younger is te horen op "Mother Trucker", "Testify", het zydeco-getinte "Bayou Life" en de Chicago blues, de afsluiter "Something Got to Change". En dan is er ook nog Greg "Schatzy" Schatz op accordeon in "Bayou Life". De meeste nummers zijn "gewoon", een paar gebroken harten ("Fool for You"), wat gejammer over de samenleving ("World Full of Trouble") en een beetje lokale kleur ("Spanish Moss"). Maar, samengevat, het vertaalt zich altijd in een geweldige tijd.
Big Al & the Heavyweights weten perfect de blues te mengen met de geluiden uit Louisiana, wat plezier en een stoofpotje van stijlen betekent.  
" Big Al & the Heavyweights perfectly know how to mix the blues with the sounds from Louisiana, which obviously means fun and a gumbo of styles... " - esc for www.rootstime.be
Eric Schuurmans
10 cd's te winnen!
Wil je daar kans op maken, dan mail je ons gewoon even:
je naam, je adres en de vermelding: BIG AL AND THE HAEVYWEIGHTS
Binnen een aantal weken wordt uit alle inzendingen de gelukkigen getrokken.
Wij hopen dat u massaal Rootstime - hier - zult mailen
De winnaars worden per mail verwittigd.
Album track list:
01."World Full of Trouble"* - 02."Fool for You" – 03."Love So Fine" – 04."Testify" – 05."Bayou Life"* - 06."Big Old Rusty Car" – 07."Spanish Moss" [Wayne Lohr] – 08."Mother Trucker"* - 09."Millionaire Baby" – 10."Crazy About You Baby"* - 11."Two Wrongs Don't Make a Right"* [& Lance Younger] – 12."Something Got to Change" – Written by Al Lauro / Wayne Lohr / Destin Thibodeaux*, and where otherwise [noted] © 2019 – Produced by: Big Al Lauro
Album line-up:
Big Al: drums / Dean Galatas: bass / Wayne Lohr: piano, vocs / Destin Thibodeaux: harmonica / Lance Ellis: sax, clarinet / John Lisi: guitar / Lance Younger: guitar, vocs & Guests: Lance Younger: vocs, guitar / Bob Margolin: guitar, Jason Ricci: harp / Greg "Schatzy" Schatz: accordeon / Dwight Breland: steel guitar / Greg Shatz: piano / Glenn Sears: percussion / Donna Slater & Cathy Pace: b-vocs
Discography BIG AL AND THE HEAVYWEIGHTS:
World Full of Trouble [2018] | Sunshine On Me [2013] | Nothin' But Good Lovin' [2004] | Late Night Gumbo Party [2001] | Live Crawfish [2000] | Hey Hey! Mardi Gras [1998] | That Ain't Nice [1996] |