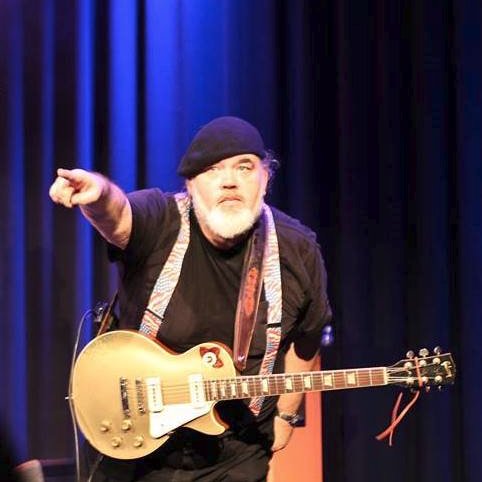 " Motorcity style Rockin' R&B… "
Dallas Hodge werd in 1954 in Detroit geboren en maakte samen met zijn broer Catfish Hodge al vroeg deel uit van de Catfish Hodge Band. Ze namen zo samen verschillende albums op. Dallas werkte daarna met James Montgomery (B.B. King, Muddy Waters, Buddy Guy, Bruce Springsteen), was de gitarist en achtergrondzanger van Chicken Legs, trad op met de legendarische Johnny Winter, Steve Marriott (Humble Pie) & Alto Reed (Bob Seger) en, was in 2000 de zanger/frontman en songwriter van Canned Heat. Los daarvan was hij die hele tijd ook bezig met zijn eigen solocarrière.
'Don't Forfet About the Music We Made' is nog maar het tweede soloalbum van Hodge. Hij liet ons hierop twaalf jaren wachten. Hodge (zang, gitaar) wordt gebackt door zijn maatje Larry Zack (drums, percussie), Pat Wilkins (bas), Robert Heft (slide gitaar) en Jon Greathouse (keys, piano). Het wordt extra "bijzonder" met een aantal gasten als bluesgitarist Coco Montoya (Albert Collins, John Mayall en de Bluesbreakers), trompettist Lee Thornburg (Tower Of Power, Supertramp) en saxofonist Ron Dziubla (Sting).
Met Coco Montoya op gitaar en Jon Greathouse achter de honky tonk piano is de opener "Asking Too Much" al direct een rocker met allures. "Jelly Roll" heeft ook een groot rock gehalte en met de shuffle "Bad Troubles" wordt het meer bluesy. Lee Thornburg en Ron Dziubla leggen in "By the Hand" een funky groove en Jimmy Reed's op "Hey Baby" schittert Greathouse nog eens. "Love So Fine" (van Tom MacLear) is een soulvolle ballade die herinneringen opwekt en "Shame Shame" de slow blues, die je Hodge als "bijna" crooner eens van de andere kant laat horen. Op Robert Johnson's "Crossroads" doet Montoya tijdens zijn tweede "appereance" de solo's met verve. De titelsong, het gebeurt niet zo vaak, is hier de afsluiter. "Don't Forget About the Music We Made" is een swingend nummer met een hoog soul gehalte, dat ons met een boodschap en hunkerend naar wat meer, achterlaat. 
Dallas Hodge legt ons op 'Don't Forget About the Music We Made' met lekkere soulvolle, soms swingende muziek in de watten. Het was lang wachten, maar het wachten méér dan waard.
" On 'Don't Forget About the Music We Made' Dallas Hodge spoils us with nice soulful, sometimes swinging music… " (ESC for Rootstime.be)
Eric Schuurmans
10 cd's te winnen!
Wil je daar kans op maken, dan mail je ons gewoon even:
je naam, je adres en de vermelding: DALLAS HODGE
Binnen een aantal weken wordt uit alle inzendingen de gelukkigen getrokken.
Wij hopen dat u massaal Rootstime - hier - zult mailen
De winnaars worden per mail verwittigd.
Album track list:
01. Asking Too Much* - 02. Jelly Roll - 03. Bad Troubles - 04. By the Hand - 05. Hey Baby [Jimmy Reed] - 06. Love So Fine [Tom MacLear] - 07. Shame Shame - 08. Crossroads* [Robert Johnson] - 09. Don't Forget About the Music We Made
Words/music © 2019 by: Dallas Hodge, unless where else [noted: 5,6,8] - Produced by: Dallas Hodge
Album line-up:
Dallas Hodge: lead vocs, guitar / Larry Zack: drums, percussion / Pat Wilkins: bass, b-vocs / Robert Heft: slide guitar, guitar, b-vocs / Jon Greathouse: keys, piano, b-vocs
& Special Guests: Coco Montoya*: guitar, Lee Thornburg: trumpet, valve trombone, Ron Dziubla: sax
Discography Dallas Hodge:
Don't Forget About the Music We Made [2019] | Reelin' [2007] |