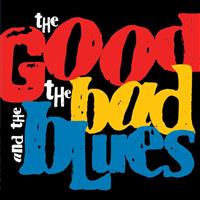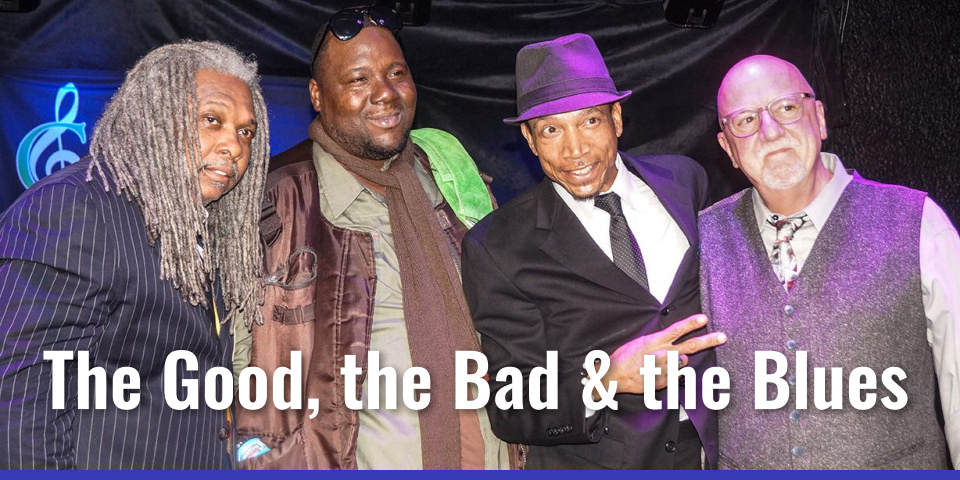 " A blend of soul-inflected blues, spiced-up some gospel,
and with more than a little funk for good measure…
and always with a solid groove!... "
Met Toledo, Ohio, als thuisbasis is The Good, the Bad, and the Blues een muzikaal viertal dat al enkele jaren hun "mix van soul-blues, gekruid met wat gospel en funk en, met altijd met een solide groove!..." enthousiast op de podia brengt. Frontman Aayan Naim (gitaar en zang), Gordon Henry (bas), B.J. Love (Hammond B3 en piano) en "Hollywood" Mike Darby (drums) wonnen in 2011, 2012 en 2013 de Black Swamp Blues Society Blues Challenge én in 2015 de Columbus Blues Challenge, waardoor ze konden deelnemen aan de IBC in Memphis, TN. Het leverde hen een plaats in de finales op.
Hun titelloos album is (na een live album) hun studio debuut. Met de uiterst soulvolle slepende blues shuffle "Kind Of Girl" openen ze. De blazers die we horen zijn The Toledo Horns (Ric Wolkins: sax & Mark Lemle: trompet) en Travis Geiman op trombone. "Searchin'" is daarna een warme, groovy soul blues, een nummer met aanstekelig gitaarwerk, warme orgelklanken en de uitstekende zang van Naim. "I've Been Down" is net niet dat, wat je misschien van de titel verwacht. In deze soul blues zorgen de blazers voor de swingende, onweerstaanbare positieve Stax groove. Het was even wachten, maar met het warme "'Til You Come Home" doven de lichten. Funk is het belangrijkste ingrediënt van "Blindog" en "Can I Change My Mind" is opnieuw een warme soul blues. Het is een cover van de een nummer dat Barry George Despenza & Carl Wolfolk schreven en, soulzanger Tyrone Davis maakte er in 1968 een hit van. Diezelfde Tyrone Davis scoorde ook in 1970 met "Turn Back The Hands Of Time" (van het duo Jack Daniels & Bonnie Thompson). Ook "I Keep Holding On" (één van de composities op het album van Third Street Cigar Records' label collega Johnny Rawls) is heel soulvol en de haast gospelachtige achtergrondzang is geslaagd. "It's Raining" is een slow blues en "Got That Kind of Love" een lome funky soul blues met funky, scherp wah-wah gitaarwerk. De afsluiter "Ain't Nothing Like the Blues" is een intiem akoestisch blues nummer, dat ons ook de (geslaagde) andere kant van deze band laat horen.
The Good, the Bad, and the Blues was voor ons een onbekende blues band. Het is een viertal dat we zeker gaan opvolgen, want dit is een band die begrijpt wat blues en soul met iemand kan doen.
" It is a (somewhat unknown) quartet that we will certainly follow up, because The Good, the Bad, and the Blues understand what blues and soul can do with someone… " (ESC for Rootstime.be)
Eric Schuurmans
10 cd's te winnen!
Wil je daar kans op maken, dan mail je ons gewoon even:
je naam, je adres en de vermelding:THE GOOD, THE  BAD, AND THE BLUES
Binnen een aantal weken wordt uit alle inzendingen de gelukkigen getrokken.
Wij hopen dat u massaal Rootstime - hier - zult mailen
De winnaars worden per mail verwittigd.
Album track list:
01. Kind of Girl [Mike Darby & Aayan Naim] - 02. Searchin' - 03. I've Been Dawn - 04. 'Til You Come Home - 05. Blindog [Anthony Gomes] - 06. Can I Change My Mind? [Barry Despenza & Carl Wolfolk] - 07.Read Your Mind - 08. Do, Do, Do - 09. Turn Back the Hands of Time [Jack Daniels & Bonnie Thompson] - 10. I Keep Holding On - 11. It's Raining - 12. Got That Kind of Love – 13. Ain't Nothing Like the Blues
Words/music © 2019 by: Aayd Naim & Johnny Rawls (2,7,8,10,12,13), unless where else [noted: 1,6,9] - Produced by: Aayan Naim & John Henry
Album line-up:
Aayan Naim: lead guitar, percussion, b-vocs / Gordon Henry: vocs, bass / BJ Love: keybs, b-vocs / Hollywood Mike Darby: drums, b-vocs
& The Toledo Horns: Ric Wolkins & Mark Lemle: sax & trumpet / Travis Geiman: trombone / Ray Benson: congas / Special guest: Johnny Rawls: guitar, vocs (13)
Discography The Good, The Bad, and the Blues:
The Good, the Bad, and the Blues [2019] | Live at The Strand [201x] |