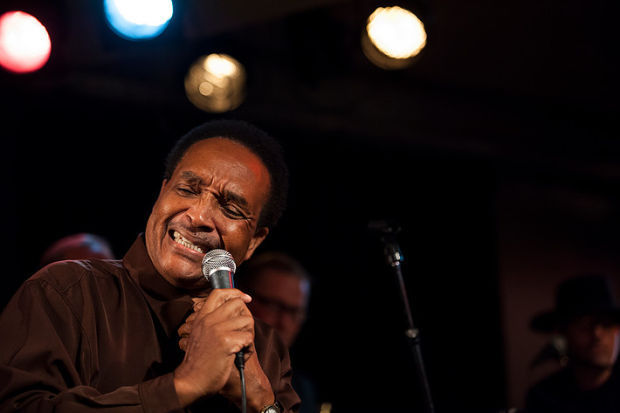 Ook in de muziekwereld bestaan er zekerheden als je spreekt over onweerstaanbare ouderwetse soul & blues van o.a. Johnny Rawls en zijn overleden vriend Otis Clay (1942-2016). Zij werkten in 2014 nog samen op 'Soul Brothers' en Rawls zingt regelmatig nog Clay's nummers.
Otis CLAY was een Amerikaans gospel, soul en R&B-zanger. Otis groeide op in een muzikale familie in de landelijke provincie Bolivar, in de Delta van de Mississippi. In 1953 verhuist de Clay familie naar het Noorden, naar Muncie, Indiana. Voor Clay terugkeert naar Mississippi om er te zingen met The Christian Travelers, zingt hij er eerst in een lokale gospelgroep The Voices Of Hope. In 1957 verhuist Clay naar Chicago, IL, waar hij in meerdere gospel groepen zingt, zoals The Golden Jubilaires, The Famous Blue Jay Singers, The Holy Wonders en The Pilgrim Harmonizers. In 1962 neemt Clay solo zijn éérste nummers op, maar deze werden nooit uitgegeven. Clay speelde ook samen met The Gospel Songbirds, met wie hij in 1964 in Nashville een album opneemt.
Clay's éérste radio hits komen er in 1967, met "That's How It Is (When You're in Love)" en "A Lasting Love". In 1968 tekent Clay een contract bij Atlantic Records/ Cotillion, waar hij de hit van het Sir Douglas Quintet, "She's About A Mover" covert. Dit nummer wordt (ook) Clay's grootste hit. Clay verandert in 1971 van label en tekent bij Hi Records. In 1972 wordt "Trying To Live My Life Without You" uitgebracht. Na het album 'I Can't Take It' kiest Clay voor Kayvette Records, waar hij in 1977 zijn laatste hitsingle "All Because Of Your Love" uitbrengt.
Clay heeft in de States, Europa en Japan succesvol getourd en heeft drie live albums opgenomen: 'Live! (in Japan) Otis Clay' [1978], 'Soul Man: Live in Japan' [1983], en 'Respect Yourself' [2005], een show die werd opgenomen tijdens het Lucerne Blues Festival in Zwitserland. In de jaren '90 brengt Clay bij Bullseye Blues twee soloalbums uit: 'I'll Treat You Right' [1992] en 'This Time Around' [1998]. In 2007 neemt hij het gospel album op 'Walk A Mile In My Shoes'. In 2013 werd Clay voorgedragen voor de Blues Hall of Fame. Otis Clay stierf in 2016 op 73-jarige leeftijd aan een hartaanval. Clay's begrafenis werd gehouden op 16 januari 2016 in de Liberty Baptist Church in Chicago. Na de begrafenis werd hij begraven op de Oak Woods Cemetery in Chicago.
Beïnvloed door de soul uit de jaren '60 en na samengewerkt te hebben met O. V. Wright, James Carr, Otis Clay en Z. Z. Hill, is Johnny RAWLS steeds een moderne soul man gebleven. Rawls bracht meer dan een dozijn studio albums uit en werd in zijn carrière ondertussen al twaalf keren genomineerd voor een Blues Music Award.
Rawls is geboren in Hattiesburg, Mississippi. Zijn blinde grootvader leerde hem de basis van gitaar spelen en op de middelbare school speelde hij ook sax en klarinet. Midden jaren '70 was Rawls lid van de backing band van O.V. Wright (1939-1980), hij werd zijn muziek manager en ze werkten samen tot aan zijn dood. Hierna veranderde voor de volgende dertien jaren de naam van de band in Ace of Spades Band en werkten ze samen met o.a. B.B. King, Little Milton, Bobby Bland, Little Johnny Taylor en Blues Boy Willie. In de band speelde ook L.C. Luckett (gitaar), met wie Rawls de albums 'Can't Sleep At Night' [1994] en 'Down to Earth' [1995] onder de naam Rawls & Luckett uitbracht. In 1996 debuteerde Rawls solo bij het JSP Records label (John Stedman Promotions) met 'Here We Go' [1996]. Rawls werkte als producer/ arrangeur voor JSP. Verdere JSP-releases zijn 'Louisiana Woman' [1997], 'My Turn to Win' [1999] en 'Put Your Trust in Me' [2001].
Rawls richtte zelf zijn eigen label Deep South Soul Productions op, maar bracht ook bij Catfood Records het album 'No Boundaries' [2005] uit. Zijn album 'Heart & Soul' [2006] werd genomineerd met een Blues Music Award als "Best Soul Blues Album of the Year" en hij zelf werd genomineerd in de West Coast Blues Hall of Fame als "Best Vocalist". Rawls kreeg net als Little Milton en Tyrone Davis in Hattiesburg een Blues Trail Marker (een markeerpaal langs de Mississippi Blues route). Zijn album 'Ace of Spades' [2009], een tribute aan zijn mentor O. V. Wright, was zijn eerste album dat een Blues Music Award kreeg als "Best Soul Blues Album of the Year". 'Memphis Still Got Soul' [2011] werd in 2012 genomineerd als "Blues Music Award Soul Album of the Year", de titelsong als "Song of the Year" en, Rawls zelf als "Male Soul Artist of the Year". Op het album 'Remembering O.V.' was Otis Clay "special guest". Het album werd in 2014 genomineerd als "Soul Album of the Year" en Rawls opnieuw als "Male Soul Artist of the Year (zijn 11de en 12de Blues Music Awards nominaties!
Op zijn 68ste zit Rawls nog altijd stil. Hij bracht recent, met de spreekwoordelijke titel, 'I Miss Otis Clay' uit. Dat Johnny en Otis dikke vrienden en muzikale partners waren, was bekend. Met zijn zowat vaste team (Larry "Entertainment" Gold: gitaar, Johnny "Hifi" Newmark: bas, Cadillac Dan Magers: keys & Scott Kretzer: drums) en de The Toledo Horns (Ric Wolkins: trompet & Mark Lemle: sax) nam hij tien eigen nummers op. Enkel voor de titelsong werkte hij samen met de Özdemir clan (Kenan: gitaar, Levent: drums & Erkan: bas). Het is zijn eerste album dat hij bij Third Street Cigar Records uitbrengt. 
Het album opent met "California Shaking Again", een vervolg op "California Shake", over de aardbevingen inde staat, een nummer dat al opgenomen werd in 2017 op het album 'Waiting For The Train'. "Give A Toast To The Blues" is een eerbetoon aan alle artiesten die hem beïnvloed hebben. Het emotionele titelnummer "I Miss Otis Clay" werd opgenomen in Kopenhagen onder leiding van organist Alberto Marsico. "I Can't Let Nobody" en "Kissing and Hugging" gaan over Southern Lovin'. De afsluiter "The Wind" is, zoals ook "Giving You Something You Can Feel" en het uptempo "Slow Roll It", een ander goed geschreven nummer met de fantastische Toledo Horns en suikerzoete achtergrondzang.
Met 'I Miss Otis Clay' brengt Johnny Rawls de gepastte hommage aan zijn overleden vriend. Hoe kan je zijn geest beter in herinnering houden dan met fantatische soul blues nummers die het verdriet zeker wat zullen temperen. 
" This true soul-blues man Johnny Rawls honors his friend Otis Clay with ten amazing soul / blues songs that will certainly alleviate sadness… " (ESC for Rootstime.be)
Eric Schuurmans
10 cd's te winnen!
Wil je daar kans op maken, dan mail je ons gewoon even:
je naam, je adres en de vermelding: JOHNNY RAWLS
Binnen een aantal weken wordt uit alle inzendingen de gelukkigen getrokken.
Wij hopen dat u massaal Rootstime - hier - zult mailen
De winnaars worden per mail verwittigd.
Album track list:
01. California Shaking Again – 02. Can't Read Your Mind - 03. Give A Toast To The Blues - 04. Giving You Something You Can Feel - 05. I Can't Let Nobody - 06. I Miss Otis Clay* - 07. Kissing And Hugging - 08. Motion Of The Ocean - 09. Slow Roll It - 10. The Wind
Words/music © 2019 by: Johnny Rawls, unless where else [noted] - Produced by: Johnny Rawls
Album line-up:
Johnny Rawls: lead, b-vocs, rhythm guitar, keys / Guitar : Larry "Entertainment" Gold / Bass : Johnny "Hifi" Newmark / Keys : Cadillac Dan Magers / Drums : Scott Kretzer & The Toledo Horns : Ric Wolkins: trumpet / Mark Lemle: sax
"I Miss Otis Clay"*: Alberto Marsico: keys, Kenan Özdemir: guitar, Levent Özdemir: drums & Erkan Özdemir: bass
Discography Johnny Rawls:
I Miss Otis Clay [2019] | Soul Blues Mix Vol. 2 (compilation) [2018] | I'l Still Around [2018] | Waiting For the Train [2017] | Tiger In a Cage [2016] | Soul Brothers  [2014] | Remembering O.V. [2013] | Soul Survivor [2012] | Memphis Still Got Soul [2011] | Ace Of Spades [2010] | Red Cadillac [2008] | Heart And Soul [2007] | No Boundaries [2005] | Partners & Friends, by Johnny Rawls & Roy Roberts [2004] | Live in Montana [2004] | Get Up & Go JSP (compilation album) [2002] | Lucky Man [2002] | Put Your Trust in Me [2001] | My Turn to Win [1999] | Louisiana Woman [1997] | Here We Go [1996] | Down to Earth, by Rawls & Luckett [1995] | Can't Sleep At Night, by Rawls & Luckett [1994]