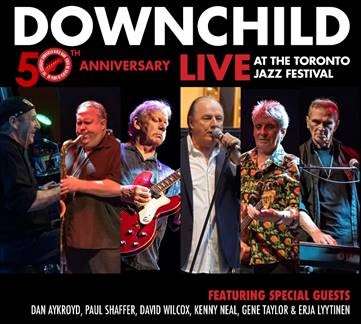 " 50th ANNIVERSARY PARTY @ the TORONTO JAZZ FESTIVAL… "
Downchild is voor vele muziekliefhebbers Canada's éérste bluesband. The Downchild Blues Band werd zo'n 50 jaar geleden (in 1969) in Toronto opgericht en treedt nog altijd op. De oprichters waren de broers Donnie "Mr. Downchild" en Richard "Hock" Walsh (1948-1999). De band dankt zijn internationale faam aan drie tracks uit hun tweede album 'Straight Up' (1973): "I've Got Everything I Need (Almost)", "Shot Gun Blues" & een bewerking van de 1965 klassieker van Big Joe Turner, "Flip, Flop & Fly". Het nummer is gebaseerd op dezelfde arrangementen als BJ Turner's eerdere #1 hit "Shake, Rattle & Roll" uit 1954. Deze drie nummers zijn ook te horen op 'Briefcase Full of Blues', het éérste album uit 1978 van (hun bevriende collega's) de Blues Brothers. "Flip, Flop & Fly" is de enige hitsingle geweest van Downchild en het arrangement van de song moet vooral op naam van Hock Walsh geschreven worden. De stijl van de band is een mix van jump en Chicago blues.
De naam van de band komt van een nummer van Sonny Boy Williamson II uit 1952: "Mr. Downchild". De originele line-up van The Downchild Blues Band was Donnie "Mr. Downchild" Walsh, zijn jongere broer Rick "Hock" Walsh (zang), Dave Woodward, Cash Wall, John Tanti en Jim Milne. Downchild was van 1968 tot 1970 het huisorkest van de Grossman's Tavern, de club van folk muzikant Ron Gerston. Pianiste Jane Vasey vervoegt de band in 1973. De muzikant die Donnie Walsh aanvankelijk het meest beïnvloed heeft is Jimmy Reed (1925-1976). Later wordt ook mondharmonicaspeler James Cotton (°1935) heel belangrijk voor zijn carrière en geraken beiden persoonlijk bevriend. In 1971 brengt de band het debuutalbum 'Bootleg' uit. Dit album wordt beschouwd als het éérste onafhankelijk (in eigen beheer uitgegeven) album in Canada.
In 1982 sterft pianiste Jane Vasey (op tweeëndertigjarige leeftijd) aan leukemie. Dit is een grote klap voor de band. Donnie Walsh, die toen samenleefde met Jane, trekt zich dan tijdelijk terug uit de band, om zich te bezinnen over zijn toekomst. In 1982 begint de band opnieuw met een nieuwe keyboardspeler en een nieuwe zanger. Hock Walsh is niet altijd de leadzanger geweest van de band. Hij is enkele malen (verplicht) uit en in de band gestapt en tijdelijk vervangen geweest. In 1974, voor de opnamen van hun derde album 'Dancin', is Hock uit de band gezet en is hij vervangen door een andere zanger Tony Flaim. Tony Flaim zingt tussen 1975 en 1982 mee op zes albums van Downchild, maar sterft in 2000, op 52-jarige leeftijd aan een hartaanval. Hock kwam terug bij de band in 1977 en in 1985. Tussen 1982 en 1986 is John Witmer (Whiskey Howl) de zanger van de band. In 1990 ontslaat zijn broer Donnie Hock opnieuw en wordt hij vervangen door Chuck Jackson, tot en met heden nog steeds de zanger van de band. In 1999 sterft Hock Walsh op eenenvijftigjarige leeftijd (ook) als gevolg van een hartaanval. Hock heeft kort nog solo opgetreden en ook met een eigen band.

De huidige line-up dateert al vanaf 1990 en bestaat uit het enige nog originele lid Donnie Walsh (gitaar, harmonica), Chuck Jackson (zang, harmonica), Michael Fonfara (piano, orgel) en, vanaf 1985 Pat Carey (sax). Pat Carey heeft in zijn carrière met Hock Walsh en ook met Tony Flaim samengespeeld. Bassist Gary Kendall vervoegt de band in 1995 voor de tweede keer, nadat hij van 1979 tot 1983 al bij de band speelde. Drummer Mike Fitzpatrick, werkte voor het eerst met de band samen in 2004, tijdens de opnamen van het album 'Come On In'. De vriendschappelijke band tussen Downchild en The Blues Brothers is er altijd gebleven. In 2005, wanneer Dan Aykroyd en James Belushi touren als The Blues Brothers, heeft Donnie Walsh met hun op het podium gestaan, in Ontario's Casino Rama.
De awards van Downchild zijn "uitzonderlijk": 1991: Juno Award, "Best Roots and Traditional Album" ('Gone Fishing') – 1992: Canadian Broadcasting Corporation, "Great Canadian Blues Award" – 2005: Maple Blues Award, "Recording of the Year' ('Come On In') – 2005: Maple Blues Award, "Electric Act of The Year" – 2005: Maple Blues Award, "Entertainers of The Year" – 2006: Maple Blues Award, "Entertainers of The Year". Afsluitend nog een detail: de band trad voor het éérst op in Europa in 2008, tijdens het Franse Lille Blues Festival en kwam in 2010 terug naar Europa voor het Noorse Notodden Blues Festival…
'Something I've Done' (2017), dat we hier voor Rootstime bespraken, was al het 17de studio album van Downchild. Om in het voorbije jaar hun 50ste verjaardag te vieren, traden ze in juni op tijdens het Toronto Jazz Festival 2019 in het gezelschap van een meerdere "Special Guests": filmacteur en komiek Dan Aykroyd, bandleider, componist, komiek en auteur Paul Shaffer (ex Letterman, muzikaal leider Blues Brothers), blues/rock icoon David Wilcox, Grammy genomineerde Kenny Neal (ex Downchild), Gene Taylor (ex Fabulous Thunderbirds, Downchild, Blasters) & de Finse Queen of slide gitaar, Erja Lyytinen).
Van dit liveoptreden verscheen -omdat de pandemie geen liveoptredens toelaat- een album met twaalf tracks. Naast de gekende (en genoemde) drie "super" hits uit 1973 en de Sam & Dave hit "Soul Man", die ze op het einde van hun set met de gasten brachten, bevat de track list ook nog andere favoriete Downchild nummers én, enkele wat minder bekende verborgen juweeltjes uit hun illustere carrière. Na de inleidende woorden "All right people, it's so far, this is the Downchild Blues Band…" openden ze met de veelzeggende opgewekte levendige hit "Can You Hear the Music". Dit nummer stond samen met "One in a Million" (een nummer met ouderwetse slide gitaar riffs, die als maatwerk passen, in deze rustige gospelsong) op hun gelijknamig 2013-album. Het gemoedelijke "Understanding & Affection" en de rocker "It's a Matter of Time" komen uit hun 'We Deliver/Straight Up' album uit 2008. Voor deze blues rocker heeft David Wilcox de slide gitaar omgehangen. Met Wilcox doen ze daarna ook het gekende Elmore James' nummer "Madison Blues" ('Dancin', 1974). Gene Taylor trok naar Toronto om erbij te kunnen zijn voor o.a. "I'm Gonna Tell Your Mother" ('But I'm on the Guestlist', 1982). Met Gene achter de toetsen en een groovende Don op harp is dit per definitie rocken en genieten! Erja Lyytinen is erbij op "Mississippi Woman, Mississauga Man", een recenter nummer uit hun laatste studio album 'Something I've Done'. Niet alleen op slide gitaar mar ook in de duetten staat Erja haar… (jawel sire) vrouwtje. De finale werd afgerond met "TV Mama". Dit nummer -het meest bluesy van de setlist- kan je vinden op hun 'Road Fever' album uit 1980.
Het blijft een superband, de nu al iconische Canadese Downchild Blues Band. Wat de broers Richard en Donnie Walsh nu zo'n vijf decennia geleden ontstoken, is nog altijd niet uitgebrand. Het verjaardagsfeestje dat de pandemie niet toelaat, kan je met Downchild nu veilig in huis halen. 
" It remains a super band, the already iconic Canadian Downchild Blues Band. What was ignited by the brothers Richard and Donnie Walsh about five decades ago, isn't burned out today. Thanks to Downchild, you can safely bring the 50th Anniversary party that doesn't allow the pandemic, into your home now… " (ESC for Rootstime.be)
Eric Schuurmans
Release: 14/08/2020
Album track list: 01. Can You Hear The Music – 02. Understanding & Affection - 03. It's A Matter of Time (Featuring David Wilcox) - 04. Madison Blues (Featuring David Wilcox) [Elmore James] - 05. One In a Million - 06. I'm Gonna Tell Your Mother (Featuring Gene Taylor) [Jimmy McCracklin] - 07. Mississippi Woman, Mississauga Man (Featuring Erja Lyytinen) [Becki Bluefield / Jim Owen > Loretta Lynn, Conway Twitty] - 08. Shotgun Blues (Featuring Kenny Neal) - 09. Soul Man (Featuring Dan Aykroyd, Paul Shaffer & Kenny Neal) [Willia Dean Parker / Randle Catron / Booker T. Jr. Jones > Sam & Dave] - 10. I Got Everything I Need (Almost) (Featuring Dan Aykroyd, Paul Shaffer & Kenny Neal) - 11. Flip Flop and Fly [Big Joe Turner] (Featuring Dan Aykroyd, Paul Shaffer, David Wilcox, Kenny Neal, Gene Taylor & Erja Lyytinen) - 12. TV Mama [Lou Willie Turner > Joe Turner & His Blues Kings, 1953] / Words/music © 2020 by: Don Walsh/Downchild, or as [noted] - Produced by: L. Stu Young | Album line-up: Don(nie) "Mr. Downchild" Walsh: leader, guitar, harmonica / Chuck Jackson: lead vocs, harmonica / Pat Carey: tenor sax / Michael Fonfara: keys / Gary Kendall: bass / Mike Fitzpatrick: drums / Featuring: David Wilcox (3-4,11), Gene Taylor (6,11), Erja Lyytinen (7,11), Kenny Neal (8-11), Dan Aykroyd, Paul Shaffer (9-11)
Discography Downchild (Blues Band): Live @ the Toronto Jazz Festival, August 14, 2020 – 50th Anniversary [2020] | Something I've Done [2017] | Can You Hear The Music [2013] | I Need A Hat [2009] | Live At The Palais Royale [2007] | Come On In [2004] | Body Of Work: The Downchild Collection Vol. 2 [2003] | It's A Matter Of Time: A Collection Of The Best 2001] | A Case Of The Blues: The Best Of Downchild [1998] | It's Been So Long/Ready To Go (twin pack re–issue) [1997] | Lucky 13 [1997] | Good Times Guaranteed [1994] | Dancing/Road Fever (twin pack re–issue) [1991] | Gone Fishing [1989] | Straight Up/We Deliver (twin pack re–issue) [1988] | It's Been So Long [1987] | But I'm On The Guest List [1982] | Blood Run Hot [1981] | Road Fever [1980] | We Deliver [1980] | So Far: A Collection Of Our Best [1977] | Ready To Go [1975] | Dancin' [1974] | Straight Up [1973] | Bootleg [1971] |