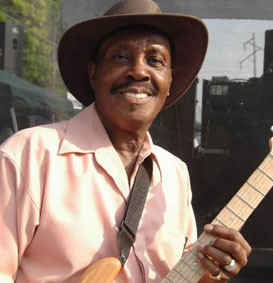 " As long as he could keep performing,
he was doing his part to keep the blues alive and well… "
Robert Lee "Chick" Willis (1934-2013) was een Amerikaanse blues gitarist, geboren in Cabiniss, Georgia. Hij was de neef (en in de hoogdagen chauffeur) van de muzikant, blues, R&B en R'n'R-zanger en songwriter Harold "Chuck" Willis (1926-1958) aka The King of the Stroll. Chick won een talentenjacht in de Magnolia Ballroom in Atlanta en nam zijn eerste single "You're Mine" op bij Ebb Records in 1956. Aanvankelijk zong hij alleen, in de kerk speelde hij wat drums, piano en bas, maar leerde gitaar tijdens het touren met zijn neef. Eddie Jones aka Guitar Slim (1926-1959) was een van zijn belangrijkste invloeden. Na de dood van zijn neef, werkte Chick als sideman van de King of the Slide Guitar, Elmore James. Hij nam in de jaren '80 en '90 meerdere albums op, vaak bij kleine labels (Ichiban Records), en is het best gekend van de "raunchy" (o.w.v. het woordgebruik wat ruige, vulgaire) klassieker, de jukebox hit "Stoop Down Baby (… Let Your Daddy See)" (1972).
'Things I Used to Do' is een "nieuw" Chick Willis' album met "eerder ongehoord materiaal opgenomen in 1997 door The Stoop Down-man zelf en nu voor het eerst uitgebracht op Big Bear Records als een exclusief digitaal album…". Naast Chick Willis (zang, gitaar), werkten ook  Tony Ashton (piano, orgel), Roger Inniss (bas) & Sticky Wicket (drums) o.l.v. producer Jim Simpson aan de opnames mee. Al van in 1968 is de Big Bear Music Group in Birmingham, UK, actief met het promoten en uitbrengen van Jazz, Swing en Blues muziek. Zij organiseren ook als sinds 1985 ook jaarlijks in juli in Birmingham het Sandwell & Westside Jazz Festival. Dit is in Europa het grootste én gratis jazz festival.
Wat lag er nog op de plank van Chuck Wilis? Dertien "echte" blues nummers, met als opener de energieke shuffle, "Lou's Place". De nummers die me wat meer bijbleven, zonder de overige enig geweld te willen aandoen, zijn "Every Day Is a Good Day", de slow blues pur sang "Come Back Home", de piano blues "You Got the Devil in You" en het Ed(die) Jones' (en titel) nummer "The Things I Used to Do", waarin Tony Ashton opnieuw op piano mooi tussenkomt. Mijn lijstje is volledig met de volgende tracks: "(I Got a) Big Fat Woman", de slow blues "Four Wives Blues", "Voodoo Woman" en de ragtime afsluiter "Doin' The Yang Thang".
Als herinnering aan een bescheiden bluesman bracht Big Bear Records van Chuck Willis 'Things I Used to Do' uit. Het is een album met uitstekende blues nummers die probleemloos de tand des tijds doorstaan hebben. Mooie herinneringen aan nog een van hen die zijn heengegaan, maar zoveel moois achterlieten.
" As a reminder of a humble bluesman, Big Bear Records released Chuck Willis' "Things I Used to Do". It's an album with excellent blues songs that have stood the test of time without any problems. Lovely memories of another one of them who passed away, but left so much beautiful behind… " (ESC for Rootstime.be)
Eric Schuurmans
Album track list: 01. Lou's Place – 02. Please Don't Go – 03. Every Day Is A Good Day – 04. Come Back Home – 05. You Got The Devil In You – 06. The Things I Used To Do [Eddie Jones] – 07. What You Got On Me – 08. One Eyed Woman – 09. Tin Pan Alley – 10. Big Fat Woman – 11. Four Wives Blues – 12. Voodoo Woman – 13. Doin' The Yang Thang / Words/music © 2020 written/arranged by: Robert L. Willis, or as [noted] - Produced by: Jim Simpson | Album line-up: Chick Willis: vocs, guitar / Tony Ashton: piano, organ / Roger Inniss: bass / Sticky Wicket: drums
Discography Chick Willis: Things I Used to Do (Big Bear Records) [2020] | Mr. Blues – The Best of... So Far (Benevolent Blues) [2010] | Hit & Run Blues (Benevolent Blues) [2009] | The Don of the Blues (CDS) [2008] | Cookin' the Blues (Old School) [2006] | I Did it All (CML) [2005] | I Won't Give Up (Deep South) [2002] | From the Heart and Soul (Rock House) [2001] | Y2K Recorded Live (Ifgam) [2000] | Blue Class Blues (Paula) [1998)] | I Got a Big Fat Woman (Ichiban) [1994] | Nasty Chick (Ichiban) [1992] | Holdin' Hands with the Blues (Ichiban) [1992] | Back to the Blues (Ichiban) [1991] | Footprints in My Bed (Ichiban) [1990] | Now (Ichiban) [1988] | Chick Sings Chuck (Ichiban) [1985] | Stoop Down Baby... Let Your Daddy See (La Val) [1972] |