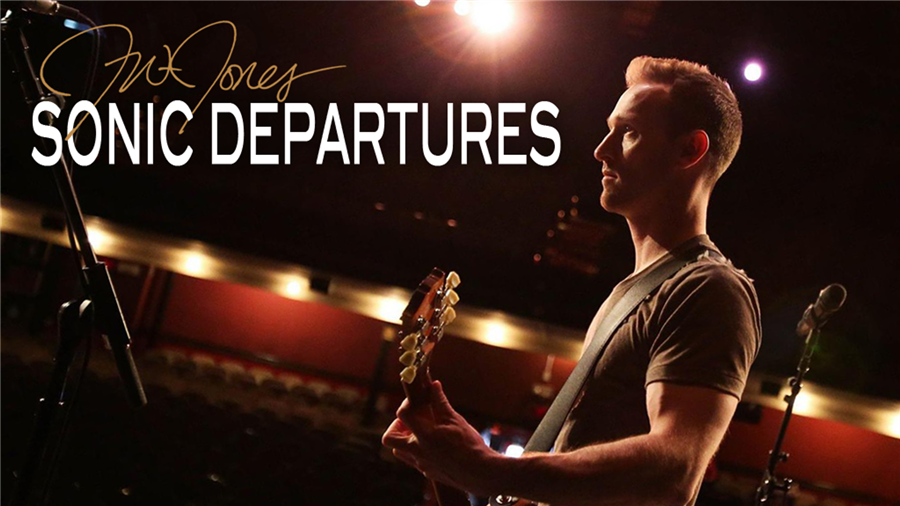 " JW-Jones substantially expands his sonic boundaries... "
Canada (afgeleid van "kanata", wat in het Indiaans nederzetting betekent) is niet alleen een uitgestrekt en groen land, maar ook een geweldig muziek en zeker een prima blues & roots land. Dit bewezen eerdere recencies van Adam Karch, Al Lerman, Angel Forest, Avi Katz, Bill Wood, Black Cat Bones, Blue Moon Marquee, Blues Delight, Brent Johnson, Buffy Saint-Marie, Carolyn Fe, Cecile Doo-Kingue Chris Antonik, Colin James, Colleen Renissen, Cousin Harley en… -ja, ik ben gecontroleerd gestopt na de letter "C"- op de vertrouwde Rootstime website al uitvoerig. De nu 40-er J-W Jones uit de hoofdstad Ottawa, voegden we hier ondertussen aan deze lange rij Canadese artiesten ook al toe.
Singer-songwriter JW-Jones is bluesgitarist en bandleider. Hij won al meerdere Maple Blues Awards (de éérste in 2000 als "Best New Artist") en, was in 2015 Juno Award Nominee ("Blues Album of the Year"). Tijdens de IBC 2020 in Memphis ontving hij de "Best Guitarist" award. Jones debuteerde in 2000 bij het Northern Blues Music label met 'Defibrillation'. Zij brachten ook zijn eerste zes albums uit. Jones werkte ook al samen met Ruf Records, Blind Pig Records en Solid Blues Records.
Jones' carrière begon nadat hij in 1998 de wedstrijd Battle of the Bands won, waarmee hij ook studio tijd vergaarde. Hij nam toen een demo met zes nummers op. Een jaar later won hij de Ottawa Blues Guitar Riff-Off competitie, met opnieuw studio tijd in het prijzenpakket. Hij nam hiermee zijn debuutalbum 'Defibrillatin' (2000) op. Op dit album zijn Steve Marriner op harmonica, toetsenman Pierre Chrétien, drummer Steve Hiscox te horen. Voor zijn album 'Kissing in 29 Days' (2006) kon hij rekenen op saxofonist David "Fathead" Newman (hij werkte twaalf jaar lang samen met Ray Charles). Voor zijn album 'Bluelisted' (2008) daarna op "Little" Charlie Baty (Little Charlie & the Nightcats), Junior Watson, Richard Innes en Larry Taylor en voor het album 'Bluelisted' (2009) op de toen achtenzeventigjarige bluesgitarist Hubert Sumlin (Howlin' Wolf). 'Belmont Boulevard' (2014), Jones' eerste release bij Blind Pig Records, werd opgenomen o.l.v. producer Tom Hambridge.
Jones werd ook door Buddy Guy al uitgenodigd om met hem op te treden in zijn club Legends in Chicago, IL én door Canned Heat, tijdens hun optreden op het Ottawa Bluesfest in 2015.

"I knew I had to do something productive to stay positive. I turned isolation into inspiration…"
Als opvolger van 'High Temperature' (2016) verscheen in 2018 bij Solid Blues Records zijn eerste live album. Het negende studio album, dat deze maand nog verschijnt, kreeg de naam 'Sonic Departures'. Naast zijn touringband, Will Laurin (drums, harmoniezang) en Jacob Clarke (contrabas, elektrische bas, harmoniezang), bracht Jones bandlid Jesse Whiteley terug in de strijd om toetsen te spelen en de partijen voor de 13-koppige blazerssessie te schrijven. Kaz Kazanoff van de Texas Horns schreef ook mee aan de hoornarrangementen voor twee van Jones' originele songs. Van de negen songs die ze met producer Eric Eggleston opnamen, zijn er zes originele en drie covers. 
"Blue Jean Jacket" start wat aarzelend, maar al vlug stijgt hoorbaar Jones' vertrouwen en valt in de opener alles in de juiste plooi om swingend verder te kunnen gaan. Wat dan volgt zijn nog enkele originele composities als "Ain't Gonna Beg" en "Drowning on Dry Land", nummers die hij explosief en dan weer heel beheerst, erg knap en gedreven met zijn fantastische band brengt. Daarnaast doet hij ook knappe bewerkingen van enkele covers. Een swingende/jazzy versie van "Bye Bye Love", de Everly Brothers' hit uit 1958 die ook door Simon & Garfunkel (1970) en George Harrison (1974) opgenomen werd, Buddy Johnson's "It's Obdacious" uit 1955 en "The Things That I Used to Do", een nummer van Eddie "Guitar Slim" Jones dat hij in 1953 bij Specialty Records uitbracht. "Snatchin' It Back" is zowat de meest funky track en "When It All Comes Down" waarmee Jones hier afsluit, de laatste kans om nog eens voluit en relaxt te genieten van Jones'.
Onder de streep is 'Sonic Departures' van JW-Jones een schitterend album dat een veel muziekliefhebbers, maar vooral de swing/blues fanaten en zij die hun sonische grenzen willen verleggen, zal aanspreken.
" Below the line, JW-Jones' 'Sonic Departures' is a beautiful album that will appeal to many music lovers, but especially the swing / blues fanatics and those who want to extend their sonic boundaries.… "  -  www.rootstime.be
Eric Schuurmans
Release: 14/08/2020
Album track list: 01. Blue Jean Jacket - 02. Same Mistakes – 03. Ain't Gonna Beg - 04. Drowning On Dry Land - 05. Bye Bye Love [Boudleaux Bryant / Felice Bryant > Everly Brothers] - 6. Snatchin' It Back - 07. It's Obdacious [Buddy Johnson] - 08. Things That I Used To Do [Eddie Jones, aka "Guitar Slim"] - 09. When It All Comes Down – Written by JW-Jones or as [noted: 5,7,8] ℗ 2020 – Produced by JW-Jones & Eric Eggleston / Album line-up: J-W Jones: vocs, guitar / Will Laurin: drums, harmony vocs / Jacob Clarke: e- & double bass, harmony vocs / Brit: harmonies / Jesse Whiteley: keys, horn charts / 13-piece horn section - Kaz Kazanoff: horn arrangements /
Discography JW-Jones: Sonic Departures [2020] | Live [2018] | High Temperature [2016] | Belmont Boulevard [2014] | Seventh Hour [2012] | Midnight Memphis Sun [2010] | Bluelisted [2008] | Kissing in 29 Days [2006] | My Kind of Evil [2004] | Bogart's Bounce [2002] | Defibrillatin [2000]