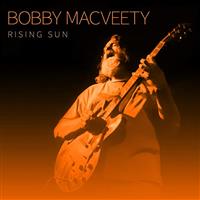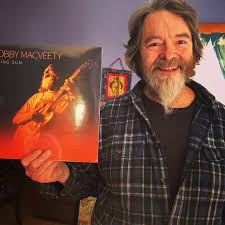 " Happy Sheffield man plays out a dream… "
Bobby MacVeety is man uit Sheffied, Massachusetts. In het gewone leven is hij samen met Suey, die schildert en (ook) zingt. Ze hebben samen een zoon, Max. Zelf schrijft hij al decennialang teksten en poëzie. Hij begon met het spelen van muziek in de jaren zeventig. Toen hij opgroeide, ging hij naar een aan de kerk verbonden kostschool, Saint Thomas Choir School in Manhattan, waar hij een uitgebreide stemtraining volgde. Hij zong ook in het kerkkoor en met Leonard Bernstein in het Rockefeller Center. Hij ging naar The Hill School, een gemengde voorbereidende school in Pottstown, Pennsylvania, en speelde saxofoon in de jazzband. Na studies aan de Tufts University begon MacVeety gitaar te spelen en te zingen. Tegelijkertijd begon hij ook teksten, poëzie en muziek te schrijven. Hij speelde gitaar en zong in de bands Pure Cane, Larry Carsman Blues Band en Blues Current in Boston en Cambridge.
Door de verhuis naar Berkshire County (in het westen van de staat Massachusetts) belandde hij in Al & the Fascinaties, een band -één van de vele in zijn muzikale carrière- met Al Fellows en Gordy Fellows die optrad in de Pearly Gates Saloon in Sheffield.  De volgende band heette Swing Shift, waarin naast John Barrett, Andy Gordon, Geraldine Lawrence en Tim Gray country- en swingmuziek speelde in Connecticut en Massachusetts. Daarna volgde nog Lisa & the Weapons of Pleasure, een band uit Taconic, Connecticut met Larry Stone. MacVeety's The Blues Stars was een populaire band met een all-star cast waaronder Rob Putnam, Steve Ide en Jeff Stevens. Bobby was ook lid van de Carl Landa/Jill Hughes Band in Saratoga, New York. Tegenwoordig speelt Bobby nog steeds met drie verschillende bands: The BTUs, One Straw Revolution en The Bobby MacVeety Trio.
Zijn zoon Max, die als kind al geobsedeerd was door drums, studeerde in 1995 af aan de Mount Everett Regional School en vormde met zijn vader een band genaamd One Straw Revolution, met muzikanten John Suters, Jake Alarn en Charlie Tokarz. Na zijn studies aan het Berklee College of Music in 1999, verhuisde Max naar Californië om zijn eigen muzikale dromen na te streven als professionele drummer.
In het voorbije jaar werkte Max met zijn vader en familieleden samen, om het eerste soloalbum van zijn vader op te nemen. Max selecteerde 10 nummers van een harde schijf met de muziek van zijn vader en producet het album in zijn opnamestudio Bunkhouse Recording in Long Beach, Californië. Max nam de nummers op met een aantal muzikanten. In september 2019, op zijn 70ste verjaardag, verrasten ze Bobby als verrassingsgeschenk met de opnames. Het album kreeg de naam 'Rising Sun'. De titel van het album is ook de naam van een nummer van Bobby, dat is geschreven over zijn verkering met zijn vrouw Susan. Het album, zegt Bobby, heeft "veel funk en een blues achtige sfeer".
Wat ik al vertelde, alle nummers op 'Rising Sun' zijn originele songs en zijn gelardeerd met funky blues, Soul en zelfs hiphop. "Smashing Beat", de opener en "Broken Wheel" zijn al de eerste funky dansbare brouwsels, die door hun groove heel aanstekelige werken. Met "Slippin' on Down" en "Home Cookin'" volgt er een rustig intermezzo, waarna het funky "Stay Legal" opnieuw bulkt van de groove. Op "Balance" is de stem te horen van Raashan Ahmad. Raashan Ahmad is producer, dj en labeleigenaar met een bloeiende carrière als hiphopartiest en, frontman van de Crown City Rockers. Ahmad is daarnaast ook een MC (master of ceremonies), de gastheer van een vertoning voor publiek). Raashan's solo albums 'The Push' (2008), 'For What You've Lost' (2010) & 'Ceremony' (2013) én zijn albums met zijn crew Crown City Rockers, kregen wereldwijde aandacht. Erg dromerig en bluesy is "Home" en uit de titelsong, borrelt de liefde. Dan is er nog "Love on Top", wat Motown soul om te eindigen, moet nog net kunnen!
Bobby MacVee heeft een grote droom afgevinkt op zijn bucket list, met dingen die hij in zijn leven wilde doen: zelf een album opnemen. Toegeven, ik kende Bobby MacVeety nog niet. Zijn 'Rising Sun' is een dijk van een album (én, MacVee: verrassend)!
" I have to admit, I didn't know Bobby MacVeety yet. His debut 'Rising Sun' is one hell of an album and, MacVeety surprising!... " (ESC for Rootstime.be)
Eric Schuurmans
10 cd's te winnen!
Wil je daar kans op maken, dan mail je ons gewoon even:
je naam, je adres en de vermelding: BOBBY MACVEETY
Binnen een aantal weken wordt uit alle inzendingen de gelukkigen getrokken.
Wij hopen dat u massaal Rootstime - hier - zult mailen
De winnaars worden per mail verwittigd.
Album track list: 01. Smashing Beat – 02. Broken Wheel – 03. Slippin' on Down - 04. Home Cookin' - 05. Stay Legal - 06. Clear Light - 07. Balance Feat. Raashan Ahmad - 08. Home - 09. Rising Sun - 10. Love on Top / Words/music © 2020 by: Bobby Macveety - Produced by: Max MacVeety | Album line-up:01. Smashing Beat – 02. Broken Wheel – 03. Slippin' on Down - 04. Home Cookin' - 05. Stay Legal - 06. Clear Light - 07. Balance Feat. Raashan Ahmad - 08. Home - 09. Rising Sun - 10. Love on Top / Words/music © 2020 by: Bobby Macveety - Produced by: Max MacVeety | Album line-up: Bobby Macveety: vocs, guitar, bass / Max MacVee: drums / (1): Aaron Julie: clavinet/organ, Kevin O'Dea: guitar / (2): Danny Moynahan: sax, Derick Wong: bass, Ben Adamson: trumpet, Kevin Hicks: trombone / (3): Ethan "Headnodic" Parsonage: bass, David Boyce: sax solo, Levi Downey: saxes, Ben Adamson: trumpet, Kevin Hicks: trombone / (4): Derick Wong: bass, Zachary) Ross: guitar, Quintin B. Smith: Rhodes / (5): DeShawn Alexander: organ, Levi Downey: saxes/fute, David Boyce: sax solos, Ethan "Headnodic" Parsonage: bass, Ben Adamson: trumpet, Kevin Hicks: trombone / (6): Derick Wong: bass, Kenneth Crouch: piano/synth, Dan Packerd: strings / (7): Raashan Ahmad: vocs, Ethan "Headnodic" Parsonage: bass / (8): Quintin B. Smith: Rhodes / (9): David Tom: Rhodes/piano, Derick Wong: bass / (10): Derick Wong: bass, Levi Downey: trombone/saxes, DeShawn Alexander: organ, D.J. Williams: guitar, Ben Adamson: trumpet, Kevin Hicks: trombone
Discography Bobby MacVeety: Rising Sun [2020] || Mtd4lyfe: Mtd Family Reunion, by various artists, feat. Bobby MacVee [2012] |