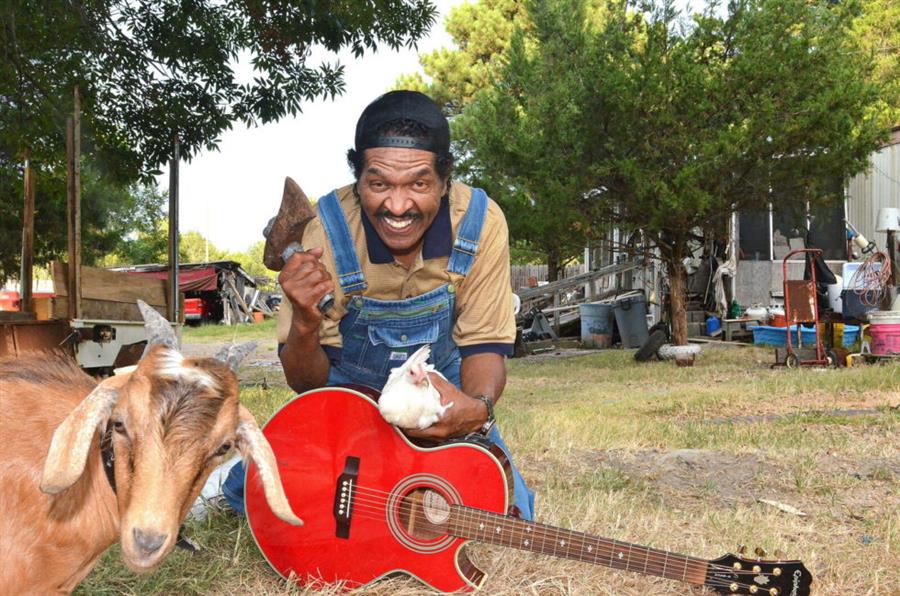 " A stripped-down, acoustic tribute to the rich blues history of Mississippi… "
Emmit Ellis Jr. aka Bobby Rush is de zoon van Ellis Sr. en Mattie Ellis. Zijn vader speelde gitaar en harmonica. Als kind begon Bobby te experimenteren met zelfgemaakte muziekinstrumenten. Rond 1946 verhuist hij met zijn familie naar Pine Bluff, Arkansas, waar zijn vader pastoor werd. Hier werd Bobby bevriend met Elmore James, slide gitarist Boyd Gilmore (de neef van legende Elmore) en pianist Moose John Walker. In 1953 verhuist hij met zijn familie naar Chicago, waar Bobby opgenomen werd in de lokale blues scene.
In 1971 werd zijn nummer "Chicken Heads", dat hij met Calvin Carter schreef, een hit. Zijn eerste album 'Rush Hour' bracht Bobby uit in 1979 bij Philadelphia International. Aanvang jaren '80 verhuisde hij naar Jackson, MS, waar hij enkele albums opnam bij het LaJam label, Malaco's Waldoxy imprint en, in 2003 op zijn eigen label Deep Rush met zijn partner Greg Preston. In 2004 nam Bobby 'FolkFunk' op met gitarist Alvin Youngblood Hart. Bobby Rush verscheen ook in de film "The Road to Memphis" (maakt deel uit van de serie "The Blues") van producer Martin Scorsese.
Na de release van zijn 22ste album kreeg Bobby Rush tijdens de BMA de award van de "Best Male Soul Blues Artis". Voor zijn 2007-album 'Raw' kreeg hij de award "Best Acoustic Artist" en "Best Acoustic Album". Zijn 2000-album 'Hoochie Mama' werd genomineerd voor een Grammy award (Grammy nominee: nu al 5x – Grammy winner: 2017). In 2006 werd hij Blues Hall of Fame Nominee en in 2013 werd Rush genomineerd voor een Blues Music Award in de categorie "Soul Blues Male Artist". In 2014 won zijn album 'Down In Louisiana' een Blues Music Award in de categorie "Soul Blues Album of the Year" (BMA: nu al 13x) en, bracht hij onder de naam 'Decisions' een CD/DVD uit met de Blinddog Smokin' Band, featuring Dr. John.
"The Blues, nothing but the Blues…"
In het voorbije jaar zat de 86-jarige artiest, componist en singer-songwriter Bobby Rushs niet stil. Hij schreef nieuwe nummers en is er al een opvolger voor 'Sitting on Top of the Blues' (2019). 'Rawer Than Raw' -het spiritueel vervolg op het geheel originele album 'Raw', 2007, zijn éérste akoestische album én gamechanger- is een akoestisch blues album stripped down met "enkel" zijn gitaar, harmonica en zang. Naast de vijf eigen nummers nam hij ook werk op van artiesten met wie hij een sterke persoonlijke band had als, Robert Johnson ("Dust My Broom"), Skip James ("Hard Times"), Howlin' Wolf ("Smokestack Lightning"), Sunny Boy Williamson II ("Don't Start Me Talkin'") en een cover van Willie Dixon ("Shake It For Me"). "Nothing but…".
Met zijn eigen "Down in Mississippi" opent hij met wat harmonica 'Rawer Than Raw'. Mississippi, dat is de plaats waar Bobby "zijn" muziek vond. "Let Me in Your House" is een uitgesproken gitaar nummer en "Sometimes I Wonder" een mooie slow blues à la lettre, die het voor een deel van de songwriting moet hebben. Op "Let's Make Love Again" kan je gretig proeven van Bobby's ervaring en na "Honey Bee, Sail On" (een "publiek domein" nummer) blijft er nog, met veel harmonica, "Garbage Man" en veel vragen over "been mistreated" over.
Bluesman "oude" krak Bobby Rush laat ons op zijn nieuwe album 'Rawer Than Raw' met akoestisch nieuw en oud werk en zo onopgesmukt als mogelijk onvoorstelbaar horen, hoe gedreven en vitaal hij als zanger, mondharmonicaspeler en gitarist nog klinkt. 
" Bluesman "old crack" Bobby Rush shows us on his new album 'Rawer Than Raw', with acoustic new and old work and as stripped as possible, how passionate and vital he still sounds as a singer, harmonica player and guitarist.… " (ESC for Rootstime.be)
Eric Schuurmans
Release: 28/08/2020
Album track list: 01. Down in Mississippi - 02. Hard Times [Skip James] – 03. Let Me in Your House – 04. Smokestack Lightning [Chester Burnett] – 05. Shake It For Me [Willie Dixon] – 06. Sometimes I Wonder – 07. Don't Start Me Talkin' [Sony Boy Williamson II] – 08. Let's Make Love Again – 09. Honey Bee, Sail On [public domain] – 10. Garbage Man – 11. Dust My Broom [Robert Leroy Johnson > Elmore James] / Words/music © 2020 by Emmett Ellis Jr., or as [noted: 2,4-5,7,9,11] - Produced by: Bobby Rush | Line-up: Bobby Rush: vocs, a- guitar, harmonica, footstomps
Discography Bobby Rush:
Rawer than Raw  [2020] | Sitting on Top of the Blues [2019] | Porcupine Meat (Rounder Records) [2016] | Decisions, with Blinddog Smokin' (DVD/CD) [2014] | Down in Louisiana (Thirty Tigers) [2013] | Show You A Good Time (Deep Rush) [2011] | Blind Snake (Deep Rush) [2009] | Look At What You Gettin' (Deep Rush) [2008] | Raw (Deep Rush) [2007] | Essential Recordings, Volume 2 (Deep Rush) [2006] | Essential Recordings, Volume 1 (Deep Rush) [2006] | Night Fishin (Deep Rush) [2005] | Folkfun (Deep Rush) [2004] | Live at Ground Zero (DVD/CD) (Deep Rush) [2003] | Undercover Lover (Deep Rush) [2003] | Hoochie Man (Waldoxy) [2000] | The Best Of Bobby Rush (La Jam) [1999] | Rush Hour... Plus (Philadelphia Intl) [1999] | Lovin' a Big Fat Woman (Waldoxy) [1997] | It's Alright, Vol. 2 [1997] | Wearing It Out (La Jam) [1996] | One Monkey Don't Stop No Show (Waldoxy) [1995] | She's a Good 'Un (It's Alright) [1995] | Handy Man (Urgent) [1992] | I Ain't Studdin' You (Urgent) [1991] | Man Can Give It But He Can't Take It (La Jam) [1990] | What's Good for the Goose is Sue (La Jam) [1982] | Good for the Gander (La Jam) [1985] | Gotta Have Money (La Jam) [1984] Rush Hour (Philadelphia Intl [1979] |