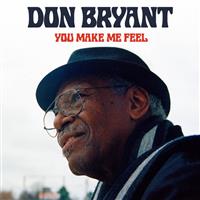 "A love letter to his wife of 50 years, Ann Peebles… "
De bijna 80-jarige Donald "Don" Maurice Bryant is een Amerikaanse R&B zanger en songwriter. Bryant is een traditionalist -wat ouder, maar geenszins versleten- met een lange geschiedenis in de soulscene van Memphis, zij het vooral achter de schermen: hij was één van de vaste songschrijvers (lees "hitman") bij Hi Records, een platenlabel dat in 1957 te Memphis werd opgericht, bekend van o.a. Al Green. Sinds een paar jaar treedt Don Bryant met succes op de voorgrond als -ik vond de uitdrukking- retrosoulzanger. Sommige van onze Noorderburen herinneren zich zeker nog het optreden dat hij in 2017 gaf tijdens het "Into The Great Wide Open" festival op het Nederlandse Waddeneiland Vlieland.
Don Bryant debuteerde met producer Willie Mitchel -die van plan was om van Bryant de volgende ster bij Hi Records te maken- in 1969 solo met 'Precious Soul'. Ann Peebles stopte met muziek in 2012 en Don keerde in 2017 terug in de schijnwerpers met zijn tweede album, 'Don't Give Up on Love'. Bryant's derde solo album 'You Make Me Feel' is een ode aan zijn echtgenote Ann Peebles, de 73-jarige soulzangeres voor wie hij de klassieker "I Can't Stand the Rain" (dat Tina Turner ook opnam op haar 'Private Dancer' album in 1974) en nog veel meer moois met veel liefde schreef. Op 'You Make Me Feel' vind je een mix van oude -ze lagen al jaren te wachten op de plank- en nieuwe songs. Bryant wordt uitstekend begeleid door o.a. collega-veteranen uit Memphis, een aantal leden van de roemruchte Hi Rhythm Section (de band bestond uit de drie broers Hodges, Charles Hodges, Leroy Hodges en Mabon "Teenie" Hodges, samen met drummer Howard Grimes) en deed hiernaast ook een beroep op leden van St. Paul & The Broken Bones (Al Gamble: keys) en The Bo-Keys (Howard Grimes: drums, Scott Bomar: bas, Archie "Hubbie" Turner: keys, Marc Franklin: trompet, Kirk Smothers: sax).
De producer was Scott Bomar, die onlangs nog scoorde met de muziek die hij schreef voor de Amazon film "Dolemite Is My Name" en de mix werd gedaan door Matt Ross-Spang (Elvis Presley, Al Green, John Prine).
"Music has always been a part of me, I've never given up on it, never let it go. If I'm walking around, I'm humming songs. Now, I'm trying to let it all out. What I had, what I got, and what I'm gonna get…"
Met een geweldig blazers riff intro opent "Your Love is to Blame" het album. Het nummer, geschreven door Bryant en producer Scott Bomar -je kan het zien als een funky versie van een trouwmars- heeft het refrein van een blues nummer: "Nothing in my life is the same/ Your love is to blame…". Don nam een nieuwe versie van "99 Lbs" op om (zo verklaart hij) "wat licht te laten schijnen op Ann". "99 Lbs" heeft de groove van een "echt" soulnummer en, in "Is It Over" schuwt Bryant de donkere gevoelens niet. Het is een slow, die emoties in ieder refrein opborrelen doet. Het nummer klinkt misschien als uit 1973, toen Otis Clay ook Bryant's nummer "I Die a Little Every Day" opnam op het album. "I Die a Little Each Day" en "Don't Turn Your Back on Me" zijn al door Bryant's zang de volgend hoogtepunten op het album. "Don't Turn Your Back on Me" is de herhaling van een nummer dat oorspronkelijk in 1965 werd uitgebracht. De nieuwe versie is trager maar -zoals iedereen die ooit heeft gepleit voor liefde, weet dat de langzame petitie effectiever is- zoveel moeilijker om uit te voeren. Het roer wordt dan omgegooid met "Your Love Is Too Late" dat vooral door de saxen van Kirk Smothers en Art Edmaiston dat extra zwoele krijgt. Ook "Cracked Up over You" is uptempo en "A Woman's Touch" nog een mooie soulvolle ballade. Dat muziek veteraan Don Bryant vóór zijn opvallende comeback lang alleen nog in de kerk zong, is terug te horen in het afsluitende "Walk All Over God's Heaven".
Opzich al een bravourestuk is de persoonlijke "come back" van veteraan Don Bryant als retrosoulzanger op 'You Make Me Feel', die nooit stopte met schrijven. Zijn 'You Make Me Feel' is niet alleen een ode aan zijn grote liefde Ann Peebles, maar ook een resumé van zijn vakmanschap en jarenlange ervaring als singer-songwriter.
" In itself a bravura piece, the  third solo album 'You Make Me Feel' of music veteran Don Bryant. This retro soul singer, who never stopped writing, not only brought out an ode to his great love Ann Peebles, but the album is also a summary of his craftsmanship and years of experience as a singer-songwriter… " (ESC for Rootstime.be)
Eric Schuurmans
Album track list: 01. Your Love Is to Blame – 02. 99 Lbs – 03. Is It Over – 04. I Die a Little Each Day – 05. Don't Turn Your Back on Me – 06. Your Love Is Too Late – 07. I'll Go Crazy [J. Cross, J. Frierson & M. Frierson] – 08. Cracked Up over You – 09. A Woman's Touch – 10. Walk All Over God's Heaven [P.d. arranged by Bomar, Bryant] / Words/music © 2020 by: Don Bryant & Scott Bomar (1,3,6,9), or as [noted: 7,10] - Produced by: Scott Bomar | Album line-up: Don Bryant: vocs / Howard Grimes: drums, percussion / Scott Bomar: bass, keys, guitar, percussion / Joe Restivo: guitar / Archie "Hubbie" Turner: keys / Charles Hodges: organ / Al Gamble: keys / Marc Franklin: trumpet, arrangements / Kirk Smothers, Art Edmaiston: sax / Adam Hill: percussion / Jonathan Kirkscey, Jessie Munson, Jordan Musgrave, Jennifer Puckett & Wen-Yih Yu: strings / Reba Russell, Susan Marshall & Katrina Anderson: bvs / The Flat Five: Kelly Hogan, Nora O' Connor, Scott Ligon, Casey McDonough & Alex Hall / The Barnes Brothers: Chris & Courtney Barnes / The Hamiltons: Tony Lelo, J. Vito & Corey "2E" Williams II 
Discography Don Bryant: You Make Me Feel [2020] | Don't Give Up on Love [2017] | Precious Soul [1969] | As Donald Bryant and a Chosen Few: It's All in the World* [2000 ] | I'm Gonna Praise Him* [1989] | What Do You Think About Jesus?* [1987] (*by Faith Records) |