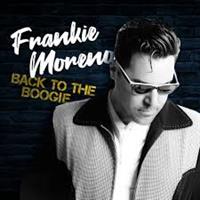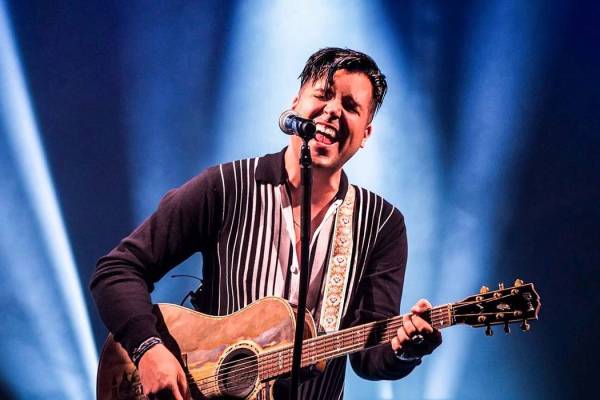 " The power is in the music… not the musician! "
De er van nature goed uitziende zanger/multi-instrumentalist (pianist) Frankie Moreno (geboren in 1989 in Santa Cruz, Californië) staat bekend om zijn muzikale "erfenis" -lees, zijn Elvis Presley-stijl- én, als "opzwepende, theatrale artiest" met een "bijgewerkte kijk op klassieke rock'n'roll, dance-pop en hedendaagse ballades voor volwassenen…". Frankie kreeg voor het eerst de nodige aandacht toen hij op 10-jarige leeftijd verscheen tijdens Star Search, het talentenprogramma van tv-zender CBS. Deze talentenjacht, van 1983 tot 1995 gepresenteerd door Ed McMahon, werd een format voor andere programma's zoals Idols. In ABC's Dancing With the Stars zong hij -voor een publiek van 17 miljoen- "Tangerine Honey" en trad hij samen op met zijn vrouw, danseres, zangeres en choreografe Lacey Schwimmer. Voor deze show werd een aangepaste versterkte piano gebouwd, zodat Schwimmer en andere dansers uit de show, erop konden dansen. De piano werd geverfd met een marmerzwarte verf om de podiumverlichting van de tv-camera's niet te reflecteren. Frankie ging daarna -met zijn broers, bassist Tony Moreno en tourmanager Ricky Moreno- verder met een langdurige show in Las Vegas en spraakmakende optredens in Carnegie Hall, The Kennedy Center en The Hollywood Bowl. Frankie's samenwerking met de wereldberoemde violist Joshua Bell ('At Home With Friends' - 2009), bereikte # 1 in de Billboard.
Frankie Moreno bracht ondertussen al meerdere albums uit, waaronder 'Raw' (2004), 'Miracles' (2005), 'Rebel Revolution' (2007), 'Hangin' on a Maybe' (2011, met daarop zijn hit "Tangerine Honey") en 'Broke Down in Paradise' (2018). In 2019 kwamen er drie albums uit: 'This Is Frankie Moreno', 'Live in Las Vegas' en 'Naked'. Zijn nieuwe album (uitgebracht in juli dit jaar) kreeg de veelzeggende titel 'Back to the Boogie'..
Samen met broer Tony (en één met Gianna Adams) schreef Frankie tien rockende nummers, die hij opnam met o.a. Pete Bresciani (trompet), Jim D'Arrigo (bariton sax), Diego Morales (tenor sax) en enkele backing vocalisten (Crystal Robinson, Ashley Kellough & Markevius Faulkner). Hoe dat klinkt hoor je al vanaf de titelsong/opener "Back to the Boogie" met herkenbare verlengingen op "I Like It Like That", het funky "Love Doctor", "Sandman" het groovende "Grizzly Bear" en de ouderwetse afsluiter "A Girl Named Memphis". Voor zij die nood hebben aan een adempauze is er "Good Lookin' Mama" en "One Man Band".
Muziek zat hem (en zijn familie) als tiener al in het bloed. Dat Frankie Moreno, na meer dan een dozijn albums, opnieuw voluit wil gaan rocken is dus geen toevalligheid. Zijn 'Back to the Boogie' is een bluesy rock album met soms wat ademruimte voor kortademigen.
" As a teenager, music was already in Frankie Moreno's blood. It's therefore no coincidence that, after more than a dozen albums, Frankie wants to rock out again on his new album 'Back to the Boogie'. This release is an exciting bluesy rock album with some some space for those who suffer dyspnoea... " (ESC for Rootstime.be)
Eric Schuurmans
10 cd's te winnen!
Wil je daar kans op maken, dan mail je ons gewoon even:
je naam, je adres en de vermelding: FRANKIE MORENO
Binnen een aantal weken wordt uit alle inzendingen de gelukkigen getrokken.
Wij hopen dat u massaal Rootstime - hier - zult mailen
De winnaars worden per mail verwittigd.
Album track list: 01. Back to the Boogie – 02. Ringin' My Bell – 03. I Like It Like That – 04. Love Doctor - 05. Sandman - 06. Good Lookin' Mama - 07. Whiskey Woman - 08. One Man Band - 09. Grizzly Bear - 10. A Girl Named Memphis / Words/music © 2020 by: Frankie Moreno & Tony Moreno, or as [noted: 7] – Co-Produced by: Frankie & Tony Moreno | Album line-up: : Frankie Moreno: vocs, e-guitar, piano, organ, drums, harmonica / Tony Moreno: bass / Pete Bresciani: trumpet / Jim D'Arrigo: baritone sax / Diego Morales: tenor sax / Crystal Robinson: b-vocs / Ashley Kellough: feat. performer, b-vocs (6) / Markevius Faulkner: b-vocs
Discography Frankie Moreno: Back to the Boogie [2020] | Hawaiian Honey [2020] | This is Frankie Moreno [2019] | Live in Las Vegas (Live) [2019] | Naked [2019] | Welcome to the Symphony [2019] | Pianoforte [2019] | Frankie's Christmas Party [2018] | Broke Down in Paradise [2018] | Whiskey, Woman, and Song [2018] | Future Greatest Hits, Volume 1 [2018] |  One Night Only (Live) [2017] | Frankie Moreno [2012] | Hangin' on a Maybe [2011] Unknown Artist [2010] | Sky Platform [2010] | Gift [2008] | Rebel Revolution [2007] | Wet Kitty [2006] | Miracles [2005] | Raw [2004] |