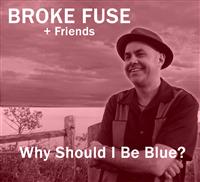 " The recording experience was a bit of a bumpy process, but the results speak for themselves… "
Uit Canada ontvingen we deze week het nieuwe album van de one-man band Broke Fuse (& Friends). Jay Moonah is de man uit Toronto achter het akoestische blues/roots project. Singer-songwriter, multi-instrumentalist Jay Moonah is al meer dan 30 jaar actief in de Canadese muziekscene en is was lid van een aantal bands waaronder de indie-roots-rockers Uncle Seth en de retro-folk act The McFlies. Jay is ook medeoprichter van de Scarborough Uke Jam. In 2014 ging hij solo als one-man band -hij wou eerst blues nummers spelen die hij geschreven had, evenals klassieke nummers met anderen, maar vond niet de muzikanten die zich wouden binden- en in 2015 debuteerde hij met de 4-track EP 'The Underground'. In 2017 bracht hij een 5-track EP 'Broke Down + Blue' uit en werkte Jay samen met de legendarische gitarist Mike McKenna (Luke & The Apostles, McKenna Mendelson Mainline) om McKenna Moonah Blues Duo te vormen. Mike en Jay vormden later de rockabilly band the Rockin' Redcoats, met ook Cleave Anderson (Battered Wives, Blue Rodeo).
"Featuring remote contributions of…"
'Broke Fuse' is de titel van zijn debuut 8-track studio album. Hij nam het album op aanvang dit jaar samen met -door Covid-19- "bijdragen op afstand van" bevriende muzikanten: Mike McKenna, Sandra Bouza, Alex Matthew, Franck Baraczka, Paul Butters, Matthew Bartram, Steve McNie, Alex Cheung & Frank Horvat. De acht originele nummers (één ervan schreef hij samen met Atilla Baraczka) die hij opnam zijn qua line-up en instrumentatie erg verschillend en het resultaat van een "hobbelig opnameproces". Het resultaat spreekt echter voor zichzelf.
'Why Should I Be Blue?' opent rustig en melodieus met "Blow All the Blues Away". De intro wordt hier op gitaar gedaan door Alex Matthew en de outro door Mike McKenna. Jay Moonah zingt (zoals in bijna alle nummers) en is ook op ritme gitaar, bas en enkele keren op harmonica te horen. Met "Rack 'Em Up" gaat het tempo omhoog. De drummer werd door Jay vervangen door een computerprogramma, achter de piano zit onopvallend Matthew Bartram en Paul Butters tokkelt op lead & ritme gitaar. Exotisch en hallucinerend klinkt "Night Before". Hier zorgen Alex Cheung voor op viool, Steve McNie op cello en Jay zelf op banjolele en bas. In de ballade "You Know It's True" zingt Jay niet meer alleen. Sandra Bouza doet de strofen terwijl Jay vijf instrumenten (waaronder een steel-string uke en piano) en het programmeren voor zich neemt. Op "Whiskey Bottles" helpen Mike McKenna op slide gitaar en ZenSkylar met een monotone drum loop, Jay (hier op harmonica, ritme gitaar en percussie) de juiste, wat benevelde sfeer opwekken. Frank Horvat opent op piano de ballade "Bluffer's Blues" die hij daarna met Jay verder sober afwerkt. "The Runner Duck" is ook het (meest swingende) werk van een duo. Jay schreef deze enige instrumental samen met Atilla Baraczka, die hier ook de baspartij speelt met Jay (harmonica, steel-string uke, programming). Om af te sluiten is er nog "Why Should It Be Blue?". Hier kiest Jay ervoor om alleen te spelen. Jay Moonah aka Broke Fuse die zichzelf begeleid op ukelele en akoestische gitaar, zit duidelijk met een kapotte zekering en open vragen. Waarom ik?...
Een geval apart, dat kan je op zijn minst zeggen van Jay Moonah aka Broke Fuse. Op zijn derde release etaleert breed al zijn kwaliteiten in moeilijke dagen. Die van singer-songwriter, multi-instrumentalist en contactpersoon, bruggenbouwer in Covid-dagen.
" A special case, you can say at least of Jay Moonah aka Broke Fuse. On his third release 'Why Should I Be Blue?' he shows all his qualities in difficult days. The qualities of singer-songwriter, multi-instrumentalist and contact person/ bridge builder in Covid-days… " (ESC for Rootstime.be)
Eric Schuurmans
Album track list / Album line-up: (tracks): 01. Blow All the Blues Away (Frank Baraczka: drums / Alex Matthew: lead guitar (intro) / Mike McKenna: lead guitar (outro) / Jay Moonah: vocs, harmonica, bass, rhythm guitar) – 02. Rack 'Em Up (Matthew Bartram: piano / Paul Butters: lead & rhythm guitar / Jay Moonah: vocs, harmonica, bass, programming) - 03. Night Before (Alex Cheung: violin, string arrangement / Steve McNie: cello / Jay Moonah: vocs, banjolele, bass) – 04. You Know It's True (Sandra Bouza: vocs / Jay Moonah: vocs, harmonica, steel-string uke, bass, piano, guitar, programming) – 05. Whiskey Bottles (Mike McKenna: slide guitar / ZenSkylar: drum loop / Jay Moonah: vocs, harmonica, rhythm guitar, percussion) – 06. Bluffer's Blues (Frank Horvat: piano / Jay Moonah: vocs, harmonica, bass, percussion) – 07. The Runner Duck (Attila Baraczka: bass / Jay Moonah: harmonica, steel-string uke, programming) – 08. Why Should It Be Blue? (Jay Moonah: vocs, harmonica, ukulele, bass, guitar, percussion) / Words/music © 2020 by: Jay Moonah, except (7), w/Atilla Barackzka - Produced by: Jay Moonah
Discography Broke Fuse: Why Should I Be Blue?, by Broke Fuse & Friends, Feat. remote contributions from Mike McKenna, Sandra Bouza, Alex Matthew, Franck Baraczka, Paul Butters, Matthew Bartram, Steve McNie, Alex Cheung & Frank Horvat [2020] | Broke Down + Blue (EP,5#) [2017] | The Underground (EP,4#) [2015] |