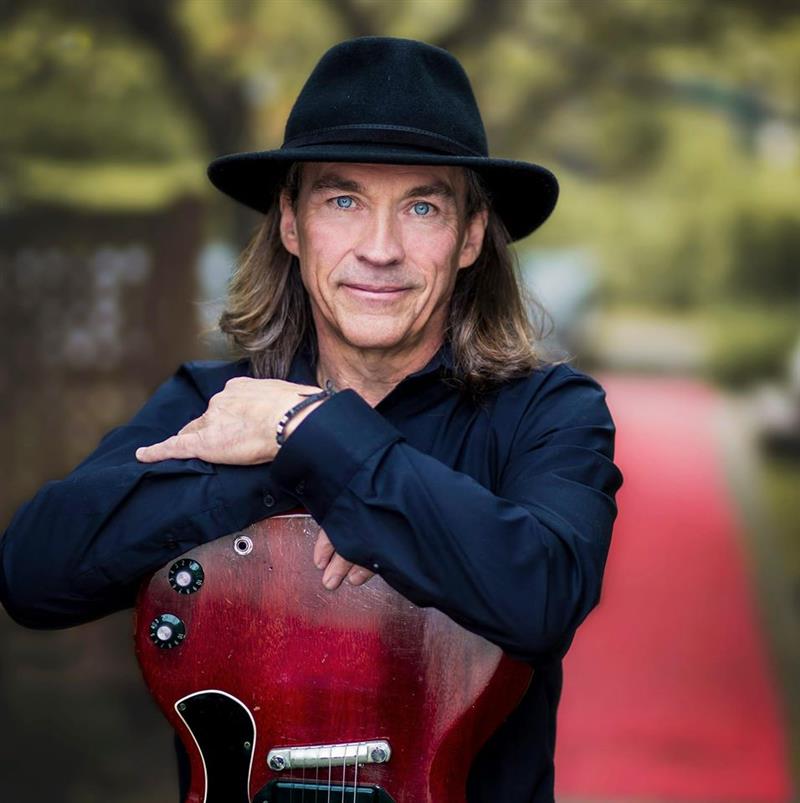 "His music: a melting pot of everything he has ever heard!..."
Gitarist, singer-songwriter "Southside" Denny Snyder komt uit South Bend, Indiana, maar woont al meer dan een decennia in Montreal. Denny was altijd een vaste waarde in de blues scene van Chicago en na zijn vertrek naar het "Great White North", is hij nu groot in de Canadese bluesrock muziekscene. Als muzikant is Denny geïnteresseerd in zowat alles wat hij hoort: van Carl Perkins tot Elvis, Robert Johnson, Lightnin' Hopkins en Honeyboy Edwards, van Eric Clapton en John Mayall tot Muddy Waters, Freddie King, Buddy Guy en Luther Allison. Meer recente invloeden komen van Django Reinhardt, Frank Vignola en Angelo DeBarre. Zijn favoriete fingerstyle gitaristen zijn Don Ross, Alex DeGrassi en Tommy Emmanuel.
Na albums met de Skintones, de Denny Band (soms met Jay Davenport: 'Rollin' Home' - 1993) en The Snyders (met Lorrie en Philip Snyder) en enkele akoestische/elektrische en half instrumentale albums -meer details hieronder in discografie- verscheen in april zijn studio soloalbum 'Rollin' Home', re-released & remastered. Net al even genoemd en dus niet echt "nieuw", gezien het hier gaat over opnieuw uitgebracht en geremastered. Denny nam de originele nummers voor het album op met drummer Jay Davenport en bassist Frank McClure.
'Rollin' Home' opent met het titelnummer, een instrumentaal akoestisch nummer met veel slide gitaar. "No Time" dat hierna volgt is een rocker met solide fretwerk c.q. zang en een funky gitaarsolo. "I Would Do Anything" is een rustig nummer waarin Denny zingt over de thuiskomst van zijn vrouw. Dan volgt "How Long Is It Gonna Last", een midtempo nummer dat knap instrumentaal opent. In "It Breaks My Heart" vallen Denny's expressieve zang en de funky groove op. Er zit soms wat van Bo Diddley in "Dan Ryan Blues" terwijl Denny zingt over een van Chicago's snelwegen. De gitaarsolo's zijn er om je te af te leiden, terwijl Denny zijn verkeersagressie te lijf gaat. Over bepaalde vrouwen gaat het in "Evil Woman" en de uitstekende blues rocker "Everything Woman". Het album sluit af met het speels rockende "Food for Thought".
Voor mij was 'Rollin' Home' mijn eerste kennismaking met Southside Denny en zijn band. De originele nummers, uitstekende bluesrock gitaar en prima zang maken er een erg genietbaar (heruitgegeven) album van!
" The original songs, outstanding blues rock guitar and top vocals make Southside Denny's' 'Rollin' Home' a very enjoyable (re-released) album!... " (ESC for Rootstime.be)
Eric Schuurmans
10 cd's te winnen!
Wil je daar kans op maken, dan mail je ons gewoon even:
je naam, je adres en de vermelding: SOUTHSIDE DENNY
Binnen een aantal weken wordt uit alle inzendingen de gelukkigen getrokken.
Wij hopen dat u massaal Rootstime - hier - zult mailen
De winnaars worden per mail verwittigd.
Album track list: 01. Rollin' Home – 02. No Time – 03. I Would Do Anything – 03. How Long Is It Gonna Last – 04. It Breaks My Heart – 05. Dan Ryan Blues – 06. Evil Woman – 07. Everything Woman – 08. Food for Thought / Words/music © 2020 by: Denny Snyder | Album line-up: Denny Snyder: vocs, guitar, slide / Jay Davenport: drums, percussion, bvs / Frank McClure: bass
Discography Southside Denny: Rollin' Home (re-released & remastered) [2020] | Reaching Higher, by The Snyders (w/Lorrie & Philip Snyder) [2017] | Growing Pains, by The Snyders (w/Lorrie & Philip Snyder) [2014] |  The Snyders  [2012] | Full Circle (a collection of electric and acoustic music) [2009] | Roots & Branches (an acoustic disc with half vocal and half instrumental pieces) [2006] | Eclectic (a collection of solo acoustic instrumentals) [ 2003] | Moving On... [2000] | Rendez-Vous Blues [1998] | - Rollin' Home, by The Southside Denny Band in collaboration with  Jay Davenport [1993] | Down Too Long, by Southside Denny & the Skintones [1989] | The Hoosier Bluesmasters, by Southside Denny & the Skintones [1986] |