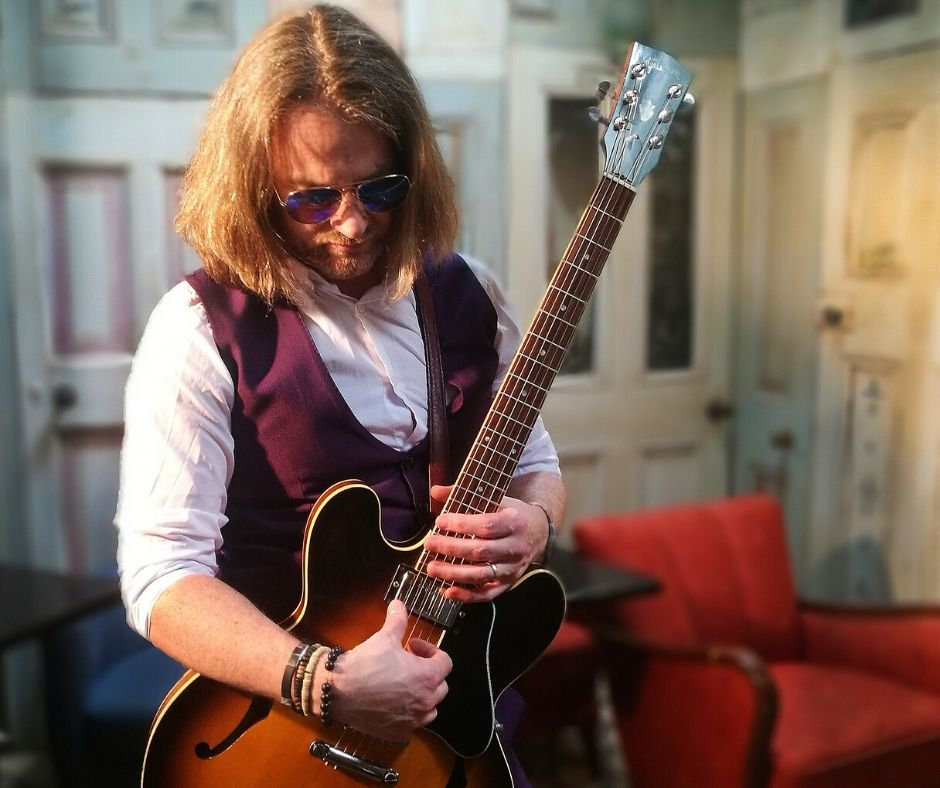 " A retro sounding blues rock album with elements of roots rock and celtic rock influences… "
Blues en Rock is al jaren het handelsmerk van de Ierse muzikant/singer-songwriter van retro blues rock en indie blues met Keltische invloeden, Mark S Black.
Black bracht recent zijn vierde studio album 'Wheels Keep Turning' uit, featuring zijn muzikale partner voor jaren, Seamus Devenny (drums, viool) en Michael O'Boyce (bas). Black werkte opnieuw samen met producer Mark Ward, die het album ook mixte in zijn studio in Melbourne, Down Under. Ward is een dynamisch producer en mix engineer en ook een geweldige gitarist. Ward was al de producer van Mark S Black's éérste album 'Midnight Ramblings (of a Demented Irishman)' (2004).
Op 'Wheels Keep Turning' staan tien nieuwe originele nummers en "Black Betty", de gekende, maar hier volledig herziene en eigenzinnige versie van de Ram Jam-Huddie Ledbetter-cover. 'Wheels Keep Turning' opent vrij rustig met "Each and Everyday", wat je kan omschrijven als -en wat niet zo vaak te horen is- funky bluesrock. Voor "Shakedown Blues", een rockend nummer, duwt Black het gas diep in. Ook in de titelsong die dan volgt, gaat hij nog even op dit elan verder. Voor "Boneyard Blues" verplaatsen we ons van Ierland naar de Mississippi Delta. Sluit even de ogen en beeld je in, dat je alleen en rond middernacht op een kerkhof zwalkt, terwijl je luistert naar het steeds naderbij komende geluid van ronddolende hellehonden. Met de ballade "Sundays" waait er wat Southern door de kamer en doorheen "Through the Gap" zit er behoorlijk wat Keltische folk geweven. "Long Hard Road Preaching Blue" is een ballade met, door de viool die drummer Seamus Devenny soms bespeelt, ook wat Keltisch. Je kan nog eens rocken op "Strange Kind of Blues" voordat Black met "Sweetheart" zijn album op zijn manier goedgeluimd afsluit.
'Wheels Keep Turning' van Mark S Black is een erg gevarieerd album waarin hij vele stijlen verwerkt. Van akoestische blues tot energieke blues/rock, al dan niet verweven met wat Keltische invloeden.
" Mark S Black's 'Wheels Keep Turning' is a very varied album in which he uses many styles. From acoustic blues to energetic blues / rock, whether or not interwoven with some Celtic influences… " (ESC for Rootstime.be)
Eric Schuurmans
10 cd's te winnen!
Wil je daar kans op maken, dan mail je ons gewoon even:
je naam, je adres en de vermelding: MARK S BLACK
Binnen een aantal weken wordt uit alle inzendingen de gelukkigen getrokken.
Wij hopen dat u massaal Rootstime - hier - zult mailen
De winnaars worden per mail verwittigd.
Album track list: 01. 01. Each And Everyday - 02. Shakedown Blues - 03. Wheels Keep Turning - 04. Boneyard Blues - 05. Sundays - 06. Through The Gap - 07. Here Comes The Devil - 08. Long Hard Road Preaching Blue - 09. Black Betty [Huddie Ledbetter > Ram Jam] - 10. Strange Kind Of Blues - 11. Sweetheart / Words/music © 2020 by: Mark S Block, or as [noted] - Produced by: Mark Ward | Album line-up: Mark S Black: vocs, guitar / Seamus Devenny: drums, violin / Michael O'Boyce: bass guitar
Discography Mark (S) Black (w/): Wheels Keep Turning [2020] | Ghosts in the Fire, w/the Trips (out of stock) [2012] | Sweet Rescue Blues [2009] | Mark Black & the Roots Orchestra – Live @ the Regional Cultural Centre in Letterkenny (06.03.09) [2009] | Midnight Ramblings (of a Demented Irishman), w/the Malevolent Few [2004] |