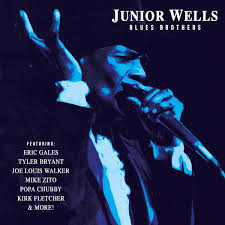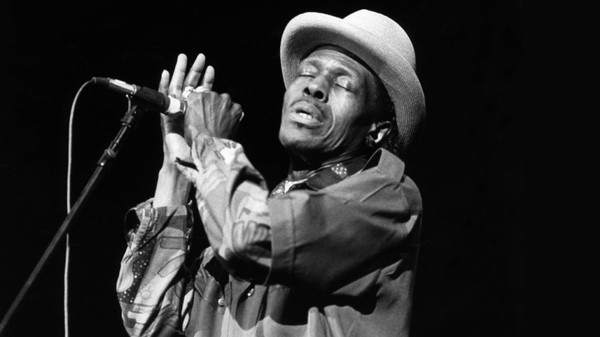 "Blues legend Junior Wells lives on with these historic recordings…"
In 1998 verloor de muziekwereld op 63-jarige leeftijd, een van zijn iconische blues mannen, blues singer/songwriter en mondharmonicaspeler Amos Blakemore Jr. aka Junior Wells (1934-1998). Wells werd in 1984 geïnduceerd in de Blues Hall of Fame en in 2008 in de Grammy Hall of Fame.
Junior Wells groeide op in Arkansas. Al op 7-jarige leeftijd speelde hij mondharmonica, dat hij kreeg. Hij leerde erop spelen door zijn neef Junior Parker en Sonny Boy Williamson II. In 1948 ging hij naar Chicago. Op 18-jarige leeftijd speelde hij -als vervanger van de heerszuchtige Little Walter- in de band van Muddy Waters, met wie hij ook zijn eerste plaatopnamen maakte. Tijdens de jaren 1960 werkte hij vooral met Buddy Guy. Hij speelde verder ook Magic Sam, Lonnie Brooks en The Rolling Stones.
De bekendste songs van Junior Wells zijn "Messin' With the Kid" en "Little By Little en zijn bekendste album -zijn debuut LP bij Delmark- is 'Hoodoo Man Blues' uit 1965 (Downbeat Magazine R&B "Album of the Year"). Hij was ook te zien in de film "Blues Brothers" (2000), die kort na zijn overlijden in de bioscoop kwam.
Junior Wells overleed in januari 1998 op 63-jarige leeftijd aan de gevolgen van een hartinfarct tijdens een behandeling tegen kanker. Hij werd bijgezet op het Oak Woods Cemetery in Chicago. Tijdens zijn begrafenis speelden Billy Branch, Sugar Blue en Harmonica Hinds een treurmars.
In 1999, een jaar na zijn dood, bracht Magnum onder de naam van Junior Wells en Buddy Guy het compilatiealbum 'The Original Blues Brothers'uit.  'Blues Brothers' dat deze bij Cleopatra Records verschijnt, is een gezamenlijke ode van een aantal blues artiesten aan Junior Wells. Naast James Montgomery die op de meest tracks op mondharmonica speelt werkten een hele reeks gitaristen als gasten aan dit project mee: Eric Gales, Joe Louis Walker, Tyler Bryant, Colin James, Kirk Fletcher, Popa Chubby, Guitar Shorty, Pat Travers, Albert Castiglia, Mike Zito, Harvey Mandel & Bernard Allison.
Naast een aantal nummers van Junior Wells zelf werden ook nummers van andere blues iconen opgenomen. Knap te horen is hoe Joe Louis Walker op "Snatch It Back and Hold It" en op Wells' klassieker "Hoodoo Man Blues" de rol van Buddy Guy als gitarist van Wells overneemt. Op Well's klassieker "Messin' With the Kid" is de Texaan Tyler Bryant (The Shakedown) de gitarist van dienst, wat hij in 1960 ook al was toe Wells het gelijknamige album opnam. Mike Zito begeleidt Montgomery op "Worried Life Blues", op Willie Dixon's "When the Cat's Gone the Mice Play" is dat Harvey Mandel. Harvey Mandel is een 75-jarige Amerikaanse gitarist die bekend staat om zijn innovatieve benadering van elektrisch gitaarspel. Als prof speelde hij op zijn twintigste bij Charlie Musselwhite, Canned Heat, the Rolling Stones en John Mayall, maar hij had ook een solocarrière. Eric Gales leeft zich uit op "Lovey Dovey Lovey One", een van de Mel London's composities, Popa Chubby op de Wells' original "You Don't Care" en Kirk Fletcher op Freddie King's "You Gotta Love Her with a Feeling". Op Willie Dixon's "Two Headed Woman" maakt Guitar Shorty het mooie weer en op "It's a Man Down There" is dit Bernard Allison. 
Dankzij projecten als dit, geraken blues mannen als Junior Wells na hun overlijden niet in de vergeethoek. 'Blues Brothers' is een geslaagde hommage aan Wells en aan de Chicago blues stijl -de stijl die Wells belichaamde- in het algemeen.  
"Thanks to projects like 'Blues Brothers', blues men like Junior Wells don't get forgotten after they die. 'Blues Brothers' is a successful homage to Wells and to the Chicago blues style -the style that Wells embodied- in general…" (ESC for Rootstime.be)
Eric Schuurmans
Album track list: 01. Blues Hit Big Town – 02. Good Morning Little Schoolgirl [Sonny Boy Williamson] – 03. Messin' with the Kid – 04. Baby, Scratch My Back [James Moore] – 05. Worried Life Blues [John Estes] – 06. When the Cat's Gone the Mice Play [Willie Dixon] – 07. Lovey Dovey Lovey One | - 08. You Gotta Love Her with a Feeling [Freddie King] – 09. Two-Headed Woman [Willie Dixon] – 10. Snatch It Back and Hold It [w/Buddy Guy] – 11. You Don't Care – 12. It's a Man Down There [George Crockeytt] – 13.  Hoodoo Man Blues / Songs written by: Amos Blakemore (1,3,10,11,13) & Mel London (3,7), or w/ or as [noted] © 2020 - Produced by: Jürgen Engler| Album credits: Jürgen Engler: guitars, bass / Adam Halilton: drums / James Montgomery: harp (2,4-6,8-10,12) & feat. Colin James (1: guitar), Pat Travers (2: guitar), Tyler Bryant (3: guitar), Albert Castiglia (4: guitar), Mike Zito (5: guitar), Harvey Mandel (6: guitar), Eric Gales (7: guitar), Kirk Fletcher (8), Guitar Shorty (9), Joe Louis Walker (10,13), Popa Chubby (11), Bernard Allison (12)
Discography JUNIOR WELLS: Blues Brothers, feat. Eric Gales, Tyler Bryant, Joe Louis  Walker, Mike Zito, Popa Chubby, Kirk Fletcher, Popa Chubby, Guitar Shorty, Pat Travers, James Montgomery & more [2020] | Great Blues Masters, Vol. 10- Junior Wells [2008] | Vanguard Visionaries [2007] | Live @ Theresa's 1975 [2006] | Chicago Blues Festival 1964 (Buddy Guy & Junior Wells) [2003] | Blues Twinpeak (Buddy Guy & Junior Wells) [2002] | Live Around the World [2002] | Double Dynamite [2001] | Les Incontournables [2001] | Calling All Blues [2000] | The Original Blues Brothers Live (Buddy Guy & Junior Wells) [1999] | Junior Wells & Friends [1999] | Last Time Around: Live @ Legends [1998] | Live @ the Golden Bear [1998] | Blues Hit Big Town [1998] | Best of the Vanguard Years [1998] | You're Tuff Enough: The Blue Rock Studio Recordings [1998] | Live @ Buddy Guy's Legends [1997] | Come on in This House [1997] | Everybody's Gettin' Some [1995] | Pleading the Blues (Buddy Guy & Junior Wells) [1993] | Better Off With the Blues [1993] | Undisputed Godfather of the Blues [1992] | Alone & Acoustic (Buddy Guy & Junior Wells) [1991] | Harp Attack! [1990] | Drinkin' TNT 'n' Smokin' Dynamite [1982] | Pleading the Blues [1979] | Blues Hit Big Town [1977] | On Tap [1975] | Buddy Guy & Junior Wells Play the Blues [1972] | In My Younger Days [1972] | South Side Blues Jam [1970] | Live at the Golden Bear [1969] | Coming at You [1968] | I You're Tuff Enough [1968] | t's My Life, Baby! [1966] | Hoodoo Man Blues [1965] |