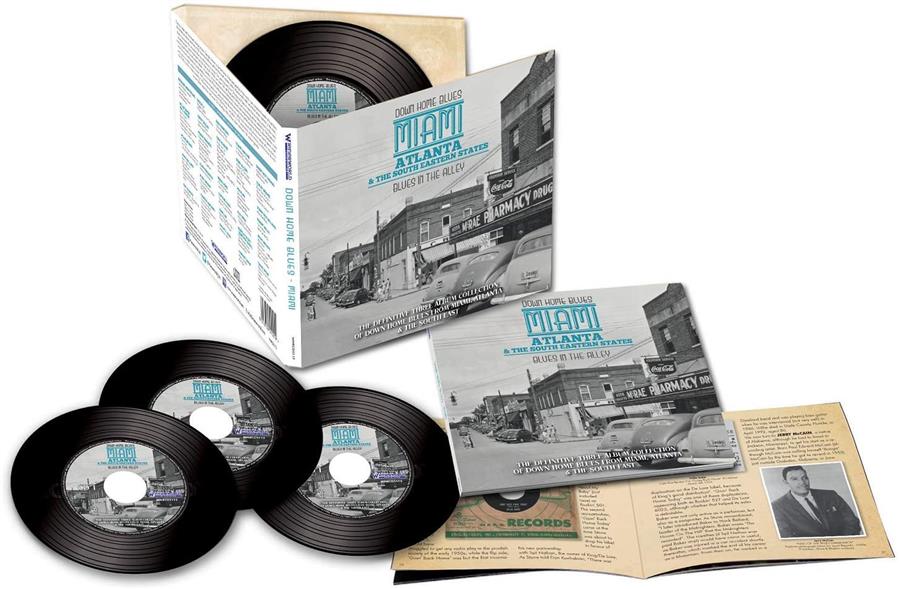 "The definitive three album collection of Down Home Blues: 83 tracks, by 29 different artists…"
In de UK is Wienerworld een van leiders en specialist als het om Indie Music -lees: niet commerciële, voornamelijk op rock georiënteerde muziek- gaat. Hun cataloog bevat naast Dvd's en Cd's ook digitale en vinyl registraties.
In de reeks 'Down Home Blues' verscheen recent een vijfde compilatiealbum 'Miami Atlanta & the South Eastern States – Blues in the Alley'. De tracklist bevat niet minder dan 29 artiesten, die invloed hebben gehad op het voortzetten en ontwikkelen van de tradities van de blues in het zuidoosten van de States. De release bevat "early down home" blues-opnamen van niemand minder dan Ray Charles, voordat hij beroemd werd met zijn "groter" klinkende jazz-getinte blues. Daarnaast zijn er vroege opnames van Earl (Zebedee) Hooker ("Race Track", "Blue Guitar Blues", Sweet Angel", "After Hours") en Jerry McCain ("Fall Guy", "She's Tough"), twee buitengewoon begaafde muzikanten, de eerste opnames van Frank Edwards ("Three Woman Blues", "Terraplane Blues"), die het publiek betoverde met zijn op een rack gemonteerde harmonica-gitaar eenmansbandstijl, vanaf de jaren 1940 tot zijn laatste jaren van optreden en opnemen in 2003. Marylin Scott moet hier ook genoemd worden met o.a. Haar swingende "Ber Bottle Boogie" en "Uneasy Blues".
'Down Home Blues: Miami, Atlanta & The South Eastern States' is een set van drie cd's, met 83 nummers, allemaal uitstekend geremastered. Deze collectie is samengesteld dankzij de genereuze hulp van blues verzamelaars van beide kanten van de Atlantische Oceaan, met zeldzame opnames die voor het eerst beschikbaar zijn gesteld.
Het bijgevoegde booklet van 78 pagina's is opgesteld door blues historicus Chris Bentley. Zeldzame historische foto's illustreren het essay overal met een complete sessieografie en een uitgebreide galerij van originele 78 en 45 platenlabels.
'Blues In the Alley' is een goede aanvulling op de 'Tough Enough'-collectie van Wienerworld (WNRCD5104), waarbij beide sets aansluiten op de naoorlogse blues uit de noordelijke en zuidoostelijke staten van Amerika. De zuidoostelijke staten stonden bekend als langzame starters in het hebben van platenmaatschappijen om de artiesten op te nemen, te produceren en te distribueren die na de Tweede Wereldoorlog voor hun eigen deur optraden.
De beste kans voor alle bluesartiesten in deze regio, die op zoek waren naar platen, was om naar New York te gaan voor elke gelegenheid. In 1950 waren de zaken zeker anders, en nieuwe platenmaatschappijen die de tijd en moeite hadden genomen om zulke mooie muziek op te nemen, hadden veel verloren tijd ingehaald. 'Blues In The Alley' bundelt de inspanningen van die producers die gokten op hun gevoel voor de muziek.
Opnieuw is 'Down Home Blues: Miami, Atlanta & The South Eastern States' een aanvulling op de naoorlogse geschiedenis van de Amerikaanse blues. Het geeft je de kans om uitgebreid te genieten van bekende en minder bekende blues artiesten, die de basis legden van de hedendaagse blues.  
"Once again, 'Down Home Blues: Miami, Atlanta & The South Eastern States' complements the post-war history of American blues. It gives you the opportunity to enjoy well-known and lesser-known blues artists, who laid the foundation of today's blues… " (ESC for Rootstime.be)
Eric Schuurmans
Release: 27/11/2020

4 cd's te winnen!
Wil je daar kans op maken, dan mail je ons gewoon even:
je naam, je adres en de vermelding: DOWN HOME BLUES
Binnen een aantal weken wordt uit alle inzendingen de gelukkigen getrokken.
Wij hopen dat u massaal Rootstime - hier - zult mailen
De winnaars worden per mail verwittigd.
Album 01 - track list: Frank Edwards: 01. Sweet Man Blues – 02. Three Woman Blues – Curley Weaver: 03. Brown Skin Woman – 04. She Don't Treat Me Good No More – 05. I Keep On Drinkin' – David Wylie: 06. Baby, You Don't Mean Me No Good – 07. Baby, You're Gonna Change My Mind – Frank Edwards: 08. Terraplane Blues - 09. We Got to Get Together – Poor Jim: 10. Spots Boogie - 11. Brand New Woman [James Brealon] - John Lee: 12. Baby Please Don't Go [trad. arr. John Lee] – 13. Slappin' the Boogie - Frank Edwards: 14. Love My Baby –15. Gotta Get Together - Poor Jim: 16. She Fooled Me [Washboard Sam]- 17. Rubber Ball Blues – Marylin Scott (Marylyn Scott): 18. The Monkey Song [trad. arr. Scott] – John Ferguson: 19. John Henry Boogie – Rudy Greene: 20. No Good Woman Blues - 21. Florida Blues – Richard Armstrong: 22. Gene Nobles Boogie (instrumental) - 23. Gene Nobles Blues (instrumental) – Marylin Scott (Marylyn Scott): 24. Beer Bottle Boogie - 25. Uneasy Blues – John Bulard: 26. Ain't I Got You - 27. Bonus Blues / 77 minutes / Songs: original songs, w/ or as [noted: 11,16] © 2020 | Album credits: see album booklet
Album 02 – track list: Ray Charles: 01. Guitar Blues (instrumental) [H.Stone / Ellen] – 02.  Why Did You Go [H.Stone / M.Asher] – Earl Hooker: 03. Shaka 'em Up (instrumental) - 04. Race Track (instrumental) – Charlie Harding: 05. Train Porter Bluers - 06. I'm a Man of Experience – John Bullard: 07. Help Me to Find My Right Mind - 08. Western Union Blues - 09. Spoiled Hambone Blues – Willie Baker (C.B. Baker): 10. Skin to Skin - 11. Goin' Back Home – Charlie Harding: 12. Moonrise Blues (instrumental) - 13. Peach Tree Boogie (instrumental) – Earl Hooker: 14. Happy Blues (instrumental) - 15. Blue Guitar Blues (instrumental) – Willie Baker (W.C. Baker): 16. I Went Back Home - 17. Kenny's Hop (instrumental) [Baker / Stone] - 18. Going' Back Home Today – Jerry McCain: 19. Middle of the Night - 20. Crazy 'bout that Mess - 21. Fall Guy – Tommy Malone: 22. I'm Wading in Deep Water [Georgia Lane] - 23. It's Been So Long Baby [w/Bill Reese]  – Bill Reese: 24. Whiskey, Ol' Whiskey - 25. I Gotta Find My Baby [Tommy Malone] – Jimmy Wilson: 26. Alley Blues - 27. Poor, Poor Lover [Stone/ Wilson/ Johnson] - 28. Alley Blues (alternate) / 76 minutes / Songs: original songs, or w/ or as [noted: 1,2,17,22,23,25,27] © 2020 | Album credits: see album booklet
Album 03 – track list: Earl Hooker: 01. Sweet Angel [trad. arr. Earl Hooker] - 02. After Hours (instrumental) – Jimmy Wilson: 03. I've Found Out [Ervin/Wilson] - 04. Blues in the Alley – Eddie Hope: 05. A Fool No More [John McArthur] - 06. Lost Child [John McArthur] – Robert Willis: 07. You're Mine - 08. Never Let Me Go – Shorty Long: 09. Redstone John [Overstreet/ Cason] – Sonny Boy Wiliams: 10. Alice Mae Blues – Crook Jr.: 11. Wiggle It Baby - 12. Please Believe Me Darling – Rudy Green: 13. Oh Baby [Fran/ Greene] – Dan Harrison: 14. Piney Brown Blues [Joe Turner/ Pete Johnson] - 15. Straighten Up Juice Head [Harrison/ Lewis/ Summers] – Johnny Shaw: 16. May's Shuffle - 17. Any May – Clifford King: 18. Chicken Shack Boogie - 19. Want to Jump with You Baby – Leroy Dallas: 20. Sweet Man Blues [Frank Edwards] - 21. She Caught the M & O [Walter Davis] – Danny Boy Thomas: 22. Kokomo Me Baby - 23. Wild Women – Jerry McCain: 24. She's Tough - 25. Steady (instrumental) – Willie Brown: 26. Cut It Out - 27. Do It Like That (instrumental) [Brown/ Allen] - 28. Tell Me Why Love Don't Last [Brown/ Allen] / Songs: original songs, or w/ or as [noted: 3,5,6,9,13-15,20,21,27,28] © 2020 | Album credits: see album booklet
Discography Wienerworld's DOWN HOME BLUES Series: Miami Atlanta & the South Eastern States (5CD) [2020] | Chicago Volume 2: Sweet Home Chicago (5CD) [2019] | New York, Cincinnati & The North Eastern States: Tough Enough (4CD) [2018] | Chicago Fine Boogie / Various Artists (5CD) [2017] | Detroit: Detroit Special (3CD) [2016] |