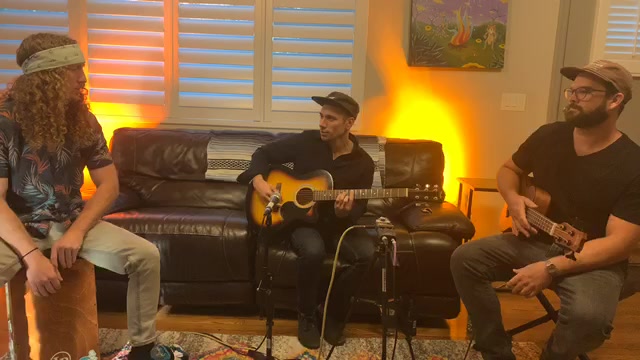 " A booty shakin' blues trio… "
Honey Hounds is "a booty shakin'" blues trio uit  Jacksonville, FL, opgericht in 2015 met zanger/gitarist Nick Izzard, Nathan Ranew op bas & drummer Tyler Watts. Geïnspireerd door de rijke zuidelijke rockgeschiedenis van de regio, maakt het trio snel naam met hun artistieke vintage benadering van hun muziek en imago. Vaak vergeleken met het geluid van de Black Keys vermengd met de live energie van Jack White, blijven Honey Hounds de westerse muziek nieuw leven inblazen en de rock-n-roll levensstijl belichamen!
'The Flame' werd de titel van hun debuut studio album dat vorig jaar uitgebracht werd en dat tijdens hun Flame Winter Tour in de States, "all across the country" gepromoot werd. De meeste nummers schreven ze zelf en zijn een bluesy mix van rock en funk. Het album begint erg funky met "Thousand Ships" en de rocker "Shine On" gaat meer Southern en laat de uitstekende zang van Nick Izzard horen. De samenzang charmeert het rustig rockende "Lend Me Your Love", "Girl Like That" is een funky -met veel wah-wah's- bluesrocker en "Sirens" donkere, funky rock ingeleid op bas door Nathan Ranew. Na de rock ballade "The Flame" is "Back Door Man" hun geslaagde, goed te pruimen interpretatie van het Willie Dixon nummer. "When I'm with You" is wakker worden op een zonovergoten strand naast je geliefde, "County Lines" is de volgende portie aanstekelige blues, "Going Down Tonight" de overblijvende punk en "Favorite Things" xx om het album mee af te sluiten.
Honey Hounds neemt met 'The Flame' een goede start en zal zeker "all around the country" en ook ver daar buiten weten te boeien. Een interessante band om zeker in het oog te houden.
" Honey Hounds take with their debut 'The Flame' a good start and, will certainly capture "all around the country" and also far beyond. An interesting band to keep an eye on!... " (ESC for Rootstime.be)
Eric Schuurmans
Album track list:
01. Thousand Ships – 02. Shine On – 03. Lend Me Your Love – 04. Girl Like That – 05. Sirens – 06. Keep It Movin' – 07. The Flame – 08. Back Door Man [Willie Nixon] – 09. When I'm with You – 10. County Lines – 11. Going Down Tonight – 12. Favorite Things  / Words/music © 2019 by: Honey Hounds, or as [noted]
Album line-up:
Nick Izzard: guitar, vocs / Nathan Ranew: bass, vocs / / Tyler Watts: drums
Discography Honey Hounds:
The Flame [2019] |