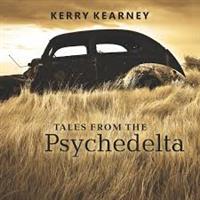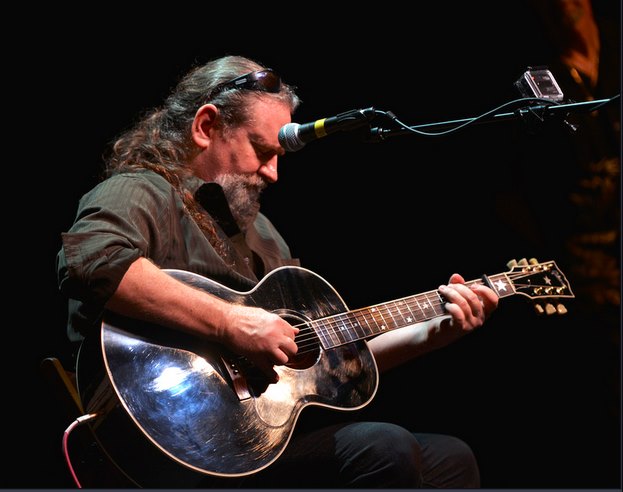 "An opportunity, for all to experience and share the blues in a new, PSYCHEDELTA way …"
Kerry Kearney is zo'n artiest die, ondanks zijn meesterlijke kwaliteiten als slide gitarist, wat uit de belangstelling weet te blijven. Deze NY-er is al vier decennia met muziek bezig en bracht al verschillende albums uit. Kerry werd in 1999 in de staat NY door de Long Island Voice al uitgeroepen tot "Best Guitarist" en in 2004 door de LI Blues Society tot "Bluesman of the Year". Meer recenter, in 2013 werd Kearney met zijn band ingewijd in de NY Blues Hall of Fame. Niet te verwonderen dat hij op het podium stond met o.a. Allman Brothers, Dickey Betts, Sonny Landreth, Robert Randolf, Robert Cray en recent nog met Billy Gibson.
Muzikaal is Kearney een man met twee gezichten: dat van de gitarist met de vette elektrische blues / bluesrock (genre Rory Gallagher, Sonny Landreth en George Thorogood) én, aan de andere kant, dat van de akoestische blues man (genre Peter Green en Eric Clapton).
"Slide alongwith Kerry Kearney's Rippin' Blues Rock energy…"
De nieuwe cd van Kerry Kearney 'Tales from the Psychedelta' verscheen in september bij Highlander Records en bevat 12 nummers (waarvan negen originals), geremastered uit de  Psychedelta Blues-cataloog: vijf uit 'Got Slide Guitar?' (2013), twee uit 'Ghost of the Pshychedelta' (2012), een uit 'Secretes from the Pshychedelta' (2005) én drie nummers uit zijn debuutalbum 'Blow Your House Down' (1996).
Met de bluesy rocker "Five Time Man" uit zijn debuutalbum gooit Kerry de trossen los met subtiel en afgemeten gitaarspel. Ook "Fatherless Boy" uit zijn 'Got Slide Guitar?' en "Thank You, Jesus" kan je zowat als zijn signature sound noemen. Voor "Mississippi River Stomp" en "Memphis High" trapt hij het pedaal wat dieper in en ook de standards "Trouble in Mind" van Richard M. Jones en Arthur Crudup's "Mean Old Frisco" passen in Kerry's songbook. Op een nummer als "Voodoo Down the River" zorgt de Hammond Tony Campo en ritmesectie (hier bassist Frank Celenza en drummer Eileen (Evan) Murphy) voor de groove. "Lawdy Mama" is een traditional, een folky country blues in de stijl van Canned Heat, bewerkt door Kerry. Traag en slepend gooit Kerry ons daarna, na een mooie slide intro, "Runnin' Weepin' Tremblin'" voor de voeten. Voor de afsluiter is er eerst nog "World Train". Het is de honky tonk trein die over de sporen balanceert en die iedereen goedgemutst in slaap wiegt. Charlie Wolfe op harmonica en "Papa Jim" Fleming op mandoline reizen een stukje mee. Deels instrumentaal en daarna heel slidy sluit Kerry solo af met "Schaefer Time/Duck House". Het is zijn stem, een akoestische slide gitaar en het getik van zijn cowboy boots, dat je in dit ultieme hoogstandje hoort.
'Tales from the Psychedelta' van Kerry Kearney is zeker geen compilatiealbum, maar laat deze gitarist toe meerdere stijlen Delta Blues te showen, waarbij altijd zijn meesterlijke slide gitaar centraal staat. Voor zij die Kerry Kearney nog niet kennen of niet weten wat PSYCHEDELTA is, is dit een uitzonderlijke en verrassende kans!

"'Tales from the Psychedelta' by Kerry Kearney is certainly not a compilation album, but allows this guitarist to show several styles of Delta Blues, always with his masterful slide guitar at the center. For those who do not yet know Kerry Kearney or do not know what PSYCHEDELTA is, this is an exceptional and surprising opportunity!... " (ESC for Rootstime.be)
Eric Schuurmans
10 cd's te winnen!
Wil je daar kans op maken, dan mail je ons gewoon even:
je naam, je adres en de vermelding: KERRY KEARNEY
Binnen een aantal weken wordt uit alle inzendingen de gelukkigen getrokken.
Wij hopen dat u massaal Rootstime - hier - zult mailen
De winnaars worden per mail verwittigd.
Album track list: 01. Five Time Man – 02. Fatherless Boy – 03. Mississippi River Stomp – 04. Trouble in Mind [Richard M. Jones] – 05. Thank You, Jesus – 06. Memphis High – 07. Mean Old Frisco [Arthur Crudup] – 08. Voodoo Down the River- 09. Lawdy Mama [traditional, arr. by Kerry Kearney] – 10. Runnin' Weepin' Tremblin' – 11. World Train – 12. Schaefer Time/Duck House (Remastered) / All songs written by: Kerry Kearney, or as [noted: 4,7,9] © 2020 - Produced by: Kerry Kearney | Album credits: Kerry Kearney: all vocs, all guitars / Drums: Eileen (Evan) Murphy (5,6,8,9,11), Mario Staiano (3), Louie Appel (1,2,4,10) / Bass: Frank Celenza (6,8,9,11), Peter Bennett (1,2,4,10), Pete Kiernan (5) / Keys: Jack Licitra (8), Tony Campo: organ (8), David Bennett Cohen: piano (), Mark Mancini: piano (9) / Harmonica: Charlie Wolfe (5,6,9,11), Ken "the Rocket" Korb (3) / Jeff Naimoli: percussion / "Papa Jim" Fleming: mandolin (11) / The Great Sam Taylor: vocs (5) / Elizabeth Seton: ambiance (all tracks)
Discography KERRY KEARNEY: Tales from the Psychedelta [2020] | Smokehouse Serenade [2019] | Got Wood? The Acoustic Collection [2013] | 5-Got Slide Guitar? [2013] | 4-Ghost of the Pshychedelta [2012] | 3-Secrets from the Psychedelta [2005] | Kerry Kearney [1999] | 1-Blow Your House Down [1996] |